GBP/USD: Sterling's Shots In The Arm, Fed May Outweigh Dollar Enthusiasm
Is Biden's boost dollar positive or negative for the dollar? The debate continues while US yields remain in the driver's seat. Britain's vaccination campaign's better results and the Fed's meeting minutes stand out in the post-Easter week.
This week in GBP/USD: Tyranny of Treasuries (again)
All yield to Uncle Sam's debt – returns on US Treasuries' correlation to the dollar have been intensifying, but their drivers are becoming more complex. The main development of the past week has been President Joe Biden's $2.25 trillion infrastructure plan. However, it has not resulted in the same sell-off of US bonds as in the response to the coronavirus relief package, triggering choppier trading.
There are several differences. First, the plan is smaller than the $3 trillion initially touted and was also telegraphed well in advance, allowing markets to digest it calmly. Secondly, it will not be funded solely by debt but rather by higher taxes – and both expenses and income will be spread out over many years. Third, Congress may substantially modify the program in the coming months.
While tax hikes may boost the safe-haven dollar as stocks drop, additional government income implies less debt issuance – and therefore lower bond yields.
Treasuries fluctuated and caused jitters, allowing each currency to trade somewhat differently against it. For sterling, that is an advantage. While America´s vaccination campaign is proceeding at a rapid pace, COVID-19 cases are rising. In the UK, which is more advanced in its immunization drive, the situation is improving.
Covid infections in the US, the EU and the UK
(Click on image to enlarge)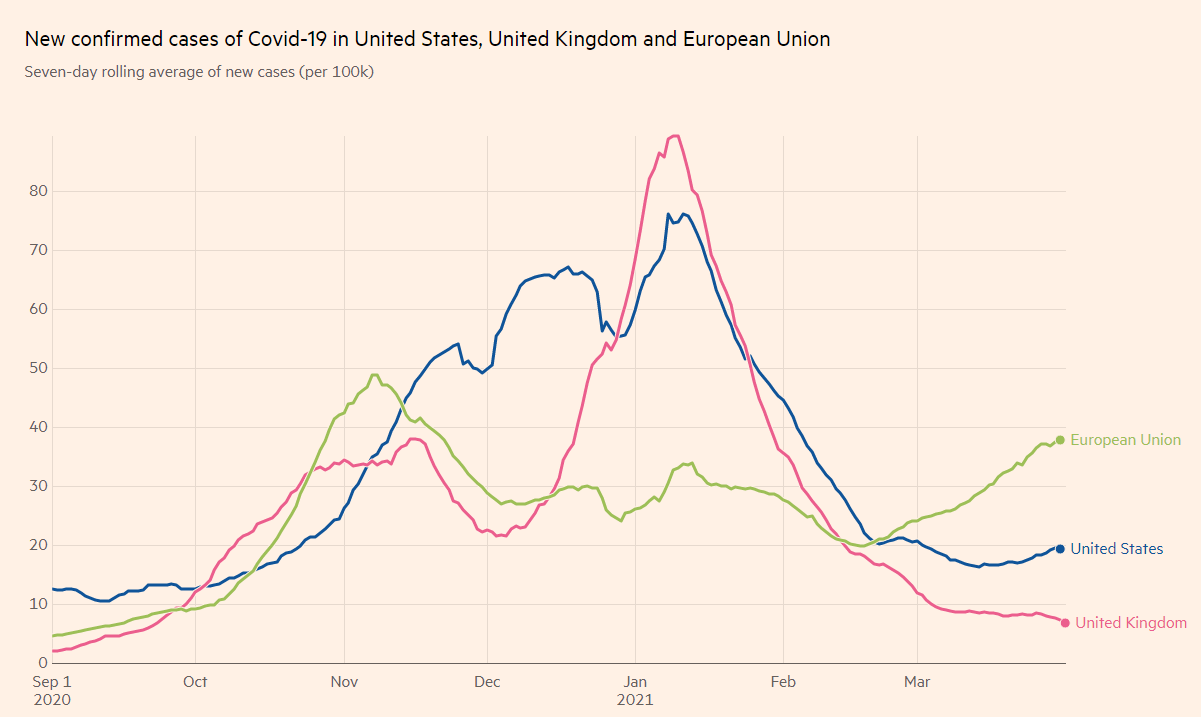 Source: FT
US data has been mostly positive, supporting the dollar. The ISM Manufacturing Purchasing Managers' Index shot up to 64.7, the highest since 1983, while job growth was also robust.
Disclaimer: Foreign exchange (Forex) trading carries a high level of risk and may not be suitable for all investors. The risk grows as the leverage is higher. Investment objectives, risk ...
more