GBP/USD Set To Suffer From Biden Going Big Again, Upbeat US Jobs Data
Three trillion dollars – that may be the new bill that the White House presents to Congress, but the timing of spending is critical. President Biden addresses the nation from Pittsburgh on Wednesday and is set to lay out details of his infrastructure spending plan.
The Commander-in-Chief and his advisers are contemplating splitting legislation into two pieces – spending on physical infrastructure first and then a separate bill that would include tax hikes and "human infrastructure."
Waiting with the second, more controversial part for later in the year would make passing easier and would alleviate some pressure on the dollar. However, if Biden goes big again – like in the $1.9 trillion covid relief package – the greenback would have more reasons to rise.
Aides may release an excerpt of the speech ahead of time and rumors may move markets even before any official document comes out.
America's vaccination campaign is on course to reach 50% of the population by mid-May after topping 25% in late March. The White House aims for states to offer jabs to all adults by May 1, and some have already opened up immunization to all. An increase in availability is due as the page turns to April. Any acceleration would be dollar-positive, while hiccups could weigh on the greenback:
Vaccine eligibility in the US:
(Click on image to enlarge)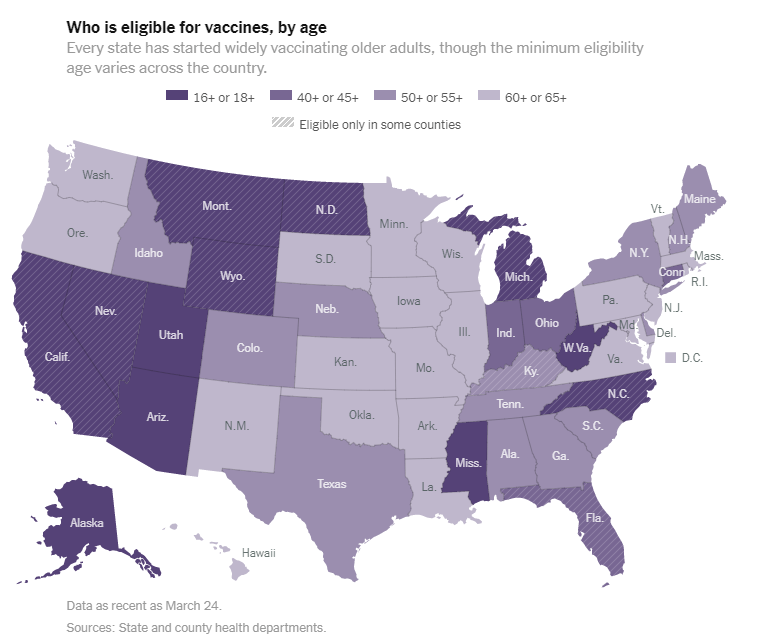 Source: NYT
In the latter half of the week, the focus shifts to the Nonfarm Payrolls report for March. Economists expect an acceleration in hiring to 500,000 after 379,000 in February. As long as participation remains low, any decline in the Unemployment Rate will probably be disregarded by markets.
The Fed wants to see the current 9.5 million people out of work return to the workforce as soon as possible, making revisions to previous figures more significant than beforehand.
ADP's jobs report and the ISM Manufacturing PMI figures for March will serve as a hint toward the NFP and will help shape expectations. However, perhaps the lack of liquidity could have a greater impact on the market reaction – the NFP is released on Good Friday.
Disclaimer: Foreign exchange (Forex) trading carries a high level of risk and may not be suitable for all investors. The risk grows as the leverage is higher. Investment objectives, risk ...
more