GBP/USD Set To Suffer From Biden Going Big Again, Upbeat US Jobs Data
The pound also suffered from mostly disappointing British economic figures. While the Unemployment Rate dropped to 5% in January, jobless claims leaped by 86,500, far worse than expected. Inflation also missed estimates with 0.4% YoY in February, while the only solace came from Markit's Purchasing Managers' Indexes for March, which showed better growth prospects. The Services PMI's jump to 56.8 is especially encouraging.
In the US, the fall in Durable Goods Orders in February was partly due to the "deep freeze" storm.
UK events: Vaccine rollout, GDP figures
Over 50% of adult Brits have already received at least one vaccine dose – or 42.9% of the population. However, only around 4% have received their second dose and are on course to full immunization. This second jab remains at risk amid supply issues. Will enough inoculations arrive from India? Will Britain compromise with the EU over exports of vaccines? These remain open questions.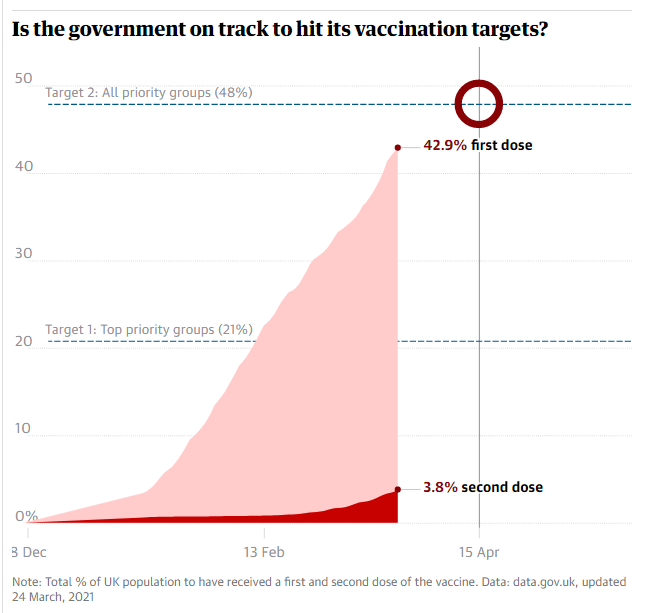 Source: The Guardian
If the vaccination campaign suffers only a minor setback and cases continue falling, sterling will likely remain supported. However, a major halt to the rollout and an uptick in cases could send the pound plunging. The currency has outperformed its peers in large part thanks to Brits' rolling up their sleeves, and any change would risk this rally.
Brexit talks on services remain on the backburner for now, at least while the EU and the UK battle over vaccines.
The economic calendar leading up to Good Friday is relatively light, but final GDP figures for the fourth quarter stand out. The UK was struggling with lockdowns through part of this period. The economy's output at the end of 2020 serves as a base for the recovery. Markit's final PMIs are also of interest.
Here is the list of UK events from the FXStreet calendar:
(Click on image to enlarge)
US events: New spending and Nonfarm Payrolls eyed
Disclaimer: Foreign exchange (Forex) trading carries a high level of risk and may not be suitable for all investors. The risk grows as the leverage is higher. Investment objectives, risk ...
more