GBP/USD Set To Suffer From Biden Going Big Again, Upbeat US Jobs Data
All hail King Dollar – the greenback has been building on infrastructure plans to rise, and more details are due in the upcoming week alongside the all-important Nonfarm Payrolls report. In the UK, extending the vaccination campaign remains critical and GDP is also of interest.
This week in GBP/USD: Dollar finds new reasons to rise
Yields are down but the dollar is up – the correlation that has dominated trading has faded away, but the greenback remains strong. The world's reserve currency has been benefiting from two major factors.
First, US President Joe Biden is set to unveil a massive $3 trillion infrastructure program that would boost the economy and perhaps push inflation higher. In turn, that could cause the Federal Reserve to raise interest rates sooner than later – even though Chair Jerome Powell sees price rises as temporary.
The drop in yields can be explained by the plan's funding – partially via tax hikes. An increase in revenue means less debt issuance and a slower supply means higher prices for Treasury and thus lower returns on them.
A potential increase in the tax bill is already dampening investors' mood on Wall Street and the drop in equity prices results in a risk-off mood. The safe-haven dollar is a beneficiary.
The gloomier market mood is also fueled by growing concerns about global growth due to Europe's sluggish vaccination campaign, which is partially fueling another wave of COVID-19 cases in the old continent. EU leaders are venting frustration at British-based AstraZeneca and the UK. Britain's cases continue falling.
Covid infections in the US, the EU, and the UK
(Click on image to enlarge)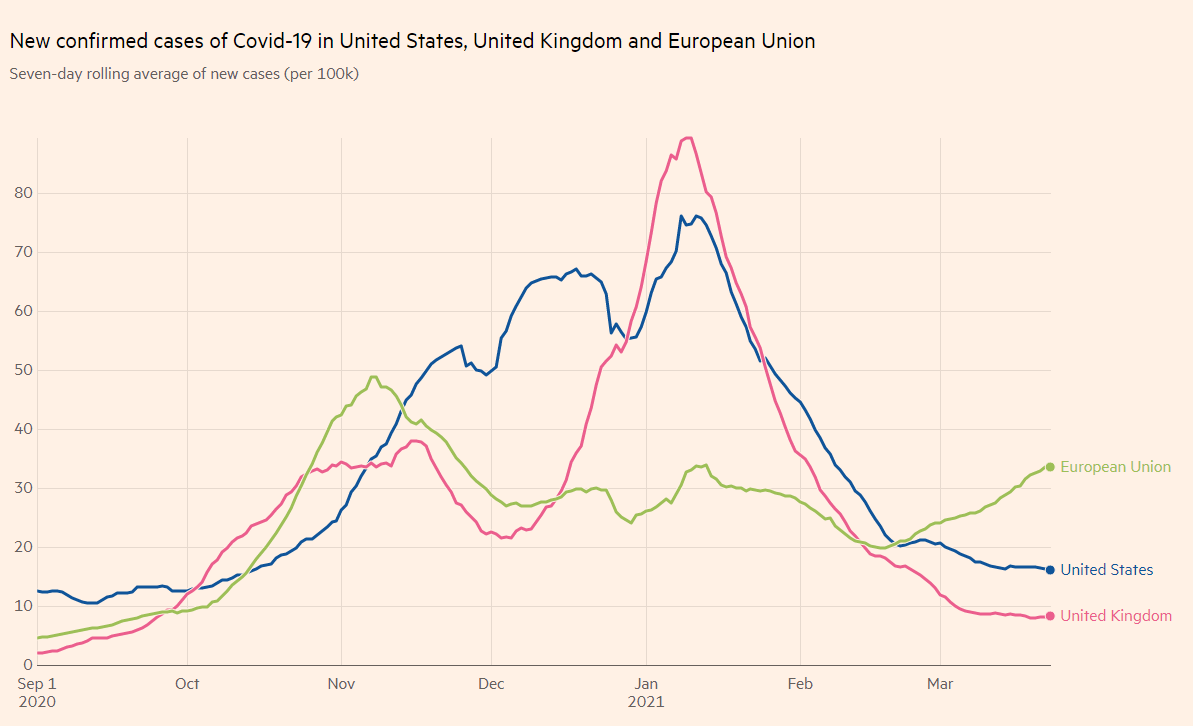 Source: FT
At the time of writing, Brussels and London seem to be nearing a compromise that would not jeopardize shipments and manufacturing of vaccine doses. However, a slowdown in deliveries to the UK – by India and not only the EU – has been weighing on sterling.
Disclaimer: Foreign exchange (Forex) trading carries a high level of risk and may not be suitable for all investors. The risk grows as the leverage is higher. Investment objectives, risk ...
more