GBP/USD: Next Stop 1.40? UK Reopening Expectations And US Stimulus Eyed
Fast US vaccinations, a quick retreat in the dollar – what else could cable bulls have asked for? The perfect storm has sent GBP/USD to fresh 34-month highs, and further gains depend on these themes and on updated economic indicators and signs that the UK is beginning to open up.
This week in GBP/USD: Everything going in favor of cable
One in every five Brits has received at least one covid vaccine dose – double the rate than in the US and far above Europe. The immunization campaign continues at full force, but Prime Minister Boris Johnson has urged further patience. Still, forex traders tend to move first and ask questions later, sending sterling higher.
Does the national inoculation effort already positively impact pushing infections lower, or is it the lockdown? For markets, it does not matter, as long as Britain's trend remains sharply to the downside.
Covid infections in the US, the EU, and the UK
(Click on image to enlarge)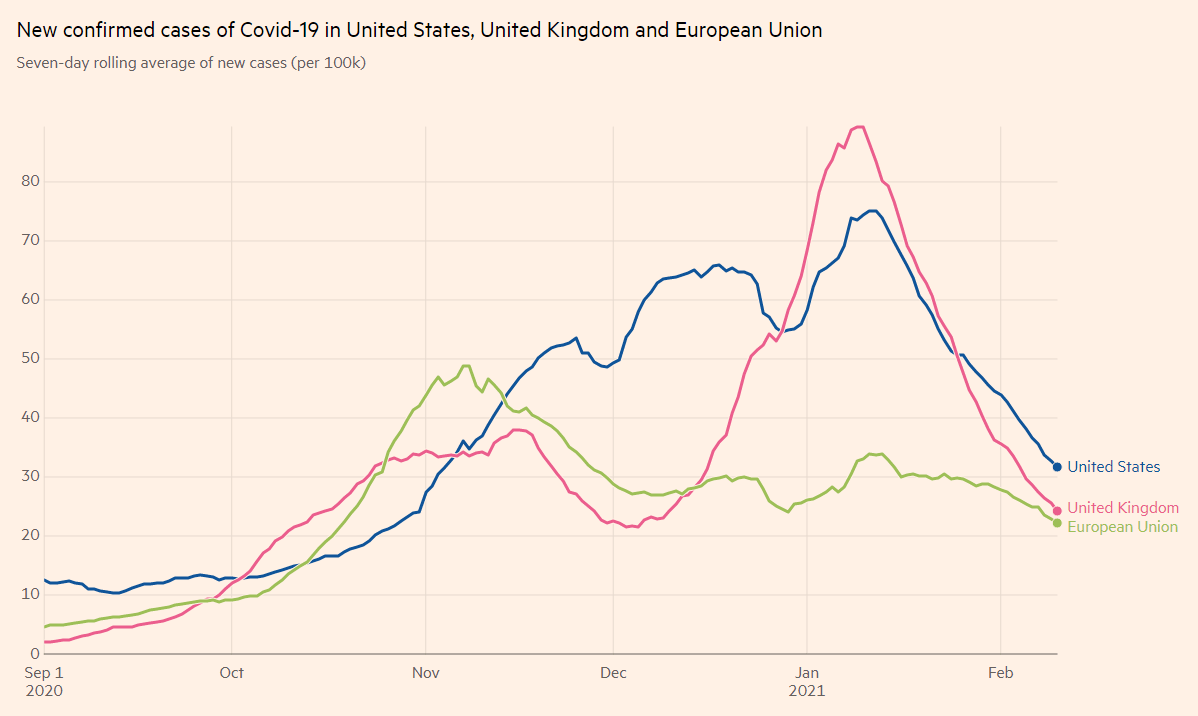 Source: FT
The US has also ramped up its efforts to vaccinate the public – but efforts to boost the economy have somewhat stalled. The Senate has been consumed by former President Donald Trump's trial, and talks with moderates in both parties and within the Democratic Party have moved out of the spotlight.
Amid prospects of somewhat slower growth, investors gradually returned to buying US bonds, pushing yields and the dollar lower. The correlation between the greenback and returns on US debt remains significant.
Jerome Powell, Chairman of the Federal Reserve, also contributed to the dollar's downtrend. The world's most powerful central banker reiterated his pledge to support the economy and dismissed any potential rise in inflation as one that "would not mean that much." Indeed, Consumer Price Index figures for January missed estimates with 1.4% yearly.
Powell also vowed to do everything to reach full employment, and a bump up in weekly jobless claims proved that the path remains long on that front as well. That means the Fed will likely continue buying bonds and pushing the dollar lower.
Disclaimer: Foreign exchange (Forex) trading carries a high level of risk and may not be suitable for all investors. The risk grows as the leverage is higher. Investment objectives, risk ...
more