GBP/USD: Is The Correction Over? US Consumer, Vaccines Hold Keys
The dollar has won the "ugly contest" with the pound – profit-taking and vaccine issues have weighed on the pound more than Fed-related vulnerability has hurt the greenback. Immunization remains central to markets, while US Retail Sales, Inflation and Consumer Sentiment are eyed as well.
This week in GBP/USD: Sterling suffers more than the dollar
Back to the bars: Prime Minister Boris Johnson announced that pubs, gyms and other places would reopen on April 12, initially giving sterling a boost. The move comes as Britain's COVID-19 cases continue falling and while US infections have plateaued following a minor upswing.
Covid infections in the US, the EU and the UK
(Click on image to enlarge)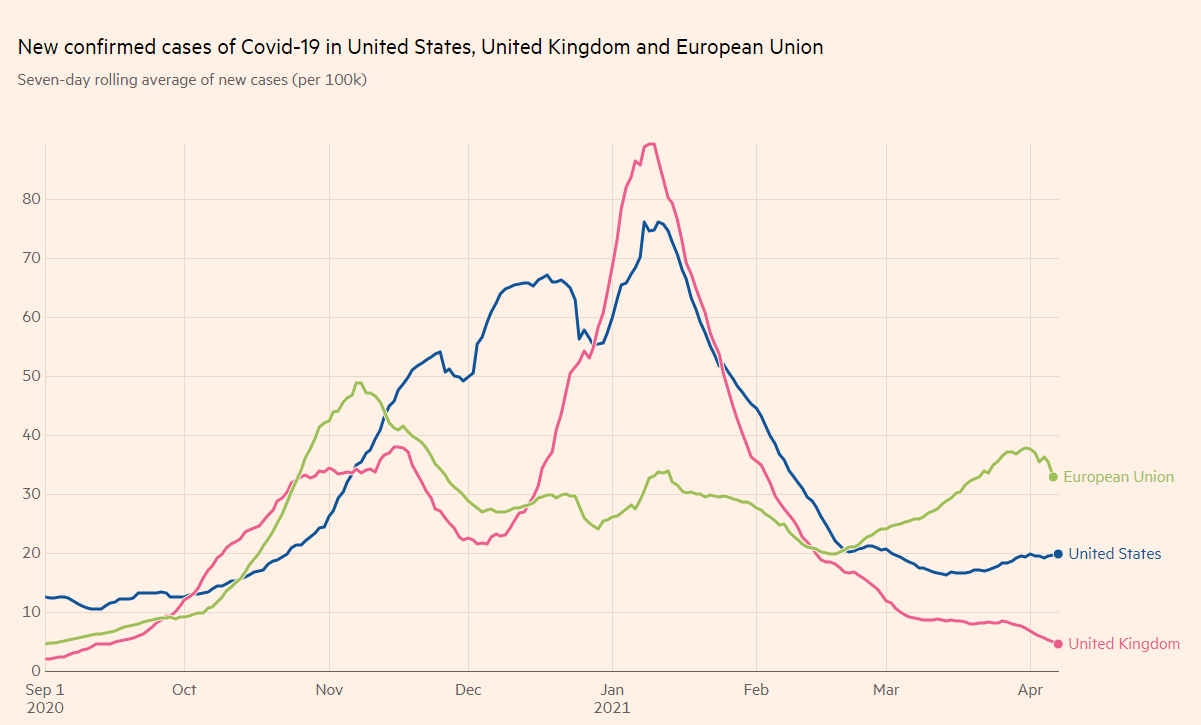 Source: FT
However, sterling was hit by issues with its homegrown AstraZeneca vaccine. Regulators in both the UK and the EU concluded that the jab is linked to rare cases of blood clots, which caused a public scare despite a one-in-a-million chance of dying from the inoculation.
Nevertheless, Britain has already suffered from a "dry month" in vaccine supplies, and the news weighed on sterling. The initial use of Moderna's immunizations did little to mitigate the AZ setback.
Another issue that surfaced is Brexit. Frustration around arrangements related to Northern Ireland was one of the issues that triggered unrest in Belfast. Scenes of petrol bombs after years of peace came on top of trade hurdles that British exporters suffer.
In the US, most economic indicators remained robust. The ISM Services Purchasing Managers' Index came out at 63.7 in March – the highest on record. JOLTs job openings also smashed estimates with around 7.4 million in February. However, weekly jobless claims held up above 700,000 for the second consecutive week, raising worries that the road to employment recovery still remains long.
Getting people back to work – including those sleeping in a "tent city" – remains the primary goal for the Federal Reserve, which wants outcomes, not outlooks. Chair Jerome Powell and the bank's meeting minutes both sent a dovish message, pledging to support the economy by keeping rates low and printing dollars.
Disclaimer: Foreign exchange (Forex) trading carries a high level of risk and may not be suitable for all investors. The risk grows as the leverage is higher. Investment objectives, risk ...
more