GBP/USD: Critical Data To If Sterling Surrenders To Dollar Strength
Little time for partying – St. Patrick's Day has resulted in a short-lived upswing in cable in response to the Fed, with a quick hangover. US yields remain in the spotlight for markets and they are set to be influenced by new US stimulus, final GDP and other data. In the UK, a vaccination slowdown, jobs, inflation, and retail sales figures are of interest.
This week in GBP/USD: Fed whipsaw
I'll believe it when I see it – that may sum up the Federal Reserve approach to a bounce in employment and inflation. The world's most powerful central bank is now "outcome-based." It will first want to see a bounce in the rearview mirror before even signaling a slowdown in bond-buys nor interest rate hikes. The Fed's dot-plot shows borrowing costs will rise only in 2024.
The dovish approach sent the dollar down, but the move ground to a halt as Treasury yields resumed their rise. The Fed did not push back against higher returns on long-term debt, and investors remain concerned the bank may have to hike sooner rather than later.
How did GBP/USD perform in response? While sterling retreated from the highs, it held onto most of its gains – driven by an improving UK economy and an upbeat Bank of England statement.
The BOE also acknowledged progress, from better global growth to expectations for upbeat consumption in the UK. On the other – and similar to the Fed – the "Old Lady" wants clear evidence of progress on inflation before tightening.
Coronavirus infections remain depressed on both sides of the pond, contrary to developments in Europe.
Covid infections in the US, the EU, and the UK
(Click on image to enlarge)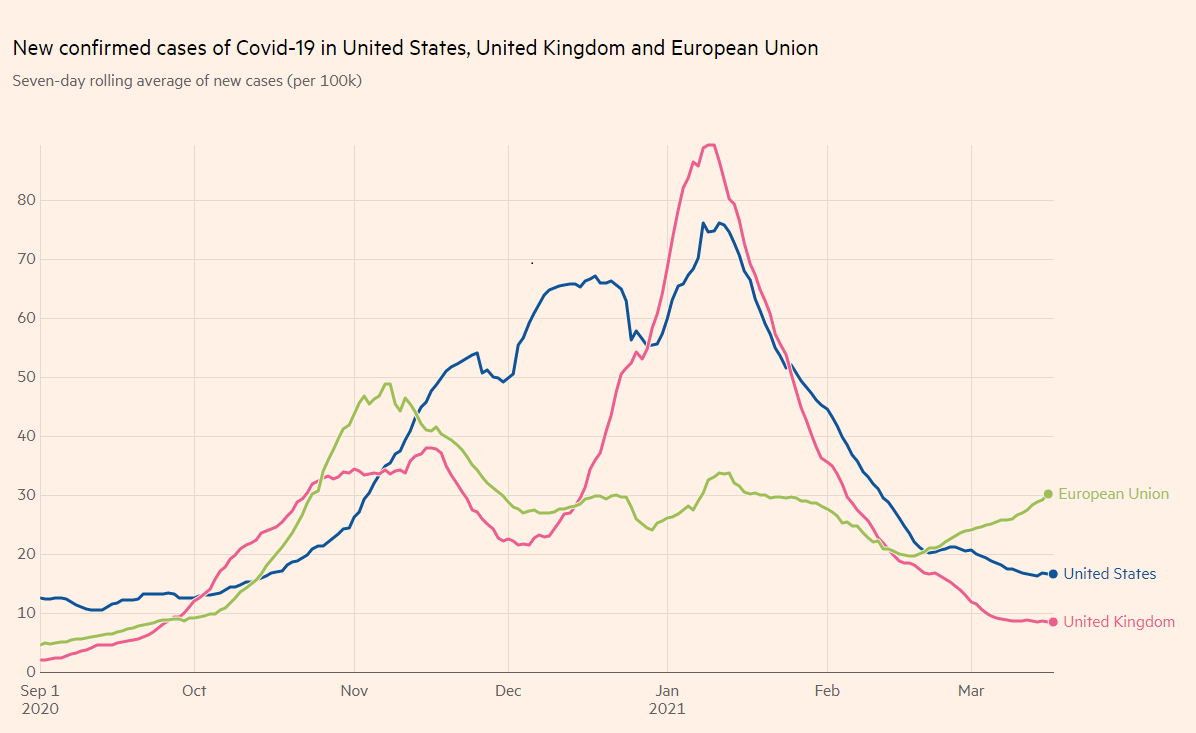 Source: FT
On the other hand, Britain announced it would have to slow down its vaccination campaign due to strains resulting from "inbound" supplies. The EU has been intensifying its threats to halt doses sent to the UK as it struggles to distribute vaccines to its population. Sterling shrugged off any potential delays as a significant portion of the population received doses.
Disclaimer: Foreign exchange (Forex) trading carries a high level of risk and may not be suitable for all investors. The risk grows as the leverage is higher. Investment objectives, risk ...
more