GBP/USD: Brexit, Powell And Nonfarm Payrolls Promise A Hectic Start To December
An exit from the pandemic is more powerful than a Brexit deal – at least in unleashing late November's rally. EU-UK negotiations remain significant, but also, the calendar is making a welcome comeback, with a full slate of US economic indicators.
This week in GBP/USD: Vaccine optimism outweighs Brexit
Brexit: The word "imminent" received a new meaning, as reports of upcoming trade deal failed to materialize. Investors seemed to be aware that 95% of the details are already agreed – as one headline suggested – and wanted to see white smoke on the remaining 5% of thorny issues, including fisheries and governance.
At the time of writing, negotiators continue talking online, due to a positive coronavirus test of one of the members. At one point, officials suggested an interim deal that would prevent the gap between reaching an accord and the lengthy ratification process needed. Markets seemed unaffected by another Brussels-made can-kicking exercise.
Vaccine: Another Monday, another vaccine breakthrough – and this time a British-grown one. AstraZeneca and the University of Oxford reported an average efficacy rate of 70% and 90% when a lower dosage regimen was applied.
While the confusing preliminary findings cause a jittery reaction at first, markets eventually saw the glass half-full – Astra's immunization works, needs only normal refrigerating temperatures, and is set to be mass-produced. The news turned into a win-win situation for GBP/USD bulls as the UK secured a large number of doses – boosting sterling – and the safe-haven dollar was on the back foot.
In the meantime, COVID-19 cases resumed their decline in Britain while rising in America.
COVID infections in the US, the EU, and the UK
(Click on image to enlarge)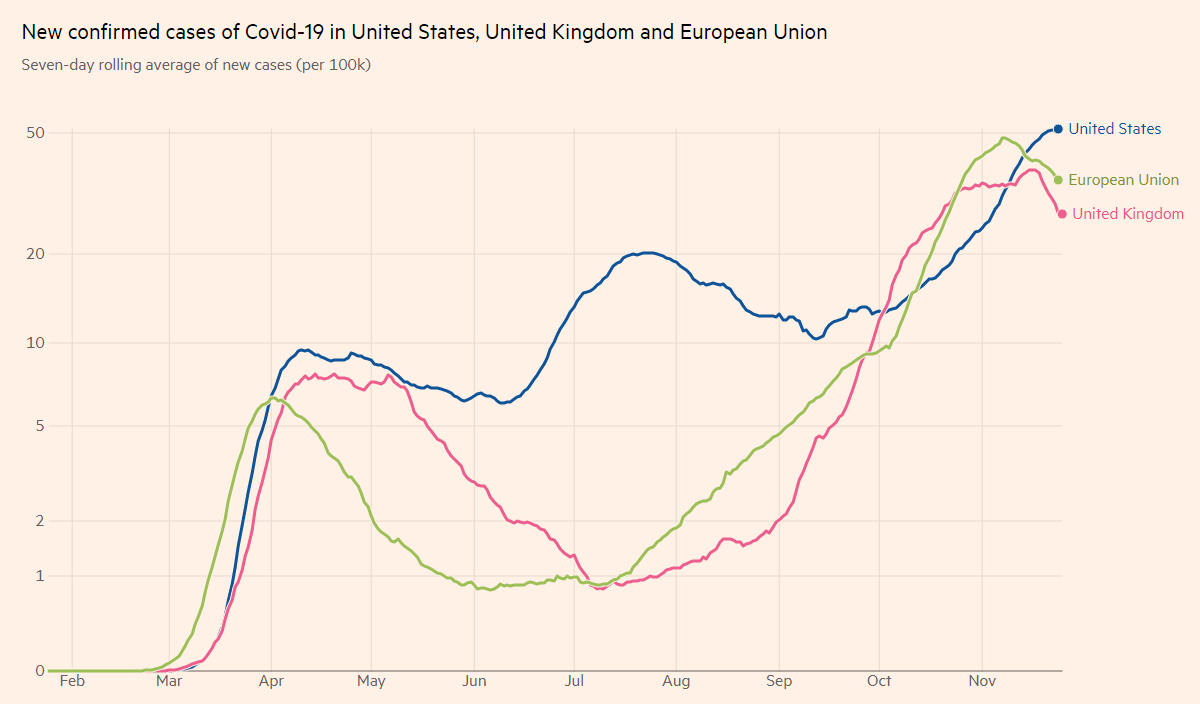 Source: FT
Prime Minister Boris Johnson's announcement regarding restrictions caused a mixed response. On one hand, the government is letting the nationwide lockdown to lapse on December 2. On the other hand, localized lockdowns are set to be tighter than beforehand, potentially curbing economic activity.
In the US, state governors have ramped up recommendations and restrictions ahead of Thanksgiving as hospitalizations continue climbing at an alarming clip. Outgoing President Donald Trump remains focused on contesting the elections rather than the virus, yet he finally authorized to transition to President-elect Joe Biden. The move came as more states certified the results and amid growing pressure from Republican lawmakers.
Disclaimer: Foreign exchange (Forex) trading carries a high level of risk and may not be suitable for all investors. The risk grows as the leverage is higher. Investment objectives, risk ...
more