Futures Slide, Global Rally Fizzles; Oil Set For Longest Rally On Record
"Powell seems to have improved at the art of Fedspeak, using many words but not saying anything substantively new"

Deutsche Bank
For the second day in a row, the S&P's recent torrid post-Christmas rally which has seen the S&P up +10.44% over the last 11 sessions, the best such stretch since October 2011, is in danger of ending as U.S. stock futures edged lower 0.3%, while European shares were mixed and Asian markets rose at as sentiment was bolstered by continued dovish tone from the Federal Reserve and hopes for a breakthrough on trade. The dollar slide continued even as Treasuries finally advanced and the oil rally continued for a record 10th day, while the US government shutdown tied the longest ever, as it entered its 21st day.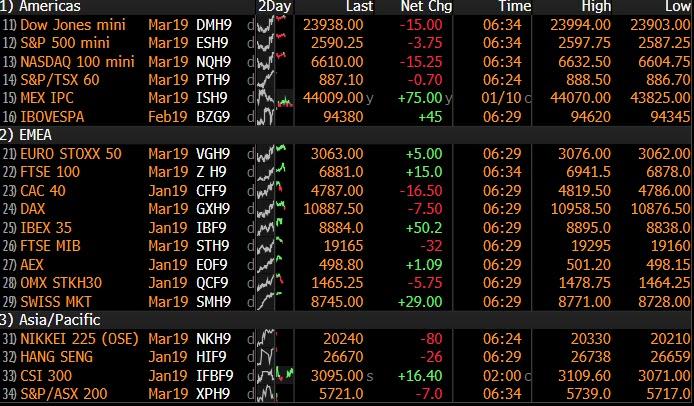 With renewed promises of patience from Federal Reserve, as Fed vice chair Clarida followed Powell on Thursday evening saying the central bank should be ready to adjust monetary policy if headwinds to the economy from financial markets or global growth prove persistent, suggesting caution about moving ahead with interest-rate increases, while the ECB was mulling another dump of cheap money in the form of TLTRO and news that trade talks between Washington and Beijing are moving to higher levels, the Friday feeling was in full effect, even if it appeared to peak in the US where futures initially rose then dropped to session lows.
The Fed's dovish stance also pushed down the dollar and nudged Treasury yields lower after five days of gains again. That cheered emerging markets and confidence more generally having been flattened during the brutal end to 2018: "Equities are having a good run after a pretty horrible end to last year," said Rabobank quantitative analyst Bas Van Geffen. "It is the changing wording of the Fed, it seems to be making more and more room for an eventual pause (in the rate hike cycle)".
Asia had crawled to a 5-week high overnight as shares rose in Shanghai, Tokyo, Seoul and Hong Kong while European stocks were on the edge of fourth straight day of gains and longest winning streak since September. S&P 500 futures and Nasdaq indexes pointed to a slightly softer open in New York after jumping early in the session after Steven Mnuchin said Chinese Vice Premier Liu He will "most likely" visit Washington on Jan. 30 and 31 for further trade talks. China's yuan, which slumped last year as trade tensions worsened, is heading for its best week since 2005, back when the country dropped a fixed peg to the dollar.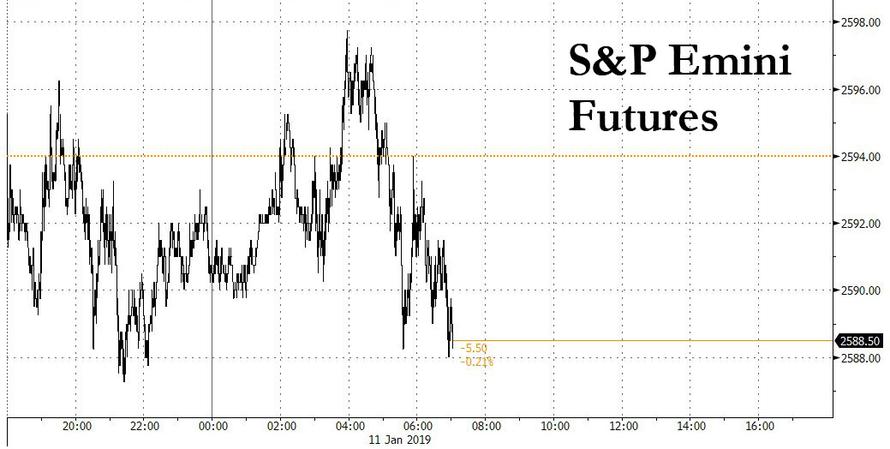 A pause to the recent massively overbought rally is to be expected: the S&P 500 is now up more than 10% from its Dec. 26 low - one day after Steven Mnuchin spoke to the Plunge Protection team. The S&P is also up on 6 out of the 7 sessions in 2019 so far and each of the last 5. That's the best streak since September and if it rises again today, it will achieve in the second week of the year a feat that only occurred twice in all of 2018. The index is now up +10.44% over the last 11 sessions, the best such stretch since October 2011.
In Asia, the ASX 200 (-0.3%) and Nikkei 225 (+1.0%) were mixed with the initial upside in Australia clouded by weakness in the key financials and mining-related sectors, while the Japanese benchmark outperformed as it coat-tailed on the recent USD/JPY moves. Elsewhere, Shanghai Comp. (+0.7%) and Hang Seng (+0.5%) conformed to the overall positive risk tone following the recent trade-related optimism with Vice Premier Liu He said to possibly visit the US later this month and amid hopes of further supportive measures as China may adopt more tax cuts for the manufacturing sector.
Failing to carry over Asian strength, European indices are mixed, having pared back some of the initial gains from the open. Some initial outperformance was seen in the FTSE 100 (+0.1%) jumped as much as 0.7 percent on the back of the latest slide in sterling against the euro on mounting Brexit uncertainty while UK housing names were higher after the sector was upgraded by BAML, with Persimmon (+4.4%), Taylor Wimpey (+4.8%) and Barratt Development (+2.6%) at the top of the index, however, the index was later pressured on currency effects as Sterling whipsawed on Brexit developments. Other notable movers include, Richemont (+2.3%) after the Co's Q3 revenue of EUR 3.92bln was in line with the expected EUR 3.93bln and posting a 5% rise in constant currency sales for the October-December period.
The market's bullish mood was supported by Fed Chairman Jerome Powell who underscored the message of patience with further interest-rate hikes, while saying the central bank will keep shrinking its balance sheet. At the Economic Club of Washington on Thursday, Fed chief Jerome Powell reiterated the U.S. central bank would be patient about hiking interest rates.
"The word 'patient' is used often when the Fed's policy direction is still tightening but its next rate hike can wait for a considerable time. So risk assets now enjoy support from what we can call Powell put," said Tomoaki Shishido, economist at Nomura Securities. "Similarly, Trump also softened his stance on China after sharp falls in stock prices. He has offered an olive branch to China and there's no reason China would not want to accept it," he added.
In FX, the dollar was on course for its fourth straight weekly fall against other top world currencies having also hit a three-month low the previous day. The flip side was that the Japanese yen was a shade higher again at 108.29 per dollar and the euro was up at $1.1530 on course for its best week since August. But it is China's yuan that has been the real mover though. Against the backdrop of the sensitive trade negotiations, the Chinese currency has risen 1.8 percent this week which is its biggest gain since July 2005 when Beijing abandoned the yuan's peg to the dollar.
Yuan traders had started offloading dollars in their proprietary accounts on Thursday following the wrap-up of three-day U.S.-China trade talks in Beijing. Markets treated absence of any bad news from those negotiations as good news. "Some corporate clients were joining to sell their dollars," said a trader at a foreign bank in Shanghai.
Disclosure: Copyright ©2009-2018 ZeroHedge.com/ABC Media, LTD; All Rights Reserved. Zero Hedge is intended for Mature Audiences. Familiarize yourself with our legal and use policies every time ...
more