Futures, Global Markets Surge On Renewed China Stimulus And Trade Optimism
The "Mnuchin Plunge Protection Team/Government Shutdown" rally extended overnight, and is now more than 13% from the Dec 24 lows with US equity futures and European stocks rising following a strong Asian session following a since-denied WSJ report that the US is considering easing Chinese tariffs to boost the market, followed by a report that China has told local governments to push consumption of cars and home appliances. The result is a sea of green in global markets, which look set to close the week at one-month highs, while safe-haven assets continued to decline with Treasuries, the yen and gold all edging lower.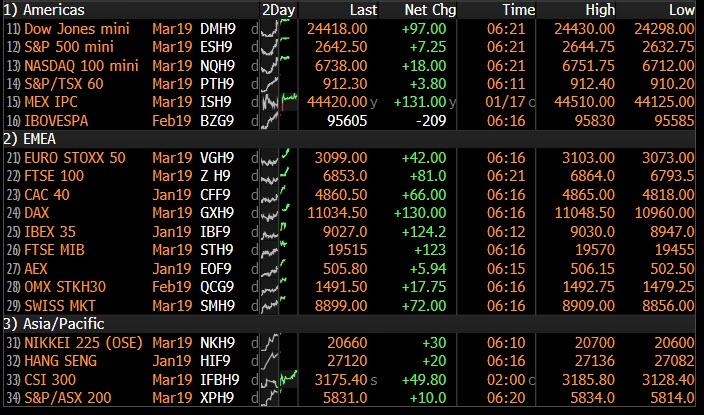 As a result of resurgent trade dispute optimism coupled with ongoing rumors of further stimulus from China, a Fed which has removed the threat of further rate hikes and an ok earnings season so far, global stocks rose to their highest in more than a month on Friday.
European stocks rose to the highest since early December, carrying over the trade optimism from the Asian session where major equity indices posted >1% gains after the WSJ reported that the US was considering lifting China import tariffs, and even though the Treasury promptly rejected the report, the story reinforced speculation the administration is more eager for a deal and helped upward momentum now that the 50DMA resistance has been breached in the S&P500.
"The story was probably not as interesting as the headlines suggested, as the story states that the proposal comes from Treasury Secretary Steven Mnuchin (a China dove), while the US Trade Representative Robert Lighthizer (China hawk) opposes the idea," strategists at Danske Bank wrote in a note to clients. "Nonetheless, we still interpret the story as another sign that a US-China trade deal is moving closer and markets probably do as well."
Europe's Stoxx50 rose 1.4%, crossing above the 50DMA for the first time since September, with banks enjoying the largest gains (+1.8%), recovering Thursday's losses to resume the week's rally, while Autos also rallied (+1.5%) supported by reports that China told local governments should boost policy support for consumption of home appliances and cars, according to a statement from the National Development and Reform Commission.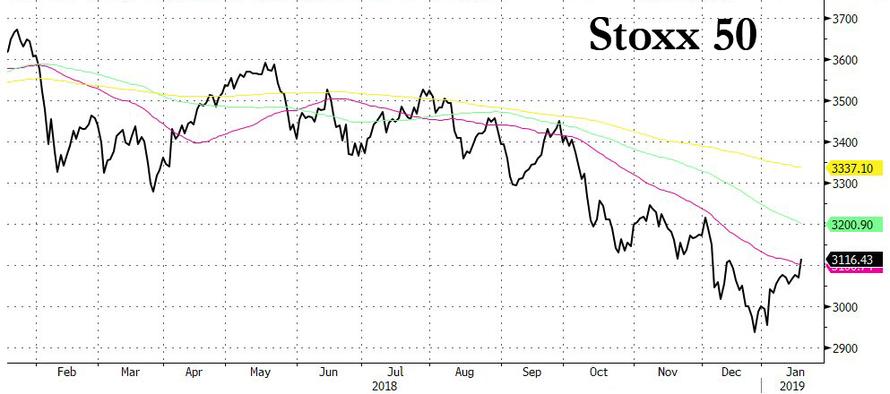 China's ministries called for boosting consumption in rural areas, including raising the quality of products consumed, and called for an increase in marketing of high- quality industrial products to rural areas. In short, China is telegraphing that consumption is to play a bigger role in dealing with downward economic pressures, although it is unclear just how this is possible when consumer debt in China has exploded in recent years, especially mortgage loans and credit card debt.
News of additional Chinese stimulus helped lift the MSCI index of Asia-Pacific shares ex Japan by 0.55%; the index has gained 1.3 percent this week, while the Shanghai Composite was up 1 percent. Australian stocks rose 0.5%, South Korea's KOSPI advanced 0.6 percent and Japan's Nikkei gained more than 1 percent to a one-month high.
The gains across regions helped lift the MSCI All-Country World Index to its highest since early December. The index was set for its fourth straight weekly gain, its longest weekly winning streak in six months, a furious rally that started the day after the US government was shut down, when Steven Mnuchin summoned the Plunge Protection Team, and as president Trump said "I think it's a tremendous opportunity to buy. Really a great opportunity to buy." So far he has been right.
In the US, S&P futures traded at session highs, up 0.5% following the S&P 500 cash Index's first close above its 50-day average since early December. The yen fell for a fourth day and oil extended the third week of gains toward $53 a barrel in New York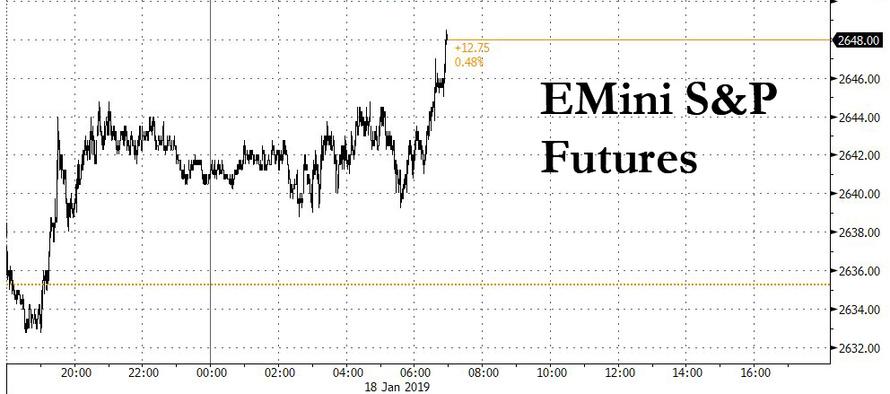 The bid for risk assets weighed on long dated bond maturities as curves bear steepened and swap spreads tighten. 10Y TSY yields rose to session highs of 2.77% the highest level in three weeks, while long-end Gilts underperformed with yields rising ~3.5bps before stalling. Peripheral bonds continue to trade well, led by BTPs which pare some of the early ~8bp tightening to Germany.
In FX trading, DXY trades to the lower end of a tight range, EURUSD reclaims 1.14, GBP backs away from 1.3000. The dollar was supported after U.S. Treasury yields rose amid improved risk appetite. The dollar was set for its first weekly rise in five. The euro rose to $1.1398 after dipping overnight. It was on track for a weekly loss of 0.7 percent. The pound was 0.3 percent lower at $1.2950 after climbing to a two-month peak of $1.3001 on hopes that Britain can avoid a no-deal Brexit.
As Bloomberg notes, stocks and junk bonds are heading into the weekend with momentum after investors got some relief over concerns about the growth and rates outlook from U.S. economic data and central bankers. Chicago Fed President Charles Evans said the American economy is doing well, allowing that "we can easily be patient" in deciding on further interest-rate increases. Global stocks powered toward their fourth weekly gain.
"We think valuations are attractive," said Marija Veitmane, senior multi-asset strategist at State Street. "There's quite a lot of bad news already priced in. Lack of bad news is good news, and we can see markets re-pricing back to higher multiples."
In overnight political news, the White House confirmed US President Trump canceled the delegation trip to Davos amid a government shutdown, while the White House also stated that US President Trump and Treasury Secretary Mnuchin are to hold Oval Office meeting today. Elsewhere, US Treasury Secretary Mnuchin has declined a request to testify next week regarding government shutdown according to US House Ways and Means Committee Chairman Neal, while the US Treasury instead offered to send senior officials to the Way and Means hearing.
EU Commission has proposed negotiating mandates for trade talks with the US, the EU seeks cover tariff removal for industrial goods and regulatory cooperation. Trade Commissioner Malmstrom added that EU are ready to put cars into the negotiations with the US; we are not proposing to restart broad free trade agreements with the US. German government spokesman, when asked about mulling the ban of Huawei from its 5G network, said security is important for Germany.
In commodities, crude oil futures extended Thursday's gains, adding 0.8% to $52.49 per barrel. Brent crude was up 0.6 percent at $61.56 per barrel and on track to gain roughly 2% on the week. Elsewhere in commodities, palladium was 1.5 percent higher at $1,417.00 an ounce after rising to an all-time high of $1,434.50 overnight. Demand has recently outstripped supply for the metal, used in emissions-reducing catalytic converters for cars. Palladium also appeared to get a boost from hopes for further government stimulus in China, the world's biggest auto market. Spot gold was down 0.3 percent at $1,299.06 an ounce, after relinquishing its spot as the most expensive precious metal to palladium early in December.
Disclosure: Copyright ©2009-2018 ZeroHedge.com/ABC Media, LTD; All Rights Reserved. Zero Hedge is intended for Mature Audiences. Familiarize yourself with our legal and use policies every time ...
more