Futures Fly To All Time High Of 4,023 Ahead Of Blockbuster Payrolls Report
While US cash markets are closed for Good Friday today, S&P futures continued their Thursday ramp higher, and after rising above 4,000 for the first time yesterday were last trading at 4,022, up 0.3%, ahead of the March payrolls data (preview here) expected to show the biggest increase in jobs in five months (and potentially much more). While cash bonds are open, most other markets were also closed for Good Friday.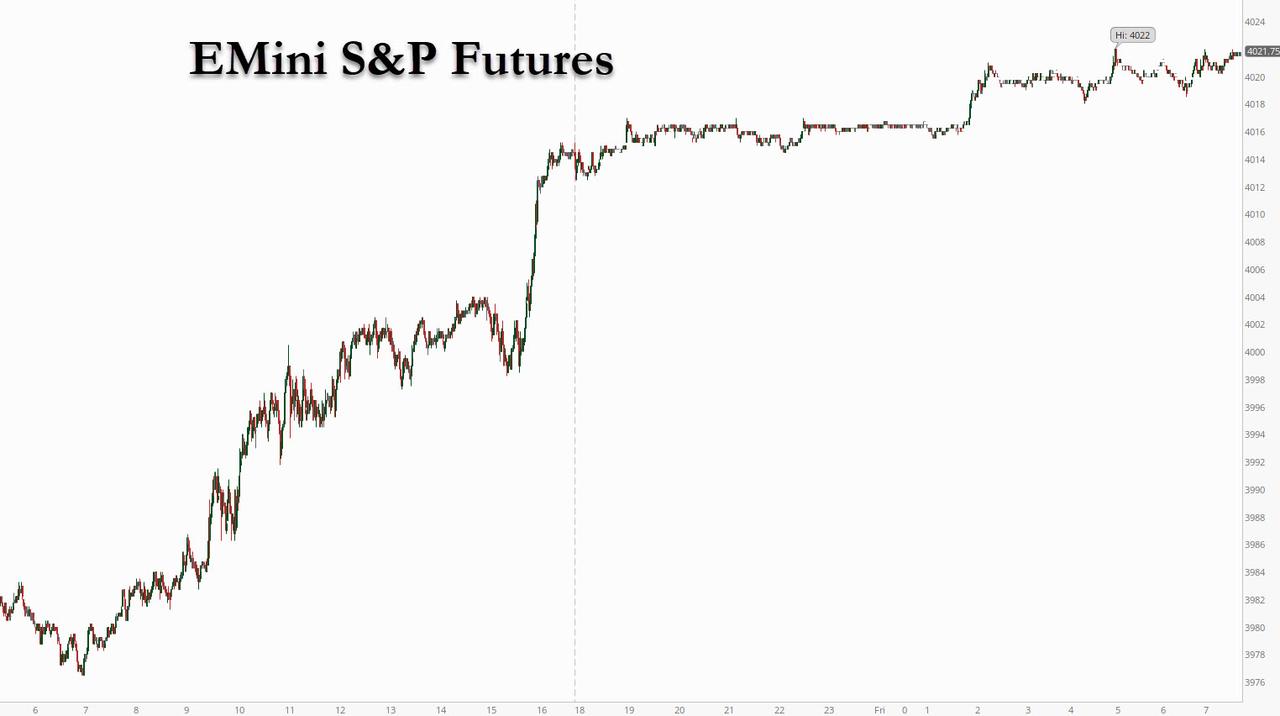 As previewed yesterday, if it is a big outlier, the jobs report will likely roil the bond market as trading volumes will be extremely thin during today's holiday-shortened session and all trades will be focused in rates as Treasuries will be the only asset open (until noon) while the New York Stock Exchange is closed today.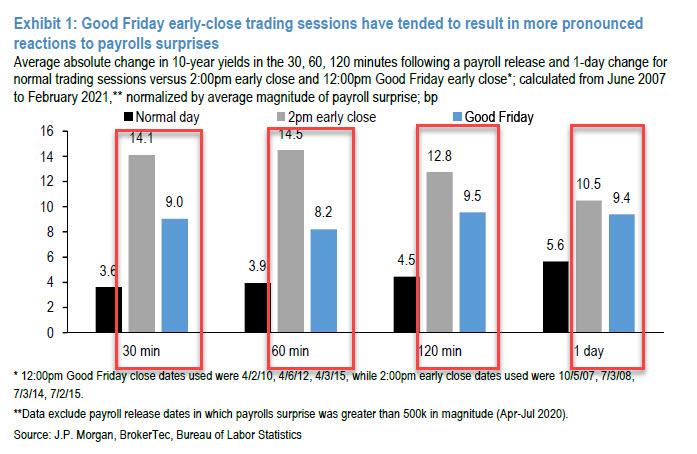 In previewing the potential for a big move, JPMorgan showed the chart above which shows the average absolute change in 10-year yields over various periods around payrolls releases, normalized by the average size of payrolls surprise, during various types of trading sessions. The data show that in the hours following payrolls releases on Good Friday 12 pm early-close sessions, Treasury markets appear to be approximately 2 times more volatile than observed during a normal session, for a given magnitude of surprise, and in 2 pm early close sessions, they are roughly 3 times more volatile than that of a full session following releases. Looking ahead, JPM concludes that "these results suggest that Treasury yields could exhibit greater volatility in response to a surprise in the employment report on Friday."
Even the lack of a blockbuster beat could send yields sharply higher: as Bloomberg notes, the median estimate points to 660,000 gain in non-farm payrolls, which would indicate that the economy is powering ahead as more people get vaccinated. That could push benchmark 10-year yields back toward a recent one-year peak of 1.77%.
Meanwhile, progress on the covid front continues: "The vaccination program is continuing apace across the U.S. along with a slowdown in the rise in virus cases, hospitalizations, and deaths," said Michael Hewson, chief market analyst at CMC Markets UK. "There are certainly plenty of reasons to be optimistic about today's payrolls number."
Disclaimer: Copyright ©2009-2021 ZeroHedge.com/ABC Media, LTD; All Rights Reserved. Zero Hedge is intended for Mature Audiences. Familiarize yourself with our legal and use policies every time ...
more