Futures Flat In Quiet, Holiday-Shortened Session
Global stocks rallied and the British pound gained as Britain and the European Union closed in on a free-trade deal although S&P futures were flat in a very quiet session ahead of today's shortened trading day. In China, Alibaba slumped after China launched an antitrust investigation into the e-commerce giant. The dollar and TSY yields were both slightly lower. Markets close at 1:00 PM ET today and will stay closed for the Christmas holiday on Friday.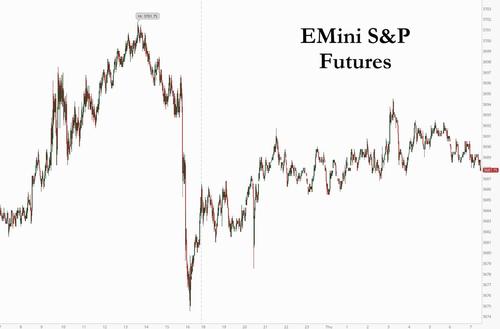 Energy stocks, including Exxon Mobil Corp and Chevron Corp, rose slightly in premarket trade, tracking strength in the crude market as a drop in U.S. stockpiles and hints of an imminent Brexit deal underpinned oil prices.
The S&P 500 and the Dow ended higher on Wednesday as investors rotated to cyclical and small-cap stocks that stand to benefit most during a recovery, encouraged by COVID-19 vaccine rollouts and passing of the coronavirus relief bill. The rotation weighed on the Nasdaq, which ended lower. Investors largely shrugged off comments by Donald Trump that a nearly $900 billion stimulus bill, agreed upon after months of wrangling in Congress, was "a disgrace" that he might not sign.
"Right now we have a lot of animal spirits surging into year-end," Michael Purves, founder, and CEO at Tallbacken Capital Advisors said on Bloomberg TV. "As constructive as I am on markets in the broader term, I do expect there will be a hangover of sorts to process this over-extension sometime later this winter."
The MSCI world equity index rose 0.16% after solid gains in Asia. In Europe, the Stoxx 600 Index edged higher ahead of an expected press conference from Prime Minister Boris Johnson on Thursday, which was delayed over last-minute haggling. Negotiators worked through the night putting the finishing touches on the historic pact, which will formally complete Britain's separation from the European Union. The pound rose to the highest in a week, while the euro was steady. The FTSE 100 rose 0.07% while the more domestically-focused British mid-cap FTSE 250 index hit its highest levels since February, and UK small caps a record high. The STOXX 50 added 0.17% while Germany's DAX gained 1.26%.
Sterling rose as much as 0.9% to $1.3619, close to its highest level in two years. Still, the pound's 5% rally since early November means much of the Brexit relief has been priced in to the currency, analysts say.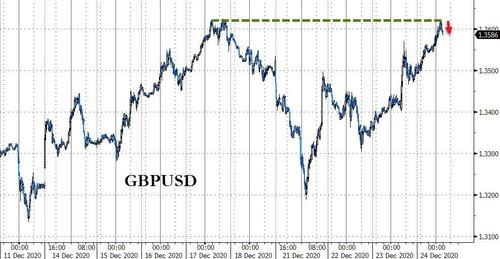 The Brexit deal will add to an end-of-year bullish mood in markets, where investors have looked beyond a spike in new COVID-19 cases globally and rising unemployment to the hope that vaccines and more fiscal spending will help spur economic recovery in 2021. Mizuho analysts dubbed it the "mistletoe effect", whereby anticipation of a trade accord meant that "despite being subject to the approval of PM Johnson and EU governments the outline deal was enough" to stoke a rally in markets.
Asian stocks advanced, driven by energy and technology shares, as the outline of a post-Brexit trade deal helped lift investor sentiment. Gains in South Korea's Samsung Electronics and Japan's Keyence helped put a gauge of regional tech shares on course for another record close. Energy was the other top-performing sector as the MSCI Asia Pacific Index rose for a second day. Thailand's SET Index rallied more than 2% to lead gains among national benchmarks but was still on course for a weekly drop owing to its sharp plunge Monday on concerns over coronavirus cases and related lockdowns. Key gauges in South Korea and India also climbed. However, China's Shanghai Composite Index dropped. Shares of Alibaba plunged 8% in Hong Kong after China started an investigation into its alleged monopolistic practices as part of an accelerating crackdown on anti-competitive behavior
Disclaimer: Copyright ©2009-2020 ZeroHedge.com/ABC Media, LTD; All Rights Reserved. Zero Hedge is intended for Mature Audiences. Familiarize yourself with our legal and use policies every time ...
more