Futures Crater On Mutant Virus Panic, Energy Tumbles On UK Quarantine
Between the fiscal stimulus deal agreed over the weekend, and the first day of Tesla trading in the S&P (where for every $11.11 dollar move in TSLA stock, the S&P changes 1 point), there was some hope that futures would be even higher record-er today... and they were for about 10 seconds after they reopened for trading at 6pm on Sunday when the Emini briefly spiked to 3,724 just after Senate majority leader Mitch McConnell confirmed congressional leaders had agreed a roughly $900 billion COVID-19 relief bill.
It wasn't meant to be, however, and just a few hours later, S&P futs had plunged as much as 125 points, or down 2.5%, sliding briefly below 3,600 before rebounding modestly to 3,640 with risk assets were crushed as markets digested newsflow that focused on virus mutations in the UK which sparked a new round of UK lockdowns (as well as a panicked attempt by Londoners to flee), coupled with continued lack of clear progress on Brexit.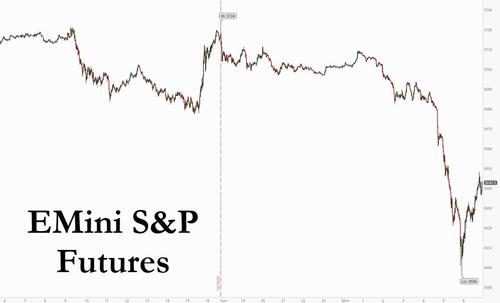 Oil & gas, banks, and auto names drop over 4% and are the worst-hit sectors in a sea of red, with oil tumbling in response to fresh airline travel fears while the dollar soared and VIX exploded 40% (!) rising above 30 after trading near 20 last week.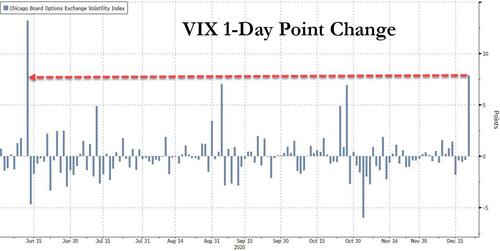 What sparked the panic were reports of a fast-spreading new coronavirus strain in Britain which threatened to torpedo markets' optimism over a vaccine-fuelled rebound in economic growth. The strain said to be up to 70% more transmissible than the original, has put some 16 million Britons under tougher lockdowns and prompted several countries to shut their borders to the UK, effectively overshadowing positive U.S. news on a much-needed stimulus bill. The shutdown of international travel and the flow of freight in and out of Britain threatens chaos for British households and businesses and sent oil prices plummeting as traders feared demand for oil would plunge as a result of the latest lockdowns.
"The U.K. virus mutation is raising concern that the central assumption in all of next year's forecasts and views could actually turn out wrong," said Christoph Rieger, head of fixed-rate strategy at Commerzbank AG. "That is quite a scary thought indeed."
The UK's last-minute lockdown covering the Christmas break was just the tip of the iceberg of a chaotic weekend: Europe and Canada blocked movement from Britain as fears mounted about a faster-spreading mutation of the virus; at the same time, the U.K.'s biggest port stopped traffic, triggering delays to food supplies and sparking worries about panic buying. And if a mutant virus and ruined holiday wasn't enough, Brexit rumbled on in the background. The U.K. and EU missed another deadline for getting a trade agreement done, leaving Boris Johnson looking down the barrel of no-deal.
As a result, European markets tumbled with the Eurostoxx 50 sliding over 3%, finding support near 3,400. The Stoxx Europe 600 declined as much as 3.5%, the lowest level in Monday's session, as several major countries moved to suspend travel from the U.K. amid concerns about a new strain of Covid-19. U.S. futures extend losses. Adding to pessimism, the U.K. and the European Union failed to make progress on Brexit talks (this is hardly a surprise). Energy shares led decline among sectors, followed by banks and automakers; travel and leisure stocks lost around 5%. Germany's DAX was the marginal underperformer. Losses of more than 3% on UK equities were led by bigger tumbles at UK banks Lloyds and Barclays which were both down more than 6% at one stage.
"Our main concern for the next few months in Europe would be that the UK (COVID-19) variant is already out of control on the continent, which would add to the pressure on the healthcare systems, forcing even stricter lockdowns at a growing economic cost," wrote Gilles Moëc, chief economist at AXA Investment Managers.
Asian stocks were also hit on concerns over the latest coronavirus outbreaks and related lockdowns across the region, as well as a rampant new strain in the U.K. The MSCI Asia Pacific Index traded 0.5% lower even after the U.S. Congress reached a deal on a roughly $900 billion stimulus package to bolster the world's largest economy. Thailand's equity benchmark led losses, sinking as much as 5.1%, the most since March 23. The nation may expand a lockdown as health authorities search for over 10,000 people with ties to a record cluster of coronavirus cases found in a coastal province near Bangkok. Stocks in India, where virus infections crossed the 10 million mark, and the Philippines were among the other major losers. Utilities was the worst-performing sector in Asia on Monday, followed by energy shares as oil fell toward $47 a barrel.
It wasn't all bad news: Congress is set to vote today on a $900 billion relief package after Democrats and Republicans struck a compromise over Fed emergency lending programs, and the bill includes help for small businesses and direct payments of $600 to most Americans. Lawmakers also passed a one-day funding measure to keep government doors open today.
Disclaimer: Copyright ©2009-2020 ZeroHedge.com/ABC Media, LTD; All Rights Reserved. Zero Hedge is intended for Mature Audiences. Familiarize yourself with our legal and use policies every time ...
more