FOMC Minutes: The New Narrative Takes Shape
Translation: we appear to have been wrong about that whole boom/overheating thing.
That's no longer the crux of our current dilemma, though. In fact, this was what markets were doing back in the last three months of last year; digesting the growing likelihood that Powell had it all wrong. He now agrees.
The emerging question is what happens next. Since it couldn't have been EFF at 240 meaning rate hikes that changed everything, people are betting on QT. Like flipping a switch, some are thinking that if the Fed becomes much clearer on the topic of balance sheet "normalization" this will be more than enough to alleviate fears over liquidity problems. Strong worldwide demand for safe assets is, at root, overwhelming liquidity hedges.
As I've written before, many times, there is no such thing as QT. Even if there was, that the Fed's balance sheet reduction leading to fewer bank reserves available, so what? Had the monetary system actually been rebuilt in the wake of the 2008 panic the level of central bank reserves in it would be entirely immaterial.
In fact, that was the plan all along. Whatever the Fed might withdraw, the private system seeing great opportunity would rush to supply if not oversupply.
No liquidity crisis – if the private system has been rebuilt. Eleven years has been enough time for that to happen if it was ever going to happen.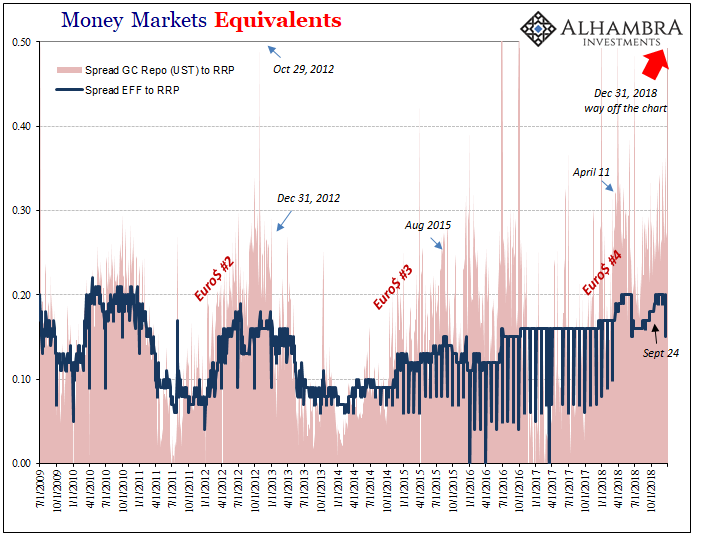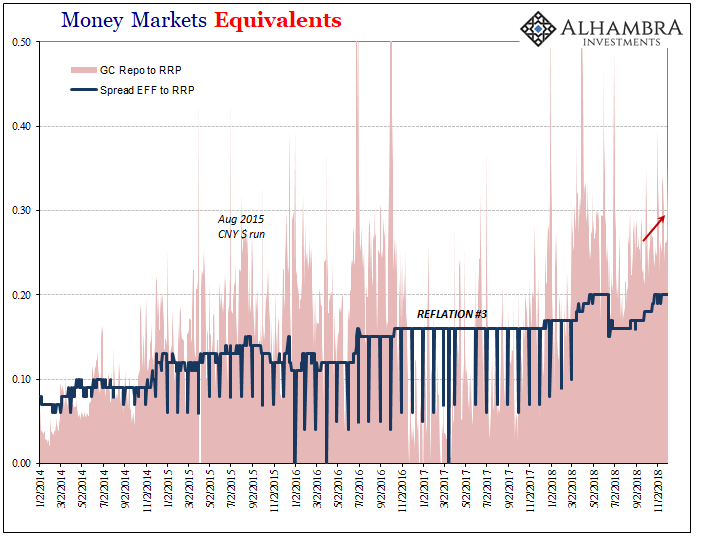 We know very well, too well, that it hasn't. This isn't the first liquidity problem for the US$ system since 2009. It is actually the third, the fourth overall counting 2007-09. The only difference is that the Fed, irrelevant to that system, is claiming that it is tightening at the same time.
This is the first instance during this period when monetary policy and effective eurodollar conditions are aligned in the same direction – by pure accident.
If QT and "rate hikes" weren't the cause of Euro$ #2 or #3, and they weren't, what's the chances a more attuned communications policy about QT will end up being the effective solution to Euro$ #4? Somewhere between zero and nil.
Disclosure: This material has been distributed for informational purposes only. It is the opinion of the author and should not be considered as investment advice or a recommendation of any ...
more