FOMC, Earnings & Delta: Weekly Nifty 9
Research Report Excerpt #4
The rotation from small and mid-caps to large-cap/growth has been in place since mid-March. We can see this in a relative performance ratio chart of the small-cap ETF (IWM) compared with the S&P 500 ETF (SPY).
As identified in the IWM:SPY relative performance ratio above, mid-March marked the peak in outperformance for small-caps and the transfer of leadership back to large-caps. This is actually a normal and to-be-expected occurrence as small-caps typically lead out of bear markets and large caps follow. What is also identified in the chart above is the "Death Cross" in the relative performance ratio whereby the 50-DMA crosses under the 200-DMA. Typically when a Death Cross occurs, more weakness is ahead. Keep in mind that we are examining a relative performance ratio between small and large-caps, not an absolute picture of the small-cap ETF.
Research Report Excerpt #5
The leading index rose 0.7% to 115.1 in June, another new record high. This extends the gains for a fourth straight month and follows May's 1.2% increase to 114.3 with jumps of 1.3% in April and 1.4% in March. Eight of the 10 components made positive contributions, again led by jobless claims (0.25%) and ISM new orders (0.21). The two components making negative contributions were building permits (0.15%) and the average workweek (0.14%).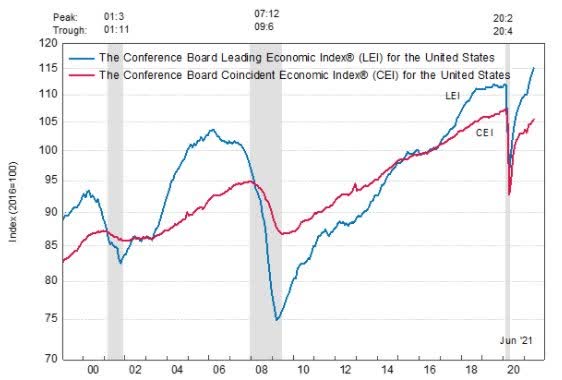 The Leading Economic Index increased 5.0% (about a 10.3% annual rate) during the first half of 2021, slower than the growth of 6.6% (about a 13.7% annual rate) during the second half of 2020. This slowing of growth, while still yet above the average of typical recovery cycles, is only natural given the higher base. What's more important, is how the LEI strength can potentially foreshadow stronger earnings and therefore lends itself quantitatively to deciphering S&P 500 forward returns.
When LEIs >+7% YoY, as they are today, S&P 500 6-month forward returns +7.7%.
Win-ratio is 82%.
Disclaimer: The risk of loss in stock, stock/options, futures, futures/options, and forex trading is substantial, and site visitors and subscribers should consider whether trading these markets ...
more