Flash-Mob Finance
Modern communication infrastructure can facilitate swift simultaneous action by a large number of people. If used to coordinate a surprise attack, an organized mob can overcome a store or even the capitol building. Is Wall Street the next target?
GameStop is a brick-and-mortar retail chain that was losing money even before the pandemic. Yet the price of its stock increased 1,900% in January on the basis of no particular improvement in fundamentals. The rocketing price seems to be a classic short squeeze, with a new twist: the grip of the squeeze came not from a deep-pocketed individual but by the internet-coordinated action of a large number of small investors.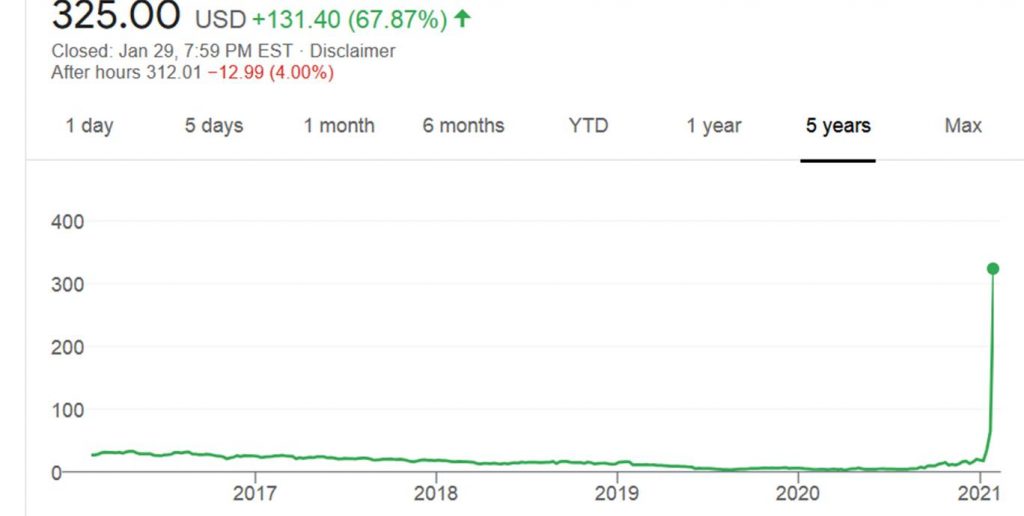 GME price, Feb 5, 2016 to Jan 29, 2021. Source: Google Finance.

To understand what a short squeeze is all about, let's start with a simple example in which the issues will hopefully be very clear. Suppose there is a company that you are convinced is going to be able to make one more dividend payment of $1 to each shareholder before it goes out of business next year. Even though the company is headed for bankruptcy, the stock has some intrinsic value, namely the $1 that each owner of a share will receive as dividend. If the stock sells for $2, it would be overpriced, and you might try to profit by selling the stock short.
To do that, you could try to borrow a share from a dealer so that you can sell a share for $2. You would have to put up funds (known as margin or collateral) to prove that you are able to cover the $1 dividend payment and capable of buying the stock outright if you were forced to. If after your short sale other market participants start buying a lot of shares and drive the price up, you'll have to put up more funds to prove to the lender that you still are able to buy back at the higher price to fulfill your original sell. If you can't do that, the dealer who originally lent to you will use your collateral to buy the shares outright and close out your position. The buy orders from the closed-out shorts can then add to the buy orders from the rest of the market to drive the price skyward.