Finally Some Real Data…For November
China has done both. When monetary officials "sell UST's" they at the same time undercut their own domestic money supply (the very scenario Brazil's monetary officials are trying very hard to avoid). To try and make up the difference, China's central bank has allowed banks to use more of their own RMB bank reserves (RRR cuts). Now, as in 2015, it isn't working because Chinese banks are hoarding rather than filling in the RMB gap that necessarily arises out of this dollar shortage.
So, any RRR cut announcement is an official acknowledgment of China using reserves meaning eurodollar-based shortage. The TIC data perfectly demonstrates the eurodollar part – up to the RMB boundary.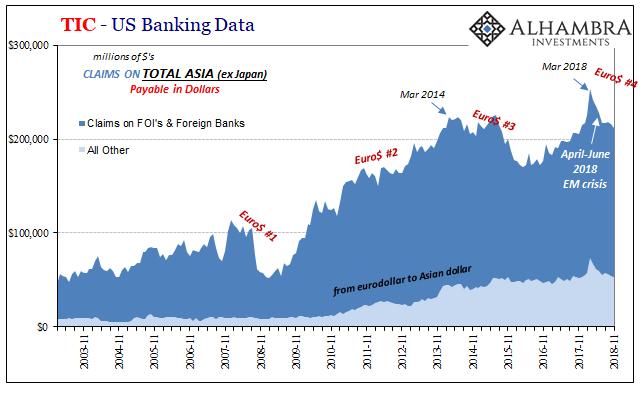 China hasn't been the only one who was provoked by eurodollars, though. Across all of Asia and emerging markets, there was an obvious dollar shortage that resulted in a number of prominent currency crises. When eurodollars, meaning offshore interbank monetary resources, are hard to come by, local banks have to pay up for the privilege (which is a necessity from their perspective). The dollar rises in exchange value, domestic currencies fall often dramatically.
CNY's decline was the most exaggerated almost certainly because it took place before the PBOC got involved. There were no "selling UST's" by China until around summertime. These have been ramped up in the latter months of 2018 as CNY has stabilized but at the cost of increasing internal monetary constraint. Therefore, more RRR's.
In mainland China alone, UST flows amounted to -$4.4 billion in June, -$7.7 billion in July, and -$5.6 billion in August. In September, when CNY drew closer to 7.0 to the dollar, intervention was stepped up to -$13.7 billion, -$12.5 billion in October, and finally -$17.5 billion in November as CNY counterintuitively rebounded.
More UST outflows, more RMB constraint (spilling over into perhaps HKD, too):
Disclosure: This material has been distributed for informational purposes only. It is the opinion of the author and should not be considered as investment advice or a recommendation of any ...
more