Fed's Third Hike And Gold
This time, the U.S. central bank did not make us wait too long for the next hike. Just three months after the hike in December, the Fed moved interest rates up again. Although the pace of the current tightening cycle is extremely gradual, the U.S. central bank is consistently moving away from the zero interest rate policy. The chart below shows the current level of the effective federal funds rate after all three hikes.
Chart 1: The effective federal funds rate after the third Fed hike in a decade.
(Click on image to enlarge)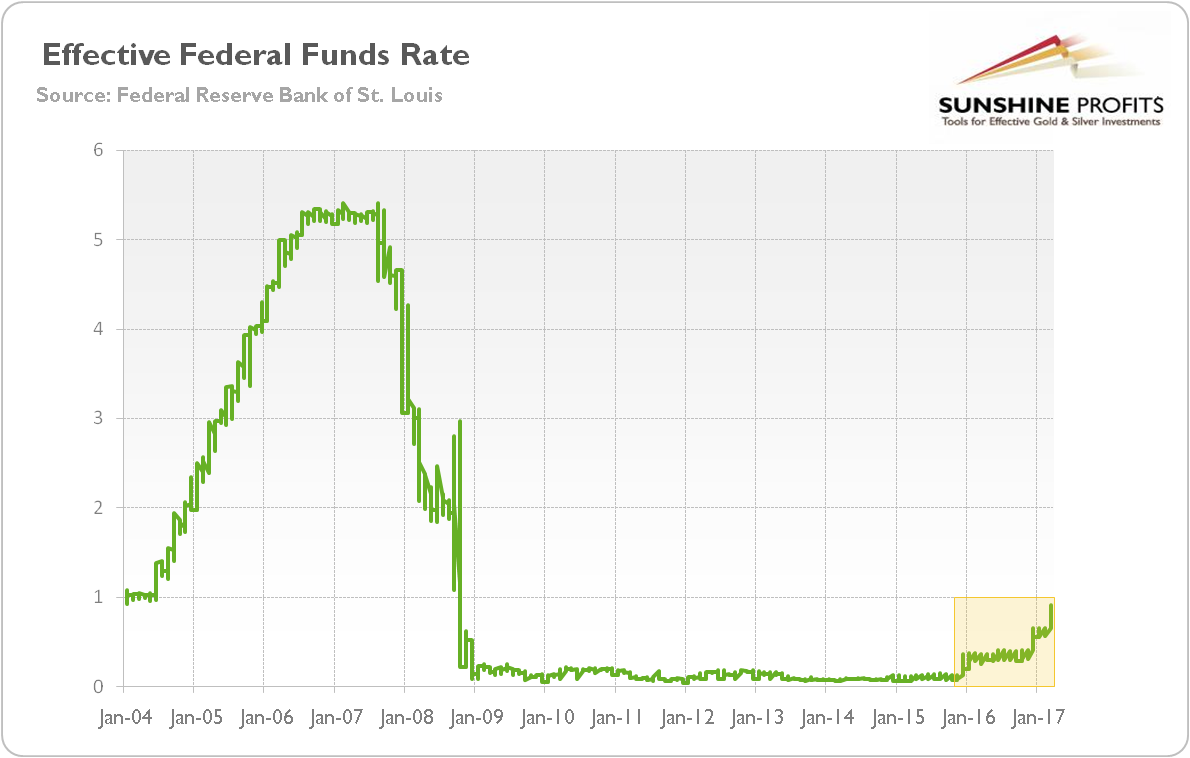 What does it mean for the gold market? Well, higher interest rates are believed to be negative for gold prices, as they make non-interest earning assets less attractive. Moreover, the hawkish Fed's stance (although gradual) widens the divergence in monetary policies among major central banks in the world. As one can see in the chart below, the ECB clearly lags behind the Fed in normalizing its monetary policy after the financial crisis. Thus, the Fed's next move should strengthen the U.S. dollar against the euro and weaken the yellow metal.
Chart 2: The Federal Funds rate (green line) and the ECB's main refinancing rate (red line) from 2004 to 2017.
(Click on image to enlarge)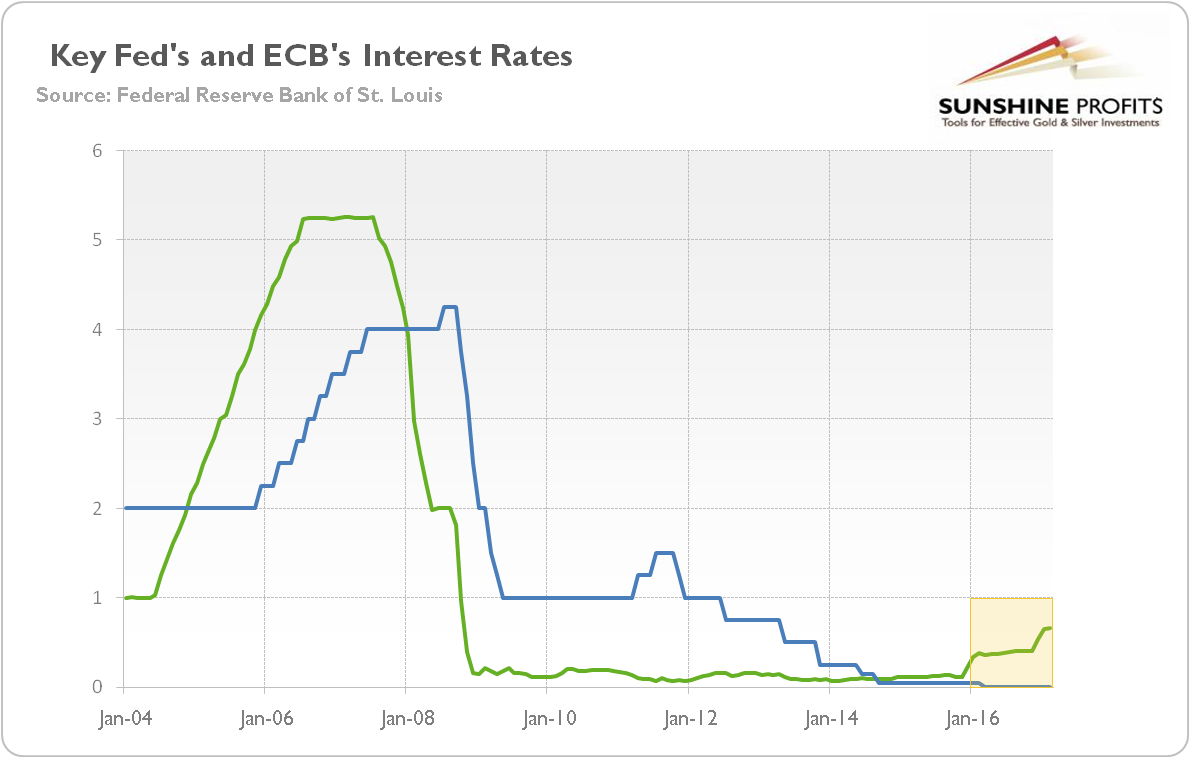 However, as the next chart shows, all three hikes in the current tightening cycle were actually positive for gold.
Chart 3: The price of gold after the Fed hikes in 2015, 2016, and 2017.
(Click on image to enlarge)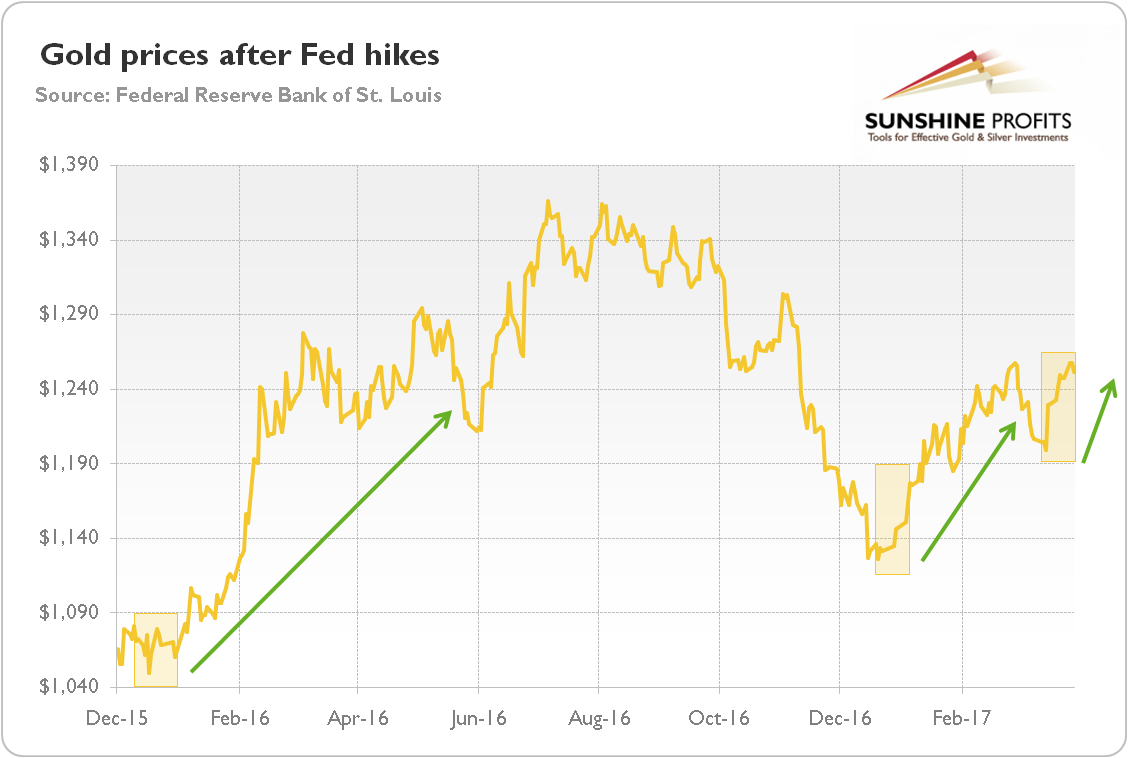 Since October 2015, the price of gold was under pressure in anticipation of the Fed's hike. It bottomed out the day after the move and started its amazing rally. In 2016, we saw a replay of the previous year: gold prices were in a downward trend before the anticipated Fed hike in December (the outcome of the U.S. presidential election also contributed to the decline). And again, the yellow metal bottomed out a few days after the FOMC meeting, then rising like a phoenix from the ashes. Also, the third lift was not negative for the gold prices, as the yellow metal replayed the previous scenario: it started to decline at the very end of February, bottomed out on March 15, when the FOMC held its meeting, and jumped upwards thereafter.
If you enjoyed the above analysis, we invite you to check out our other services. We focus on fundamental analysis in our monthly more