Fed Under Pressure As US Inflation Climbs
Demand will continue to exceed supply
The key reason is that the stimulus-fueled economy is booming. We are forecasting output will end the year higher than it would have done if there had been no pandemic and the economy had instead continued along its 2014-19 trend. However, the pandemic has led to scarring in the economy which means we are concerned that supply capacity won't be able to cope with the scale of demand.
US GDP level based on ING forecasts versus pre-Covid trend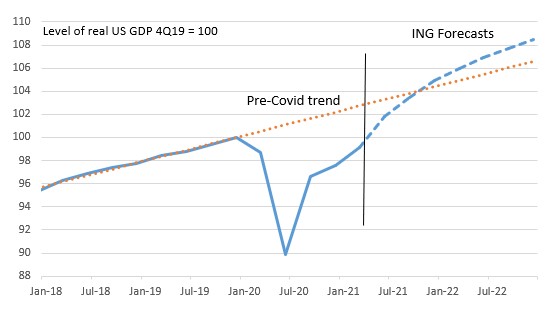 Source: Macrobond, ING
Rising costs, rising corporate pricing power, rising wages equals more persistent inflation
Rising commodity and freight charges, combined with supply chain disruption and component shortages have obviously put up costs. Labour shortages are also on the rise as homeschooling requires many parents to focus on childcare rather than go to work while extended and uprated unemployment benefits mean firms are having to pay higher salaries to attract staff.
This was illustrated by the fact that the "quit rate" published by the Bureau for Labour Statistics– the proportion of people leaving their job to move to a new employer - jumped to a new all-time high of 3.1% in April. Fortunately for business, a strong demand environment means these higher costs can be passed onto consumers.
The effects of this can be seen in a number of other surveys, including the National Federation of Independent Businesses reporting the fourth consecutive new all-time high for the proportion of businesses that have vacancies they cannot fill – now at 48%. At the same time price hike intentions are at their highest since 1980.
Watch housing costs in the coming months
This could be compounded by housing costs since primary rents and owners' equivalent rent account for a third of the CPI basket. Movements in these components tend to lag 12-18 months below house price developments, as the chart below shows, since rents are only typically changed once a year. This means that the housing components may well be the story to watch through the second half of this year.
Disclaimer: This publication has been prepared by the Economic and Financial Analysis Division of ING Bank N.V. ("ING") solely for information purposes without regard to any ...
more