Fed Driven Bubble Destined To End Badly
Investors hope to see a big pop in consumer spending due to another round of checks being put into the hands of individuals. This expected bounce in spending may fall short of expectations. Where the massive package passed last spring caused the bizarre situation of incomes rising during a recession this is more a scaled back continuation of expiring programs. It would be wise to remember what we are witnessing is constructed on a foundation of growing debt. This is made clear in the chart below which shows the change in Debt-to-GDP from Q42019 through Q3 of 2020.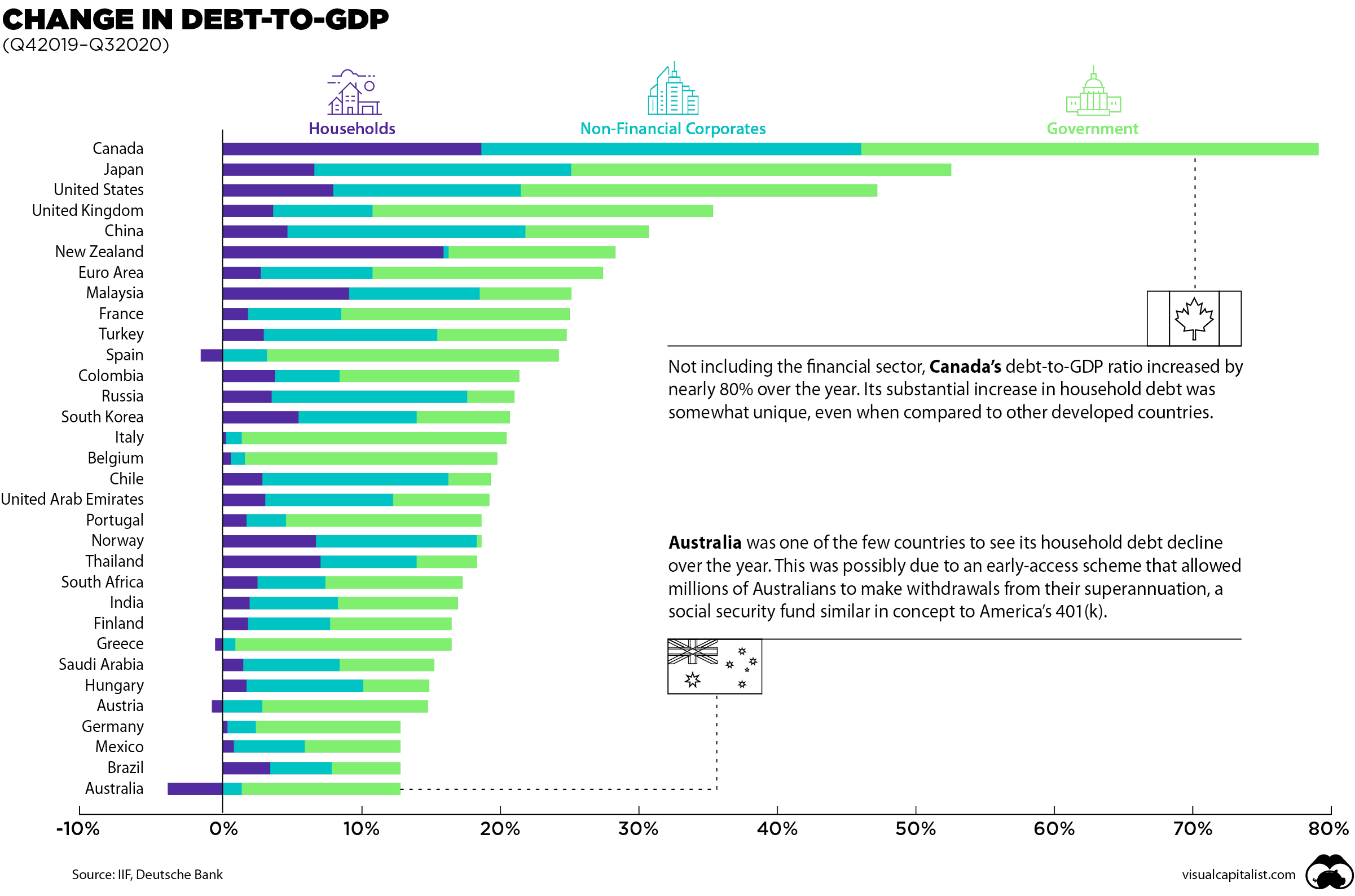 In the Austrian business cycle theory, malinvestments are badly allocated business investments. A strong case can be made that we already suffer from far too much leverage in our markets and this rate cut only encourages savers suffering from low-interest rates to take on more risk in search of higher yields. It has been pointed out on many occasions that low-interest rates do not extend down to low-income individuals with poor credit and many people fall into this category. Instead, over time these rates fuel inequality and punish the poor. Unfortunately, the concept that a rising tide floats all boats or trickle-down economics tends to heavily favor the rich.
We see this in housing where few of the new apartment construction funds are generated locally and much of the building is no-longer based on real need but centered around the whims of huge real estate companies. This is part of the reason roughly 80% of new apartment construction is now for the high-end luxury market. Again the government and Wall Street money is driving this train. While retailers close and large buildings go empty across the land new buildings are being put up on speculation and bogus public-private partnerships are plowing vast sums of money into projects geared to compete with those that already exist. the fact is all across America the Fed is putting the small guy out of business.
Disclaimer: Please do your own due diligence before buying or selling any securities mentioned in this article. We do not warrant the completeness or accuracy of the content or data provided in ...
more