Featured Stock In February's Exec Comp & ROIC Model Portfolio
The success of this Model Portfolio highlights the value of our Robo-Analyst technology[1], which scales our forensic accounting expertise (featured in Barron's) across thousands of stocks.
This Model Portfolio only includes stocks that earn an Attractive or Very Attractive rating and align executive compensation with improving ROIC. We think this combination provides a uniquely well-screened list of long ideas because return on invested capital (ROIC) is the primary driver of shareholder value creation.[2]
New Stock Feature for February: Kimberly Clark Corporation (KMB: $119/share)
Kimberly-Clark Corp (KMB) is the featured stock in February's Exec Comp Aligned with ROIC Model Portfolio. We highlighted KMB as a Long Idea in November 2017 and as a featured stock in the Safest Dividend Yields Model Portfolio in April 2018. Since the April 2018 report, KMB has outperformed the market (15% vs. S&P +4%) and remains undervalued.
Since 2014, KMB has grown after-tax profit (NOPAT) by 3% compounded annually while reported profits have declined by 2% compounded annually. Over the long-term, KMB has grown NOPAT by 3% compounded annually since 1998.
True profit growth has been fueled by rising NOPAT margins, which are up from 11% in 2014 to 14% in 2018. KMB's return on invested capital (ROIC) has improved from 12% in 2014 to 15% in 2018.
Figure 1: KMB's NOPAT and GAAP Net Income Since 2014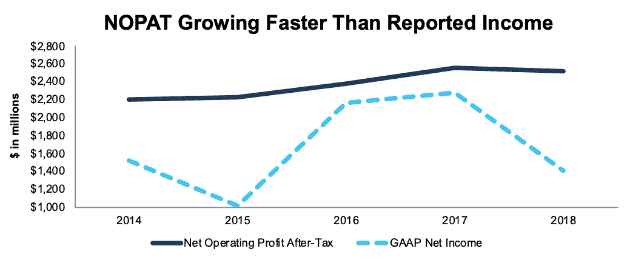 Sources: New Constructs, LLC and company filings
The disconnect in Figure 1 between GAAP net income and NOPAT in 2018 comes primarily from $973 million(5% of revenue) in non-recurring restructuring charges that must be removed from reported earnings to calculate the true profitability of the firm.
Executive Compensation Plan Helps Drive Shareholder Value Creation
KMB executives receive long-term equity compensation in the form of performance-based restricted stock units (RSU's). These awards are tied to the achievement of two goals, 3-year average return on invested capital and annual net sales growth, each of which is weighted at 50%. RSU's made up 54% of the CEO's pay in 2017 (most recent year data is available) so it should come as no surprise that KMB has improved ROIC in recent year – executives' bonuses depend on it.
Disclosure: David Trainer, Kyle Guske II, Sam McBride and Andrew Gallagher receive no compensation to write about any specific stock, style, or theme.
Eight new stocks make February's Exec ...
more