Fear Or Reflation Gold?
Gold is on fire, but why is it on fire? When the precious metals' price falls, Stage 2, we have a pretty good idea what that means (collateral). But when it goes the other way, reflation or fear of deflation? Stage 1 or Stage 3?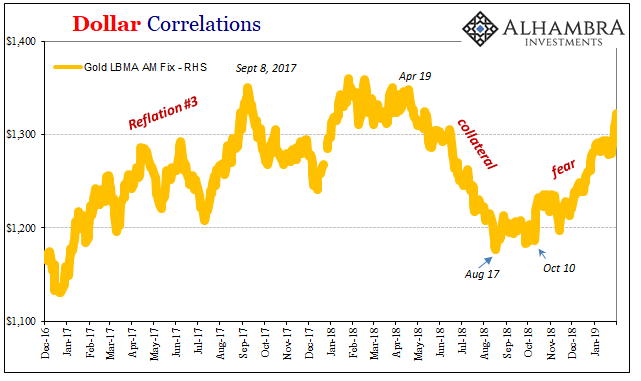 If it is Stage 1 reflation based on something like the Fed's turnaround, then we would expect to find US$ markets trading in exactly the same way. Like 2017, when gold was last rising, there should be reflationary corroboration in rising rates, current and expected, along with inflation expectations and curves.
That's not happening here or anywhere. Even as the "bond market" including eurodollar futures has retraced some of December's awfulness, it really hasn't been all that much and the curves are still highly distorted (liquidity risk, therefore clear deflation signal).
This one, a very important set of prices, goes into the fear column.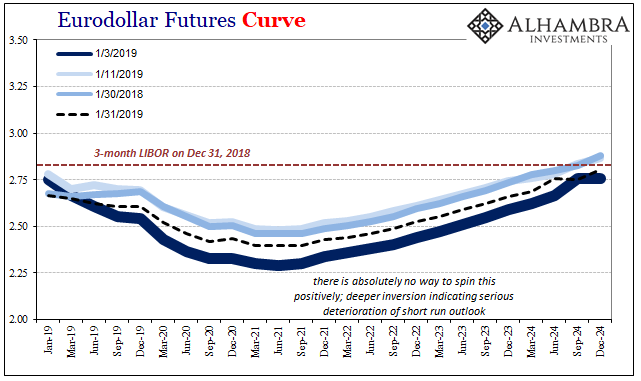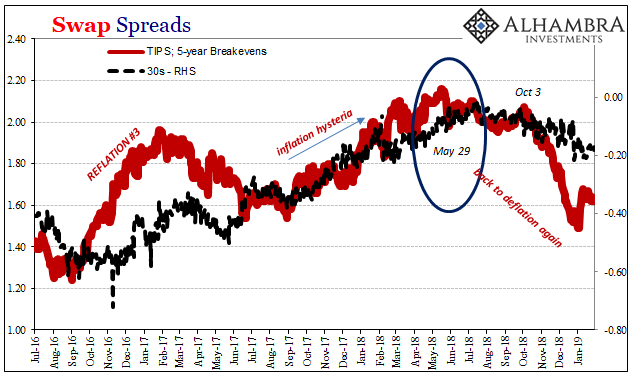 Maybe gold is up because of something the Chinese are doing. Some kind of reflationary "stimulus" that gets the whole thing restarted after the aborted soft landing the last half of last year. Gold, after all, isn't determined solely by what may be happening US economy-wise or even in eurodollar capacities. China in monetary overdrive might seem an inflation risk worth hedging.
Except, gold really started moving upward back in October when China was engulfed in deflationary liquidation (right from the start of its reopening from the National Day Golden Week). Despite several attempts at "stimulus", which isn't stimulus, the Chinese economy continues down the deflation track unabated.
The first look at January 2019 inside China isn't encouraging. The Chinese NBS reports today that the manufacturing PMI remained below 50 for a second straight month. Though the overall index was marginally higher than December, the subindex for New Orders declined a little further below 50 (and New Export Orders quite a bit below 50). It doesn't appear Chinese manufacturing is going to turnaround in the next few months.
Disclosure: This material has been distributed for informational purposes only. It is the opinion of the author and should not be considered as investment advice or a recommendation of any ...
more