Fastest Stock Market Rally In 90 Years
Hedge Funds Are Very Long
The recent stock market rally has been the fastest in 90 years. The 230 day increase is 75.6%. This is more of an extension of the prior bull run than an entire new bull market. The crash in March 2020 wasn't a real bear market. It was similar to the almost 20% crash in the end of 2018. The current 75% start to this bull market is the best start to a bull run since 1932 when the market rose 78%. As you can see from the chart below, hedge fund net long exposure heading into the year was 58%. We've already shown in a previous article that the net percentage of funds taking higher than normal risk is at a record high.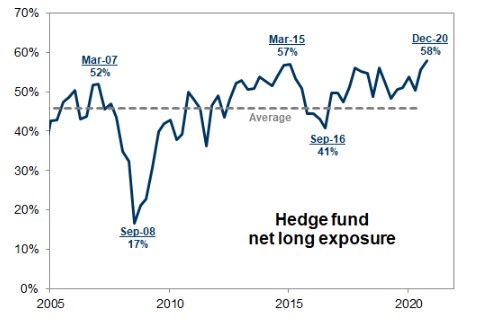 The rally in stocks has created many retirement millionaires which is a good thing. Some bearish investors want the Fed to hike rates to reduce speculation in the stock market. However, that would inflict massive pain on these 600,000 millionaires. Boomers need this money to retire on. Boomers don't necessarily have the highest weight in stocks, but they have the most in their accounts. Clearly, the recent spike seen below is the result of the bull run. Our hope is they are largely betting on the overall market instead of the speculative names. However, that's unlikely to be the case as retail investors are taking crazy risks in names with no sales or profits to speak of.
Exuberance Index
As you can see from the chart below, other than during the 1990s tech bubble, the exuberance index has never been this high in the past 31 years.
This index is measured based on the number of companies with a greater than 10x sales multiple with a share price that has more than doubled in the past quarter. Sometimes it's okay to buy expensive stocks, but that's not a good idea in this market because the macro picture is probably causing more of the rise than improvements in the business.
Disclaimer: The content on this site is for general informational and entertainment purposes only and should not be construed as financial advice. You agree that any decision you make will be ...
more