Expected Median S&P 500 Return In 2019
The most negative data points on the stock market and the US economy are Q4 earnings guidance and the ECRI leading index. Specifically, after the first 20 firms reported Q4 earnings 75% of them had their estimates lowered by an average of 6.63%. That's the worst data The Earnings Scout has ever measured in 8 years of collecting data.
The ECRI leading index is down 6.5% year over year, which is the worst year over year decline in 363 weeks. The index increased 2.1 points in the first week of the year, but the tough comparison made growth fall in rate of change terms. The index's growth rate peaked in January of last year. The index's growth slowdown in 2018 eventually led to the correct forecast of the current slowdown.
The table below tests the weekly leading index's accuracy.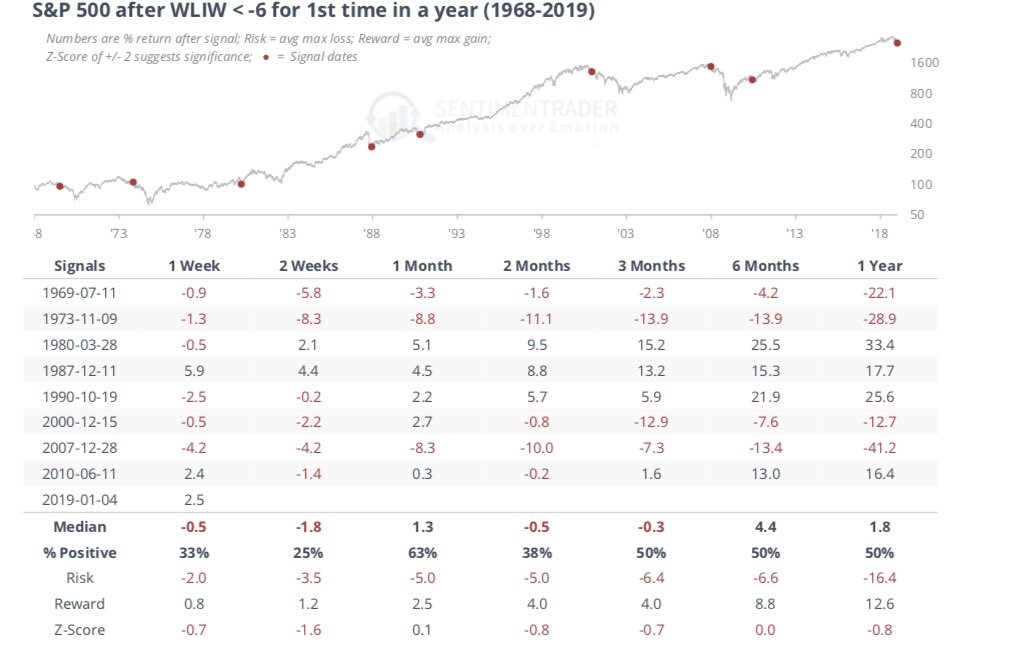 Source: Sentiment Trader
The red dots in the chart above signals when the index was down at least 6% year over year for the first time in 12 months. This signal is accurate, but the results vary based on the time period. It's amazing that the median return after one year is only 1.8% with half of the instances positive and half of them negative. No indicator is going to have a perfect track record. Knowing there's only a 50% chance stocks will increase in the next year is a huge advantage.
It's interesting that in this current instance, stocks have bucked one of the most difficult tests as they increased 2.5% one week after the signal even though they had only increased 25% of the time leading up to this. The rally stemmed from stocks being oversold. You can really outperform the market if you use this as a tool rather than blindly following it with no concept of when stocks are overbought or oversold.
Very Small Move In Taxes
The tax Freedom Day represents theoretically how long Americans as a whole have to work in order to pay the nation's tax burden. The deficit inclusive tax Freedom Day adds in the deficit which makes it later if there is a deficit and earlier if there is a surplus. Even though taxes were cut last year, the tax Freedom Day hasn't moved much, and the deficit adjusted tax Freedom Day has moved even less as you can see from the chart below. The increase in spending increased the deficit.
Disclaimer: Please familiarize yourself with our full disclaimer here.