EUR/USD Weekly Forecast: Bulls And Bears Eye Biden's First Moves, ECB, And Vaccines
Biden is set to go big – the President-elect's scope for spending is around $1.9 trillion, which means issuing more debt. Investors continued moving away from bonds, pushing Treasury yields higher and supporting the dollar. On the other hand, robust demand for US Treasuries halted the rally in returns and weighed on the greenback.
The US currency also received an initial boost from the Federal Reserve. Officials denied that they intend to taper their bond-buying scheme – but merely talking about rosier forecasts supported yields and the greenback. Jerome Powell, Chairman of the Federal Reserve, seemed to put an end to speculation by rejecting any tightening in the foreseeable future.
Powell's cautious speech came after US jobless claims badly disappointed with a leap to 965,000, showing the need for further support. Treasury yields dropped in response to both events.
Retail Sales provided another bitter downfall, tumbling by 1.4% in December – and on top of downward revisions. In response, the dollar turned back to its role as a safe-haven and advanced.
In the meantime, coronavirus has continued raging on both sides of the Atlantic. The US daily death toll advanced after surpassing the 4,000 mark, while Germany extended its lockdown amid rising mortalities and no relenting in infections.
(Click on image to enlarge)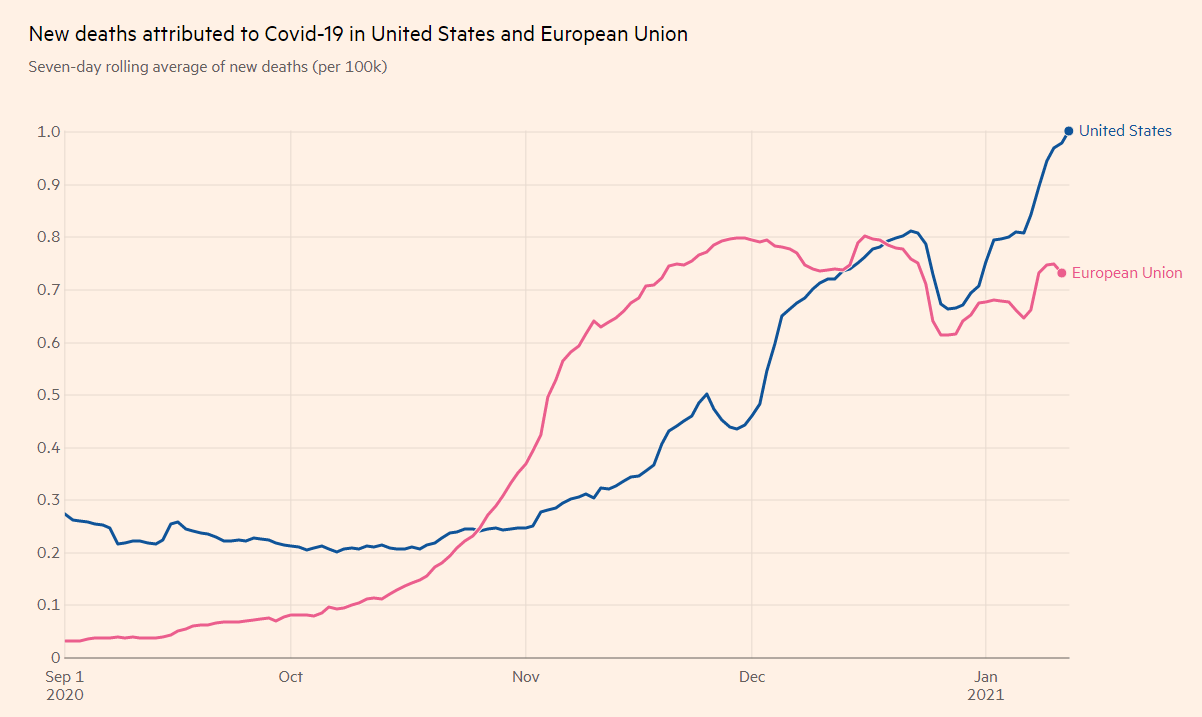 Source: FT
However, while the disease is taking its toll, there is a yawning gap in the vaccination pace. European countries have barely inoculated 1% of the population while America has surpassed the 3% mark and is accelerating its pace. The growing gap also weighs on EUR/USD.
Hope comes from Israel, the world's leader in vaccinations, where an initial study showed that the Pfizer/BioNTech jab reduces infection, not only prevents disease.
(Click on image to enlarge)
Source: OurWorldInData
The common currency is receiving no help from a political crisis in Italy. Former Prime Minister Matteo Renzi abandoned the government led by Giuseppe Conte, leaving it without a majority. Markets have been shrugging off this development as all sides say they want to prevent unnecessary elections in the middle of a pandemic.
The German economy shrank by around 5% in 2020, according to initial estimates, and probably stalled in the final three months of the year. Investors are worried about a double-dip recession in the old continent.
Disclaimer: Foreign exchange (Forex) trading carries a high level of risk and may not be suitable for all investors. The risk grows as the leverage is higher. Investment objectives, risk ...
more