EUR/USD Threatens Yearly Low As Euro Worries Back In The Spotlight
RETURN OF THE RISK TRADE UNDER REVIEW AS EUROPEAN WORRIES MOVE BACK TO MAIN STAGE
It's been an encouraging November thus far, for the most part, and this follows what had become a worrisome month of October as the risk trade pretty much collapsed the world around. While all of the Dow, Nasdaq 100 and S&P 500 all set fresh all-time-highs in the first few days of Q4, the rest of last month was spent witnessing varying forms of pressure in global risk markets. This was accompanied by a swell of US Dollar strength on the back of risk aversion themes as a bevy of threats produced a concerning backdrop. Among those drivers was the recently completed mid-term elections, continued rising rates out of the US, a tariff scenario that still hasn't found resolution, a number of questions around Brexit and, perhaps most concerning of all, a potential debt stand-off between Italy and the European Commission.
DJIA FOUR-HOUR PRICE CHART: OCTOBER PAIN LEADS INTO NOVEMBER GAINS – BUT CAN BUYERS HOLD THE LINE?
(Click on image to enlarge)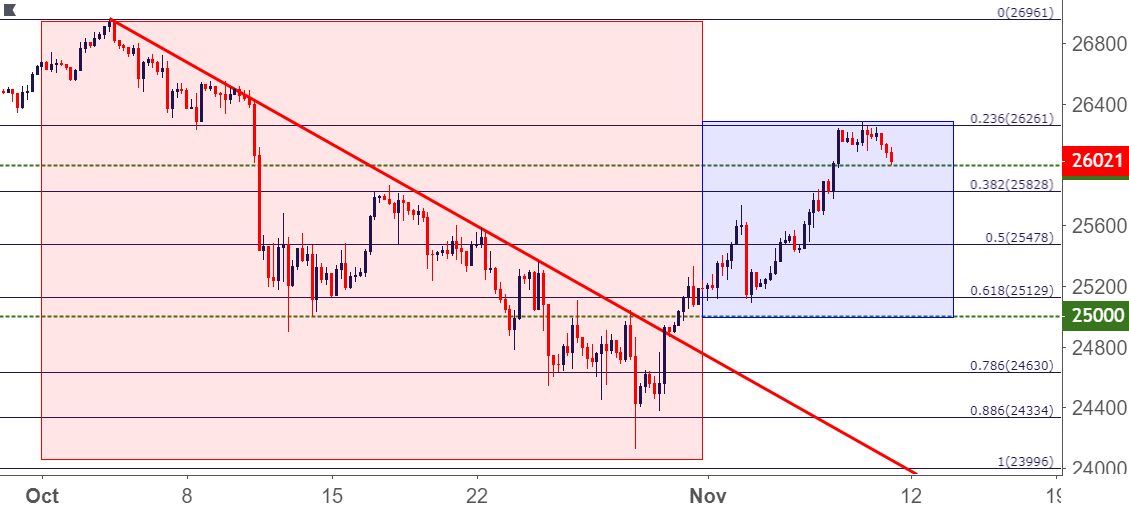 Chart prepared by James Stanley
Some of these items have calmed, lending to recovery that's been strung together so far in the month. Mid-terms concluded (at least in most jurisdictions) in a fairly market-friendly manner, and yesterday saw an optimistic Donald Tusk speak on the prospect of Brexit progress.
EUR/USD THREATENS YEARLY LOW AS EURO WORRIES MOVE BACK INTO THE SPOTLIGHT
Still outstanding, however, and a potential point of worry for equity bulls is the scenario that continues to develop between the European Commission and the Italian government. Next week, November 13th marks the date that the revised budget is due to Brussels. This week saw a slate of discouraging developments on that front. The European Commission says that Italy's grown projections are too high, while Italy claims that the EC is using an 'inadequate and partial' analysis of the economy in their projections. This matters because it's those very same growth projections that will help Italy set spending forecasts for the next two years, and there remains a chasm of difference between what's wanted between Brussels and Rome.