EUR/USD Snaps Bullish Sequence, RSI Clings To Upward Trend
The recent breakout in EUR/USD unravels as Italian Deputy Prime Minister Matteo Salvini criticizes the European Central Bank (ECB), stating that 'transparency is needed to squash the doubt that the ECB is making political use of the powers attributed to it,' and the exchange rate may continue to consolidate over the remainder of the week as it snaps the series of higher highs & lows from the previous week.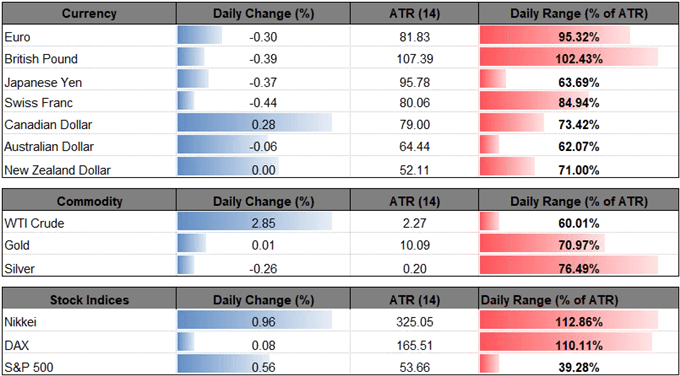 EUR/USD SNAPS BULLISH SEQUENCE, RSI CLINGS TO UPWARD TREND

The remarks come as commercial banks in Italy respond to recommendations from the ECB to increase the coverage ratio for non-performing loans (NPL), and the experience suggests the Governing Council will face a growing number of challenges in 2019 as the central bank looks to switch gears later this year.
(Click on image to enlarge)

Fresh data prints coming out of Germany casts a weakened outlook for the monetary union as growth in Europe's largest economy slows to 1.5% from 2.2% per annum in 2017 to mark the lowest reading since 2013, and President Mario Draghi & Co. may continue to tame bets for an imminent shift in monetary policy as the central bank struggles to achieve its one and only mandate for price stability.
(Click on image to enlarge)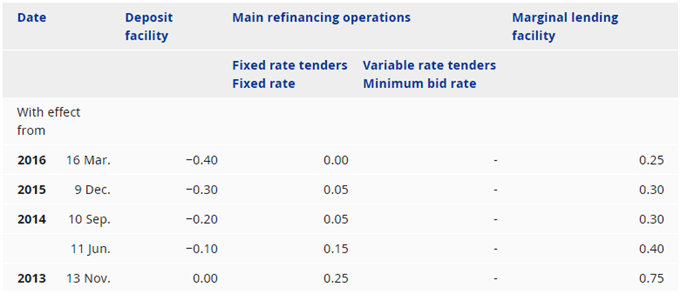 It remains to be seen if the ECB will alter the forward-guidance over the coming months as euro-area interest rates are expected to 'remain at their present levels at least through the summer of 2019,' and the Governing Council may stick to the same script at the next meeting on January 24 as 'the balance of risks is moving to the downside owing to the persistence of uncertainties related to geopolitical factors, the threat of protectionism, vulnerabilities in emerging markets and financial market volatility'.
With that said, the Federal Reserve's normalization cycle may continue to produce headwinds for EUR/USD as officials still project a neutral benchmark interest rate of 2.75% to 3.00%, and the central bank may prepare households and businesses for an even less-accommodative stance as Chairman Jerome Powell shows little to no interest in scaling back the $50B/month in quantitative tightening (QT).