EUR/USD: Ready To Attack 1.22 As Stimulus, Brexit And Technicals Look Promising
Ready for lift-off? After moving too high, too fast, EUR/USD has completed a much-needed correction and may be ready to rocket again. Apart from bullish charts, several developments make a surge more likely, at least in the short-term.
Uncle Sam is on his way: Senate Majority Leader Mitch McConnell is coming around to agreeing on a stimulus bill worth around $900 billion, in line with a bipartisan suggestion laid down last week. His nod and fresh involvement by Treasury Secretary Steven Mnuchin have contributed to fresh highs in US stocks and downfall of the safe-haven dollar.
The devil may be in the details – the GOP demand liability protections and Democrats want more aid to states and local authorities. Nevertheless, the probability of an initial relief package in the lame-duck session – before President-elect Joe Biden takes office – is growing.
America's most recent coronavirus figures have set new records for infections, mortalities, and hospitalizations, pushing lawmakers to action.
(Click on image to enlarge)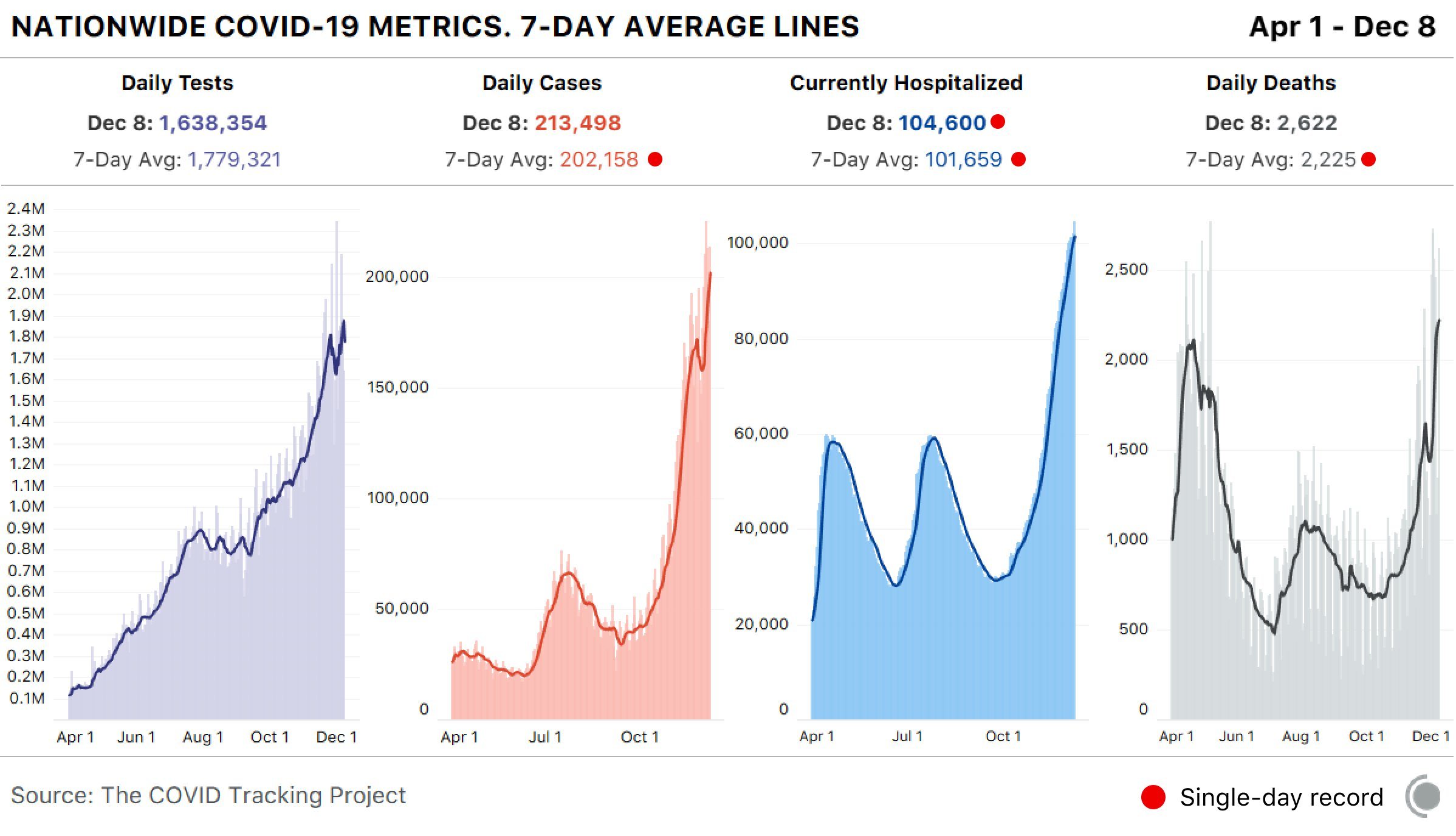 Source: The COVID Tracking Project
On the other side of the pond, Germany's COVID-19 deaths hit a record of 590 in Wednesday's update, but cases remain stable at just above 20,000. Investors seem to have priced in new restrictions in Europe's largest economy.
Hopes for a Brexit deal are boosting the pound and dragging the euro higher. The latest twist in the saga is that the UK dropped controversial clauses in its Internal Markets Bill, paving the way for finalizing arrangements in Northern Ireland, part of the 2019 Withdrawal Agreement. The move raises expectations for a trade deal, yet several issues remain open.
UK Prime Minister Boris Johnson is due to have dinner with European Commission President Ursula von der Leyen later on Wednesday. While little progress has been made on fisheries, governance, and state aid, optimism is set to prevail – at least while the meeting has not ended.
Disclaimer: Foreign exchange (Forex) trading carries a high level of risk and may not be suitable for all investors. The risk grows as the leverage is higher. Investment objectives, risk ...
more