EUR/USD Falls As Italy Drives Euro Risk Aversion Ahead Of Q3 Close
EURO BEARS PERSIST INTO Q3 CLOSE
It's been a busy end to Q3 so far, and perhaps that's fitting for a quarter that's been marked by fits and starts of risk aversion around a number of themes. At this stage, we're seeing fresh fears enter European markets around Italy, and this was the same driver of the April-May sell-off. In April, we saw fear from the inference of a newly-elected Italian coalition that ran largely on a nationalist ticket that could, potentially, put the ECB and the European Commission in a difficult spot. Those fears took a step back in June and that calm around Italy largely held through Q3; until yesterday, that is.
EUR/USD FOUR-HOUR PRICE CHART: UP THE STAIRS, AND DOWN THE ELEVATOR AS Q3 CLOSE NEARS
(Click on image to enlarge)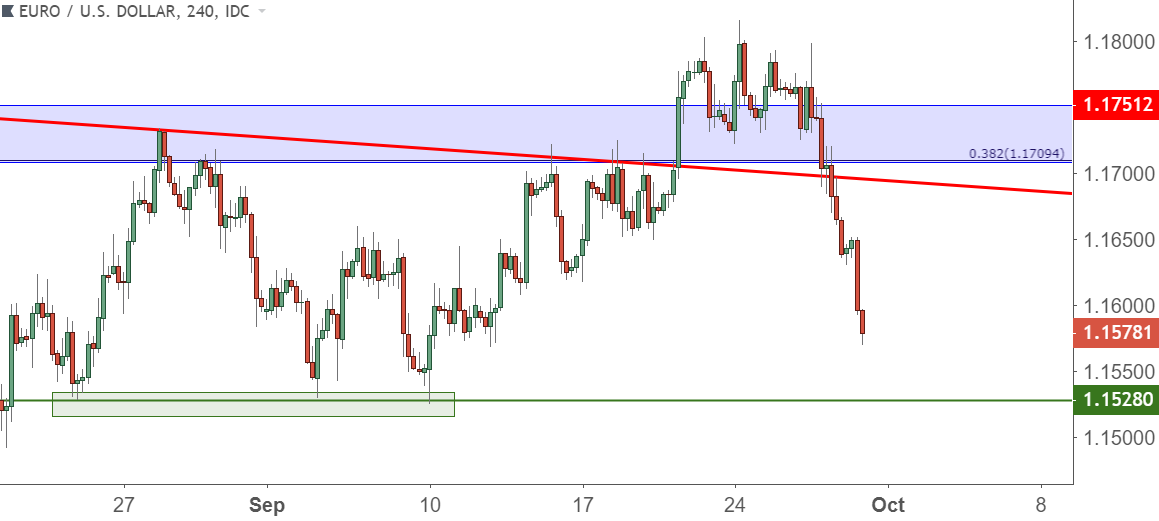 Chart prepared by James Stanley
Taking a step back to put this move into context of the past quarter of activity, this week's price action in EUR/USD is putting in a bearish engulfing pattern on the weekly chart, and this pattern is often approached with aims of continuation, as this indicates that sellers grasped control of the market during that period to push down to fresh lows. After testing above the 1.1800 handle around this week's FOMC rate decision, the pair is how hard-charging into the 1.15's.
EUR/USD WEEKLY PRICE CHART: BEARISH ENGULFING BUILDS AS ITALIAN RISK TAKES CENTER-STAGE
(Click on image to enlarge)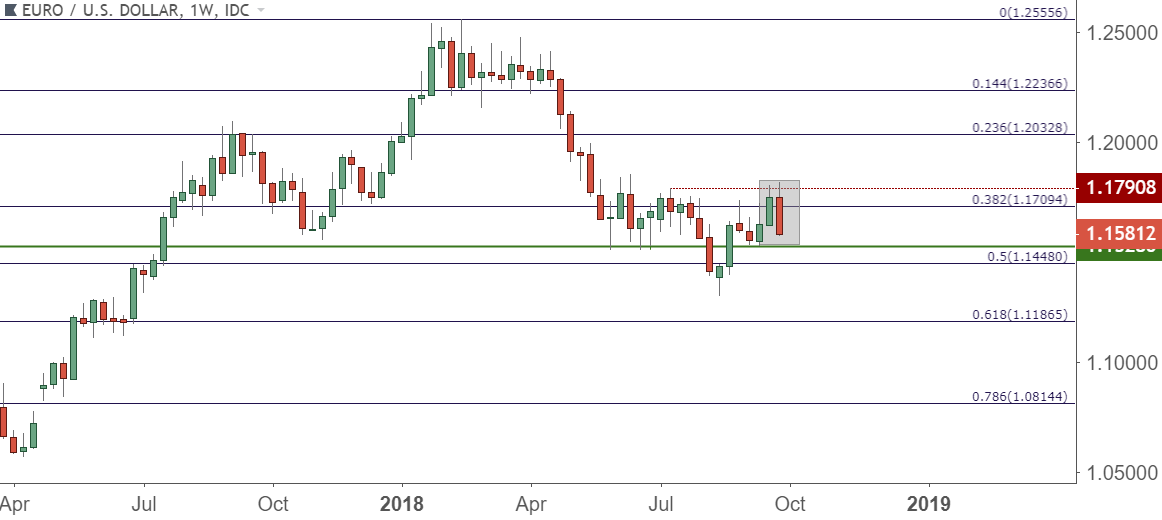 Chart prepared by James Stanley
The big question, as is usually the case with panic, is whether this can continue. This will likely be determined by a political driver that's still unfolding in front of our eyes but, it appears as though Italian politicians have a number of reasons to continue pushing the friction. They were largely elected on a pro-growth ticket, and this is something that could be complicated by the push from Brussels around demands for austerity in the Italian budget.
Italian Economy Minister Giovanni Tria was looking for a budget deficit of 1.6%. The Italian government has proposed a budget with a deficit of 2.4% for the next three years. This will likely be rejected by the European Commission in October which then opens the door for additional debates and even more friction. In the meantime, questions will also emanate around what rating agencies might do in response to this push away from austerity, and this sets the stage for what could become a contentions Q4 in the Euro-Zone.