Eurodollar University: Inputs, Outputs, And Proxies
The US Treasury Department's update of its Treasury International Capital (TIC) report for October contained no surprises. In many ways, it was ironically uninteresting given the constant excitement that had happened during that particular month. It was, in a word, a mess for global markets. Liquidations struck throughout the world and more than a month later we are still struggling through the consequences.
A worldwide global liquidity pullback like that has led to "selling UST's" by foreign central banks. Foreign systems require dollars no matter what (dollar short) and if the eurodollar system won't make available a reasonable supply (dollar shortage) the options for any overseas system is either liquidation or support. Often some of both.
Foreign Official Institutions (FOI) have at times tried to fill in some of the gaps, especially over the last four years. The reduction in foreign reserves particularly US$ assets primarily Treasury securities has been pronounced. Unsurprisingly, the TIC data shows another big global drawdown in October.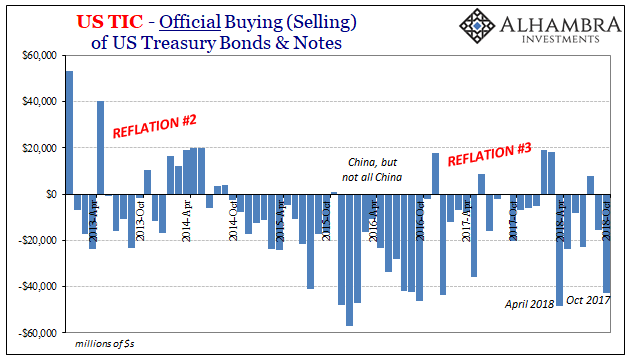 At more than $40 billion, the decline was nearly as bad as April, also consistent with turmoil in markets. These are months more like 2015 than 2017, and it showed in the financial system and is beginning to show in the real economy.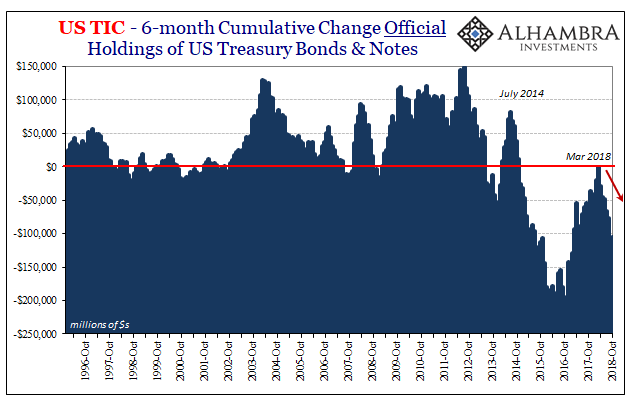 China was, as usual, a primary culprit as another predictable outcome – also considering that they practically warned the world during October (RRR). Chinese official holdings of "reserves" have started to fall off once more, reflecting the reversal of conditions in the world's reserve currency system (eurodollar not dollar).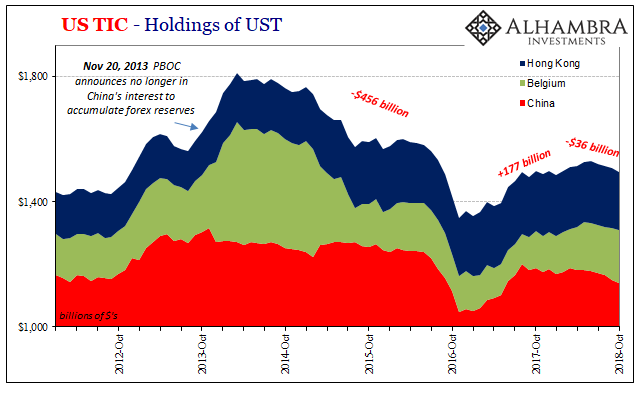 Like any of the Federal Reserve or ECB's extraordinary and emergency monetary policies that they came up with during the last decade, selling UST's obviously hasn't proven to be very effective. Instead, all it tells us is what's going on in the shadows; if a central bank feels compelled to intervene in any way, that indicates there is serious dysfunction so as to grab their attention and force a response.
It is strictly an alarm or another proxy rather than a solution.
The reason for it is how the modern global monetary system actually works. Economics since the seventies has left a void in our as well as their understanding of money, down to its most basic functions.
Disclaimer: All data and information provided on this site is strictly the author's opinion and does not constitute any financial, legal or other type of advice. GradMoney, nor Jennifer N. ...
more