ETF Watchlist: Week Of August 14, 2017
While gold isn't guaranteed to rise when the market drops, it has a pretty good track record during longer bear markets.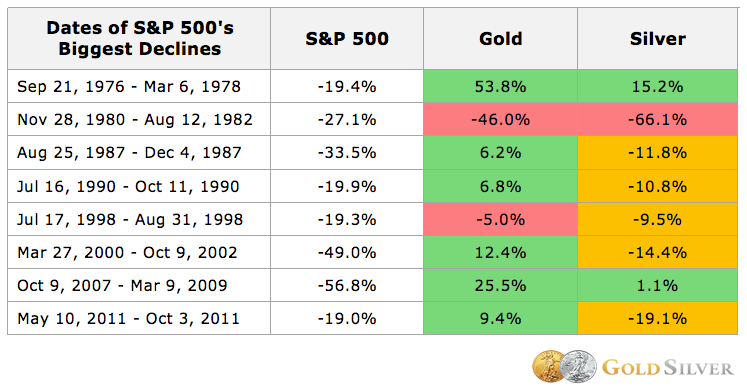 In many cases, the price of gold went up, but before piling in, remember that gold is a volatile asset and, like any other asset, is prone to long periods of underperformance. Using historical standard deviation of returns, gold is around 60% more volatile than the S&P 500.
Others: iShares Gold Trust ETF (IAU), PowerShares DB Gold ETF (DGL), REX Gold Hedged S&P 500 ETF (GHS)
iShares 20+ Year Treasury Bond ETF (TLT)
Government-issued Treasury securities are the other typical safe haven. During any type of sharp or prolonged downturn in equities, we often hear the term "flight to quality" as investors move out of stocks and into government bonds. Treasuries performed well during both the popping of the dot-com bubble and the financial crisis, two instances where investors were most looking for protection.
Remember that long-term bonds can be a bit volatile in and of themselves. If you're looking for something more conservative, swap out the 20+ year Treasuries for the iShares 3-7 Year Treasury Bond ETF (IEI) or something even shorter term.
Others: iShares 3-7 Year Treasury Bond ETF (IEI), iShares 1-3 Year Treasury Bond ETF (SHY), Vanguard Short Term Government Bond ETF (VGSH), Schwab Short-Term U.S. Treasury ETF (SCHO)
PowerShares S&P 500 High Dividend Low Volatility ETF (SPHD)
This fund won't be a perfect volatility hedge but it will help take some of the aggressive tilt off of your portfolio. And you'll get a nice dividend yield to boot!
This ETF takes the 75 highest yielders from the S&P 500 and then identifies the 50 names from that subset that have historically demonstrated the lowest volatility. As you'd imagine, the portfolio features high allocations to traditionally defensive sectors such as consumer staples and utilities. Now, this fund still has an 87% correlation to the S&P 500 so you should still expect downside in a bear market, but hopefully just not as much.