ETF Flows Reveal Investors Reduced S&P 500, Dow Exposure After G20
TRADE WAR TRUCE PROVEN INSUFFICIENT
The trade war truce heralded by President Trump after the G20 Summit drove equities higher on Monday. As the consequences were analyzed further, many speculators questioned the long-term efficacy of the truce and the rest of the week saw equities falter.
S&P 500 Price Chart Daily, Year-to-Date (Chart 1)
(Click on image to enlarge)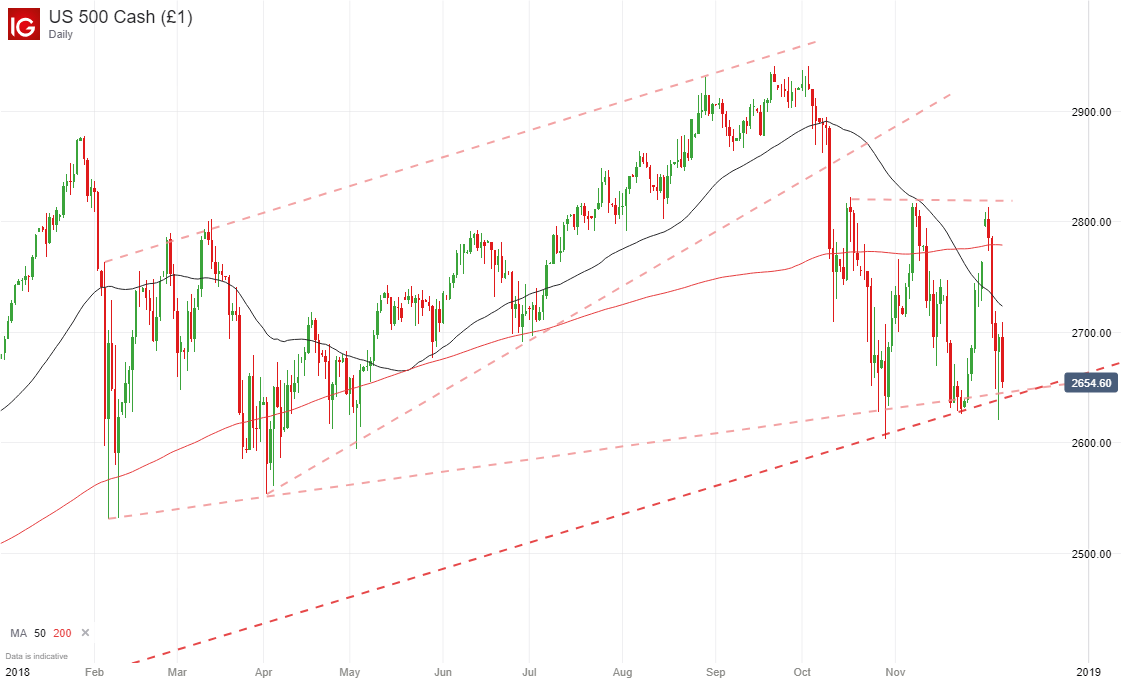 According to fund flows from SPY, IVV, and VOO, some investors were bearish heading into the weekend. From Friday to Wednesday, $6.5 billion exited the three funds and Thursday saw another $3 billion head elsewhere. The flows were above average on a weekly basis despite closed markets on Wednesday.
Aggregate Fund Flows for Broad Market ETFs versus S&P 500 Performance (Chart 2)
(Click on image to enlarge)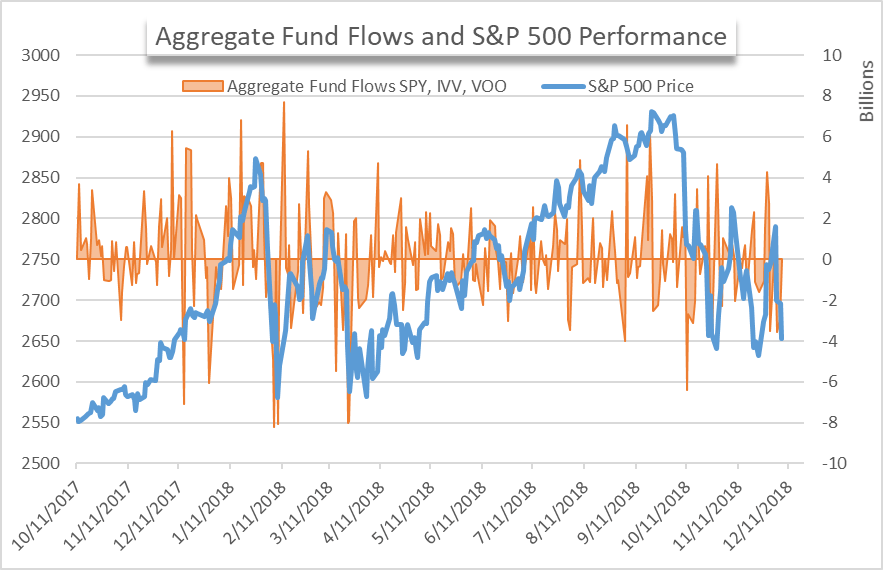 TELECOM IN DEMAND
With a significant amount of capital leaving broad-market tracking funds, questions arise about its reallocation. Last week we looked at healthcare and short-term government bonds which were heavily in demand. This week, however, telecommunication ETFs seem to be the new fad. The telecom sector performed admirably this week relative to the rest of the market and the funds saw robust inflows relative to their market capitalization.
Despite the inflows, the cumulative market capitalization of telecom funds is a drop in the bucket compared to that of SPY, IVV and VOO. Still, the flows reflect demand for a sector many investors enjoy for its resilience.
VOX, IYZ, IXP, FCOM Fund Flows (Chart 3)
(Click on image to enlarge)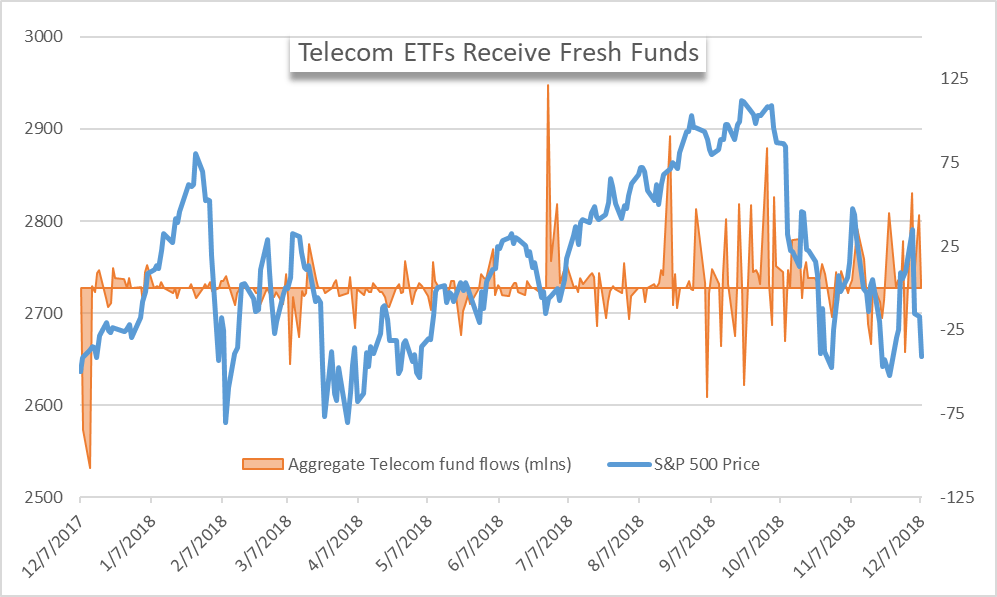 Short-term government bonds received new capital again this week but to a much lesser extent. Yield curve inversion, often cited as the first sign of a recession, has been the talk of markets this week but surprisingly the sector saw little capital change hands.
BIL, SHY Aggregate Fund Flows (Chart 4)
(Click on image to enlarge)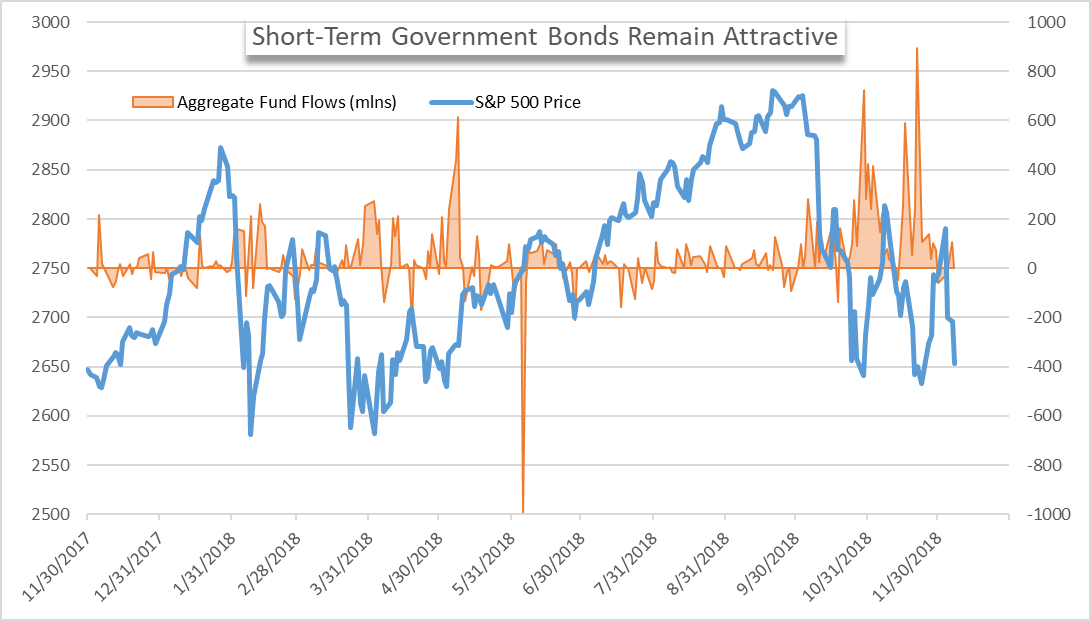 HAS A RISK-OFF ATTITUDE TAKEN HOLD?
In spite of a massive decline in US equities and a substantial amount of capital leaving some of the largest exchange-traded funds, many of their defensive counterparts saw little inflow. This may suggest investors are content with cash ahead of the Brexit vote and ongoing trade concerns. Moreover, the lack of buying after a sharp equity decline could signal a shift from the generally bullish investor sentiment.