Eric Coffin Pinpoints The Mining Companies With Resources That Are Right For Today's Market
EC: I've been a bit disappointed that gold hasn't traded better in the last few sessions but it seems that gold traders are particularly focused on the Fed raising rates. The consensus seems to be that it is going to raise rates in June and that will not help the gold price. But I was one of the few people who didn't expect the euro to go to U.S. dollar parity or below earlier this year. The euro has instead had a nice bounce and that's largely because many international investors have decided that European stock indexes are the next big thing, so there's been huge fund flows into Europe.
It's market gospel right now that if the U.S. starts raising interest rates, the U.S. dollar has to go higher and higher, and that's seen as negative for gold. In a recent edition of Hard Rock Analyst (HRA) there was a chart (reproduced below) that showed the trace of the U.S. Dollar Index through the last four tightening cycles when the Fed went from cutting rates or neutral to raising rates. In all four cases the U.S. dollar dropped once rate increases started. It was a "buy on rumor, sell on news" situation. In a couple of cases it fell about 10% within four months of the start of tightening. The ECB and Bank of Japan trying to hold their currencies down may complicate things this time but still we may get better action on the currency side than people expect. It's quite conceivable that gold could get through $1,300 per ounce ($1,300/oz) relatively quickly once it dawns on people that the dollar index isn't going to the moon.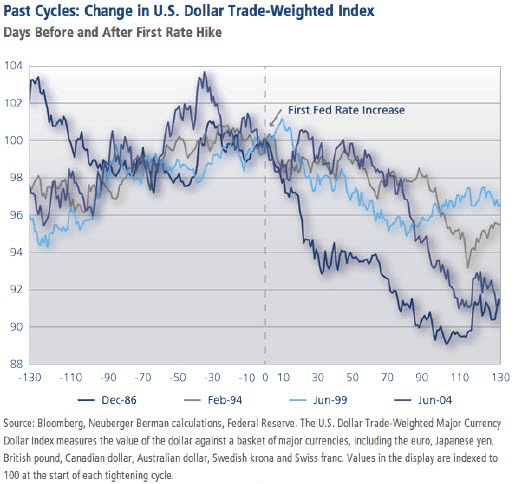 We also may see stronger gold demand in China if there is a significant correction in the Shanghai market, which has more than doubled in the previous 12 months. If we look at a long-term chart of the Shanghai exchange going back about 30 years, these big bull runs have happened four or five times, closely followed by equally big drops. I don't know when the top is going to be in, but it looks pretty parabolic; moves like that tend to end badly.
TGR: Against that backdrop, where do you see the light at the end of the tunnel in the junior mining equities market?
EC: A few companies on my list have performed better recently and they all have one thing in common: a specific event—a resource number, a new economic study or discovery—that was significant enough that it allowed the market to rerate the stock. It feels as if we are finally seeing the wheat get separated from the chaff—and that has to happen. Seeing an increased focus on the relatively small percentage of companies that have good projects and good management is not going to give us the mother of all bull markets, but it will give us a decent market with room for gains—in that subset of companies.
We all should focus on the small set of companies that really know what they're doing because until we see a large move in commodity prices, that's the only place where we're going to see gains. This is not one of those markets where it's a matter of who has the biggest copper or gold resource; it's about who has a resource that makes sense or has the discovery potential for one. The other performer has been producers that, after three years of putting up crappy numbers, are finally starting to see their numbers improve. Three years of cost cutting and focusing on margin per ton seems to finally be starting to pay off. If they can do this with a flat gold or copper price, what happens when the commodity prices go up 20–30%? They're going to blow the doors off.
TGR: The Market Vectors Junior Gold Miners ETF (GDXJ:NYSEArca), as a proxy for junior miners, hit a $21.29/share low just after the Prospectors and Developers Association of Canada (PDAC) conference, but has been trending higher since. Would you consider that a leading indicator?
EC: I think so. Most of the companies on the Market Vectors Junior Gold Miners ETF are small producers and a bunch of these companies seem to be turning the corner. One is Claude Resources Inc. (CRJ:TSX), which went through three or four pretty horrible years but has since drilled off larger zones of high-grade material. The company is mining that now and putting up better numbers. That attention to the bottom line is evident across the space and it's starting to pay off for companies like Claude.
The other thing we have seen recently is more merger and acquisition activity and that feeds into the index too. For example, AuRico Gold Inc. (AUQ:TSX; AUQ:NYSE) receives a takeover offer from Alamos Gold Inc. (AGI:TSX; AGI:NYSE) and the share price moves up 20–30% percent the minute the offer becomes public, which helps lift the index. So in that sense the Market Vectors Junior Gold Miners ETF is a leading indicator. We're not at the point where any company with the word gold in its name is going to go up, but the performers are getting some traction again.
TGR: In several HRA posts you've talked about the all-important funding season for junior miners. How is it shaping up?
EC: It hasn't been great. A few companies on my list have done sizable placements and most of the companies that I follow aren't running on fumes anyway; that's part of the reason I'm following them. In general, the end of May is seen as the end of the financing window until October. We don't have a lot of it left. It would be nice to see even a small move in the gold price to help free up a little cash.
TGR: Several companies that you follow closely have published either revised preliminary economic assessments (PEAs) or resource estimates. Please tell us about some.
Disclosure: Brian Sylvester conducted this interview for Streetwise Reports LLC, publisher of more