Equity Forecast For Dow, S&P 500, DAX And FTSE For Next Week
S&P, Dow, DAX, FTSE Talking Points:
- S&P 500 Price Analysis: Wary as Highs Near, Dow Struggles to Keep Up.
- Dow Pulls Back From Five-Month Highs Ahead of US Inflation.
RISK AVERSION BEGINS TO REAR ITS HEAD IN GLOBAL STOCKS
Risk aversion showed up in global markets in the latter portion of this week, and that theme appeared to be unevenly distributed amongst the world's equity bourses. In Europe, the DAX saw heavy offers on the back of fears around contagion in the European banking sector as the situation in Turkey continues to evolve. That weakness has also filtered into the FTSE 100 over the final two trading days of this week, but this turn took place around a big level that may have more to do with the sell-off than concerns around Turkey, although it would be far too early to say that definitively.
In the US, we saw pullbacks in both the S&P 500 and the Dow Jones Industrial Average - but at this point, those moves appear to be more of a short-term correction after the July and August bullish breakouts rather than tradeable tops.
S&P 500 PULLS BACK FROM FRESH SIX-MONTH HIGHS
The S&P 500 started off the week with strength, moving up to another fresh six-month high and making a fast approach at the all-time-high that was set in late January. Wednesday, however, is when prices started to pull back and that move has lasted into the end of the week. But – given the longer-term structure behind the S&P, the up-trend remains and bullish continuation strategies can continue to be attractive, particularly as we stay above the August swing-low of 2790. The forecast for the S&P 500 will be set to bullish for next week.
S&P 500 DAILY PRICE CHART
(Click on image to enlarge)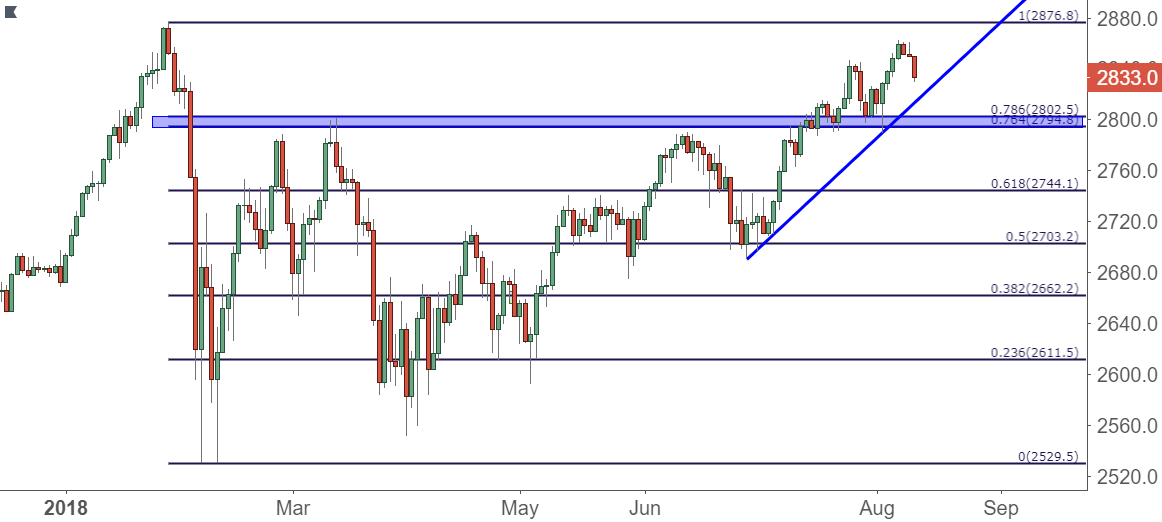 Chart prepared by James Stanley
DOW JONES STAGES DEEPER PULLBACK
The turn in the Dow has been a bit deeper than what's shown in the more broad-based S&P 500, and prices have already fallen below the near-term support zone that we had looked at yesterday. With a bit of short-term resistance showing on the underside of that prior support zone, the door would appear open for a deeper short-term sell-off, and this exposes another area of longer-term support potential around the 25,000 psychological level.