ECB Preview: Three Scenarios For Lagarde To Loosen Policy, Not Necessarily Lower The Euro
Is Christine Lagarde ready to loosen the purse strings? While fashionistas may focus on the European Central Bank President's prestigious Louis Viton handbags, investors are keen on her institution's purchasing powers. The upcoming ECB meeting on March 11 comes on the backdrop of rising bond yields in the old continent – something the bank is eager to curb.
When Lagarde's colleague Jerome Powell, Chair of the Federal Reserve, dismissed the increase in returns on US debt, the dollar soared. If he had talked it down, the greenback would have fallen. The same logic does not fully apply to the ECB and the euro. Here are three scenarios for the ECB decision and the euro.
1) Rinse-repeat – EUR/USD continues struggling
The ECB is set to leave its deposit rate at -0.50% and its bond-buying scheme – the Pandemic Emergency Purchase Program (PEPP) – at its current size of €1.85 trillion. The last increase in the program occurred in December 2020, so another increase seems unlikely now.
How the ECB's balance sheet grew during the pandemic: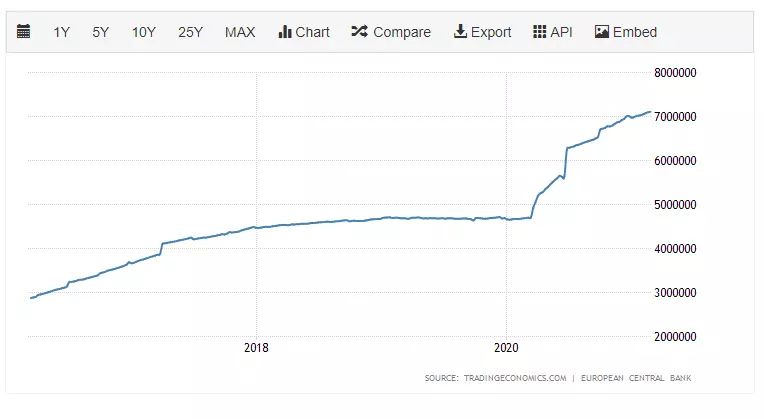 Source: TradingEconomics
Lagarde will likely repeat her previous messages that the rise in yields is undesired – and that would be insufficient to lift the euro. In this scenario, yields on German, French, Italian, and other bonds would receive a green light to march higher. Even under the assumption that elevated return on European debt makes the euro more attractive, yields in the old continent lag behind those in the US.
Solely musing about the damage incurred by dearer borrowing costs would likely trigger investors to continue selling bonds and expecting less monetary support to the suffering eurozone economies. With limited fiscal nor monetary firepower, growth prospects would remain subdued and the euro could fall.
This outcome has a high probability and would send the euro down.
2) Strong vigilance – a bounce in the euro
Disclaimer: Foreign exchange (Forex) trading carries a high level of risk and may not be suitable for all investors. The risk grows as the leverage is higher. Investment objectives, risk ...
more