Downturn Rising, No 'Glitch' In Retail Sales
You just don't see $4 billion monthly retail sales revisions, in either direction. Advance estimates are changed all the time, each monthly figure will be recalculated twice after its initial release. Typically, though, the subsequent revisions are minor rarely amounting to a billion. Four times that?
Last month, the Census Bureau reported that retail sales during the Christmas holiday were a disaster. It was Christmas 2007 bad. For people thinking the US economy was booming, this was a shock. So much so, some like the President's chief economic advisor Larry Kudlow stated it had to have been a "glitch" in the data.
The BEA proved that wasn't the case when it released its data on Personal Spending. Now the Census Bureau reports retail sales for January 2019, at the same time revising them for December (and November). Not only wasn't the drop a glitch, it was far worse than first guessed. If it had been anything like a mistake, revisions would be positive not more than $4 billion further downward.
Unadjusted, the advance estimate put December 2018 retail sales at $569.5 billion. That worked out to a year-over-year increase of just 1.44%, one of the worst monthly results in the series. Having obtained more comprehensive sample data in the meantime, the Census Bureau now estimates retail sales during December were just $565.1 billion, or 0.66%.
What's worse, the advance January 2019 total was (unadjusted) $456.4 billion. That's just 2.63% more than January 2018. In other words, not one isolated suspiciously bad month, rather one very bad month confirmed by another. Validation that what's going on isn't just numbers.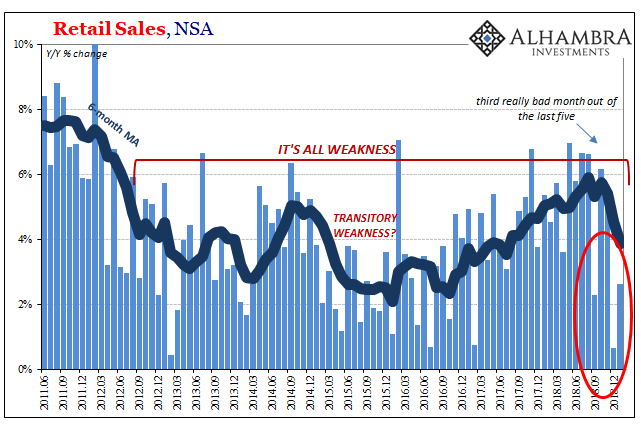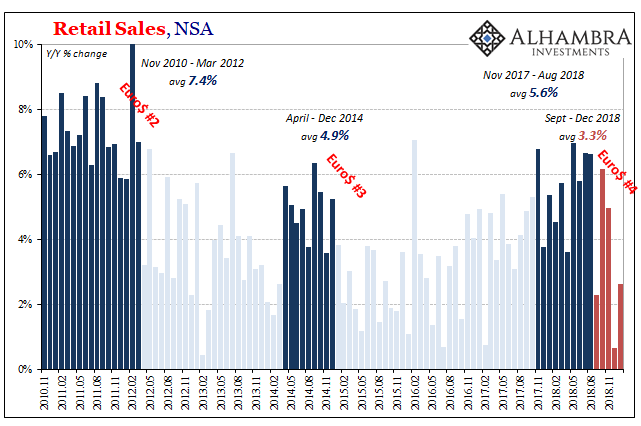 Seasonally-adjusted, the advance monthly change from November 2018 to December 2018 was first put at -1.2%. This was about equal to December 2007, the rough holiday start to what would become the Great "Recession." Revised, the monthly change is now closer to something like December 2008.
Disclosure: This material has been distributed for informational purposes only. It is the opinion of the author and should not be considered as investment advice or a recommendation of any ...
more