Downside GBP/USD Targets Remain On Radar Ahead Of Adjusted U.K. GDP
BRITISH POUND TALKING POINTS
The British Pound remains under pressure as Bank of England (BoE) officials strike a cautious tone after raising the benchmark interest rate earlier this month, and recent developments in GBP/USD keeps the downside targets on the radar as the bearish momentum appears to be picking up.
(Click on image to enlarge)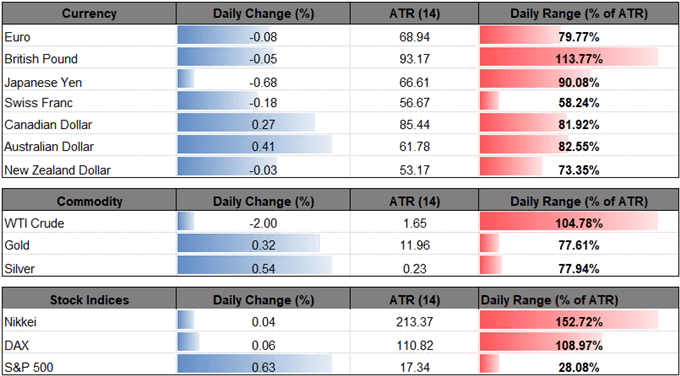 DOWNSIDE GBP/USD TARGETS REMAIN ON RADAR AHEAD OF ADJUSTED U.K. GDP
The British Pound extends the decline from the previous month, with the weakness largely driven by renewed concerns surrounding Brexit, and GBP/USD may continue to trade to fresh 2018 as comments from BoE board member Ian McCafferty suggest the central bank is in no rush to further normalize monetary policy.
(Click on image to enlarge)

Like BoE Governor Mark Carney, Mr. McCafferty struck a cautious outlook for the region, with the Monetary Policy Committee (MPC) official warning that a no-deal with the European Union (EU) would have a negative impact on the U.K. economy.
Moreover, it seems as though the BoE has little to no intentions of unloading its balance sheet in 2018 as Mr. McCafferty warns that the impact of withdrawing quantitative easing (QE) program is unclear, and the central bank may merely attempt to buy more time at the next meeting on September 13 as 'any future increases in Bank Rate are likely to be at a gradual pace and to a limited extent.'
Keep in mind, the MPC appears to be on track to implement higher borrowing-costs in 2019 as 'an ongoing tightening of monetary policy over the forecast period would be appropriate to return inflation sustainably to the 2% target,' and a positive adjustment to the 2Q U.K. Gross Domestic Product (GDP) report may encourage Governor Carney & Co. to further embark on its hiking-cycle as the growth rate is now projected to increase 1.3% per annum versus an initial forecast of 1.2%.
Nevertheless, the uncertainty surrounding Brexit may keep the central bank on the sidelines throughout the remainder of the year as 'the economic outlook could be influenced significantly by the response of households, businesses and financial markets to developments related to the process of EU withdrawal,' and the threat of a no-deal may continue to drag on GBP/USD as it clouds the monetary policy outlook.