Dow Jones Industrial Average Today Jumps 36 Points On OPEC News
The Dow Jones Industrial Average's third-longest bull market turned seven years old today as the markets prepare for European Central Bank Mario Draghito expand stimulus efforts to unprecedented levels in order to recharge the bloc's economy. No one has warned him that doing so will damage the euro's value, continue a global race to the bottom for central banks, and just lead right back to where they started once the money faucet goes dry. That said, it doesn't mean we can't make money on Draghi's ill-sighted will. You can get started, right here.
Here's what you might have missed in the markets for Wednesday, March 9, 2016.
First up, check out the results for the Dow Jones, S&P 500, and Nasdaq: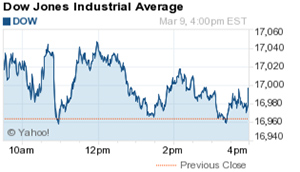 Dow Jones: 17,000.36; +36.26; +0.21%
S&P 500: 1,989.26; +10.00; +0.51%
Nasdaq: 4,674.38; +25.55; +0.55%
Now, here's the top stock market news today…
DJIA Today: Regulators Swarm, Saudi Arabia Begs, and Oil Rallies
The U.S. government's proposed crackdown on prescription drug prices for Medicare recipients pounded the biotech sector today. The iShares NASDAQ Biotechnology Index ETF (Nasdaq: IBB) fell 1.2%, while the Nasdaq's single largest drag, Amgen Inc. (Nasdaq: AMGN), tumbled 2.6%.
The Consumer Financial Protection Bureau asked for borrowers from peer-lending sites like LendingClub Corp. (NYSE: LC) to alert the federal agency of any complaints. The announcement is largely expected to prelude additional regulatory oversight by the federal consumer watchdog. The agency is also targeting private loan lenders on concerns that some "bad actors" are discharging loans prematurely, a decision that could quickly lead to default and ruin a consumer's credit or ability to buy a house.
The big talk today centered on oil prices – and the impact of the low price environment on global producers. Crude prices rallied to another 2016 high after the U.S. Energy Information Administration reported a strong draw down of gasoline inventories in the United States and traders grew increasingly more optimistic about a possible deal between global producers to freeze output levels. According to various reports, OPEC and non-OPEC nations will meet in Moscow to discuss a deal this month.