Dow Jones Industrial Average Slips Ahead Of Interest Rate Decision
Good morning! For Sept. 17, here are your Dow Jones Industrial Average futures, earnings reports, top stock market news, and stocks to watch…
Stock Futures Today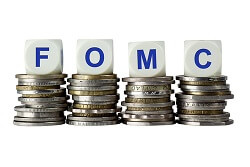 Futures for the Dow Jones Industrial Average today (Thursday) were down 38 points as investors took some gains off the table ahead of the FOMC meeting interest rate announcement. This morning, weekly jobless claims totaled 264,000, beating consensus expectations of 275,000.
On Wednesday, the Dow Jones Industrial Average added 140 points as investors seemed less expectant of an interest rate hike by the U.S. Federal Reserve in the wake of weak inflation figures.
So, will the Federal Reserve raise interest rates? Don't be surprised if it does, says Money Morning Chief Investment Strategist Keith Fitz-Gerald. They've been wrong before on the economy and the recovery, and they're prone to making mistakes again. But if they do raise rates, here is a breakdown of the best types of stocks to own in the event of a rate increase.
Top News in the Stock Market Today
The Stock Market Today: This afternoon, the Fed Open Market Committee will report its decision on whether to raise interest rates for the first time since 2006. The economic calendar also includes the August report on U.S. housing starts, weekly jobless claims, weekly natural gas storage levels, and the Philly Fed Manufacturing Index.
Republican Debate: The 2016 Republican presidential candidates sparred in the GOP debate on Wednesday night, with Donald Trump and others trading barbs over issues ranging from immigration to the Iranian nuclear deal. Here's a critical question for candidates with little-to-no political experience like Trump, Carly Fiorina, and Dr. Ben Carson: Do you need elected experience to be president? Here's how these candidates stack up against other Presidents who lacked political experience before they took control of the Executive Office.
Oil Outlook: Oil prices were down on news that Japan's exports slowed down for the second consecutive month in August. The news raises fresh concerns that the economic slowdown in China is retarding growth in the Asia-Pac region. This morning, WTI crude oil prices slipped 0.8% this morning to $46.78, while Brent oil prices fell 1.2% to hit $49.15.