Dow Jones Industrial Average Loses 86 Points On Rising Rate Hike Expectations
The Dow Jones Industrial Average today (Tuesday, May 31) fell more than 86 points as traders' expectations for a rate hike in June accelerated. A massive increase in consumer spending levels and a tightening labor market put the U.S.Federal Reserve back in focus. According to CME FedWatch, there is now a 61% probability the Fed will increase interest rates at its July policy meeting.
Of course, Money Morning's gurus have been well ahead of this story, explaining that rate normalization will have harsh consequences for a nation with $19 trillion in debt. In addition, Chief Investment Strategist Keith Fitz-Gerald has explained it doesn't matter if rates go up or down. You simply need to follow this simple strategy that provides long-term profit potential by focusing on companies that manufacture "must-own" products.
Here's what else you need to know about the markets on May 31, 2016.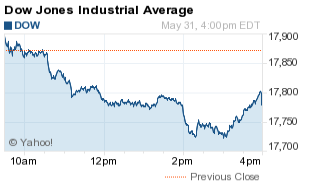 First, check out the results for the Dow Jones, S&P 500, and Nasdaq:
Dow Jones: 17,787.13; -86.09; -0.48%
S&P 500: 2,096.95; -2.11; -0.10%
Nasdaq: 4,948.06; +14.55; +0.30%
Now, here's the top stock market news today…
DJIA Today: Traders Expect a Rate Hike by Late July
First up, the case for another interest rate hike was bolstered on news that consumer spending levels recently saw the largest monthly increase in six years. Consumer spending – which fuels roughly two-thirds of the U.S. economy – increased by 1% in April. This rise adds greater justification to Fed Chair Janet Yellen's statements on Friday that an interest rate increase this summer would be appropriate.
Next, Apple Inc. (Nasdaq: AAPL) is in focus on reports it will be shifting to a three-year product cycle for its iPhones. That's a year longer than its current cycle of product upgrades. Analysts expect the decision was based on the lack of dynamic upgrades and new features that can be added to a phone. Japan's Nikkei reports a slowing market for new phones is also a big factor in the firm's decision. However, RBC Capital Markets analyst Amit Daryanani raised some doubts about the reports during an interview on CNBC.