Dow Jones Industrial Average Climbs 89 Points As Energy And Tech Sectors Rally
How Did the Stock Market Do Today?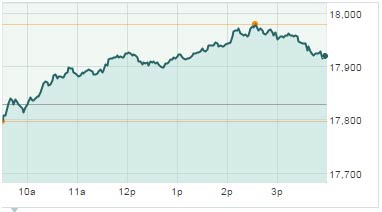 Dow Jones: 17,918.15; +89.39; +0.50%
S&P 500: 2,109.79; +5.74; +0.27%
Nasdaq: 5,145.13; +17.98; +0.35%
The Dow Jones Industrial Average today (Tuesday) added 89 points as energy stocks surged despite supply concerns around the globe. Energy stocks are now up 23% since August, but still remain down 10% year to date.
The Nasdaq continued to gather steam, adding 17 points as the exchange prepares for a busy day of earnings on Wednesday. The tech sector added roughly 0.5% after shares of Apple Inc. (Nasdaq: AAPL) and Microsoft Corp.(Nasdaq: MSFT) each rose more than 1.2%.
Top Stock Market News Today