Dow Jones Industrial Average Adds 53 Points Despite Energy Woes
It was a battle between the Apple (AAPL) stock bulls and the oil bears for who could swing the markets higher or lower today (Wednesday). As we've warned for months, investors are finally waking up to the fact that many banks are highly vulnerable to the swelling debts of energy companies in a low price environment. There are many stories we have warned about and profitable stock plays that some were left out on owning. But that's why we lay out the top stories each day…
So let's get started on what happened today, Feb. 24, 2016.
First up, check out the big gains for the Dow Jones Industrial Average, S&P 500, and Nasdaq today: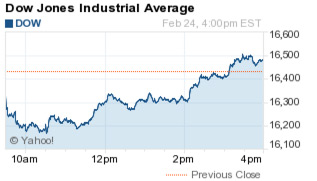 Dow Jones: 16,484.99; +53.21;+0.32%
S&P 500: 1,929.80; +8.53; +0.44%
Nasdaq: 4,542.61; +39.02; +0.87%
Then read today's top stock market news today…
First up, it appears that if we're going to get any value in the market, it's not coming from organic growth anytime soon. Companies are relying on mergers and acquisitions, stock buybacks, and dividend hikes in order to boost shareholder value. This is all coming under pressure from activist investors, including private equity firms and hedge funds.
Today's deal news centers on Yahoo! Inc. (Nasdaq: YHOO). Shares are on the move after a major shareholder, Canyon Capital, is pushing the firm to move quickly and sell its core Internet business. The private equity firm joins activist Starboard Value in pushing the firm to sell. On Tuesday, Reuters reported that Time Inc. (NYSE: TIME) is considering a deal with the firm, along with Verizon Communications Inc. (NYSE: VZ).
Oil prices were on the rise today, with Brent crude jumping 3.4%. Prices have been seesawing over the last 24 hours due to concerns about record crude inventory levels. According to the Energy Information Administration, U.S. crude levels jumped by 3.5 million barrels last week to put inventory at an all-time high of 507 million barrels.