Dow Jones & DAX 30 Forecasts: Indices Show Signs Of Vulnerability
The Dow Jones slid lower on Tuesday, damaged by a deterioration in US-China trade talks following an announcement by the Chinese Commerce Ministry. Consequently, the likelihood of a trade deal has diminished and was undercut further when the United States announced it would add another 28 Chinese companies to the entity list. The decision marks yet another instance in the US-China trade war where the two sides have traded immaterial improvements and empty optimism for concrete escalations.
The previous instance of material escalation was on August 23 when President Trump announced the entirety of tariffed goods would be subject to a 5% increase, resulting in a 30% tariff on $250 billion in goods and a 15% tariff on $300 billion in goods – scheduled to go into effect on October 1 and December 15 respectively. The tariffs effectively cover the totality of Chinese exports to the United States. At the time, some market participants viewed the decision as mere posturing ahead of the October trade talks as each side looked to gain ammunition for the negotiating table.
Now, the trade talks have arrived, higher tariffs are in place, and the United States just added another list of Chinese companies that are barred from buying US technology. Despite the substantial increase in levies and blacklisted companies, Dow Jones has climbed 1.3% since August 26 – enjoying the benefit of a Fed rate cut in September. Still, it begs the question: to what degree has the escalation been priced into the market versus the unfounded optimism?
(Click on image to enlarge)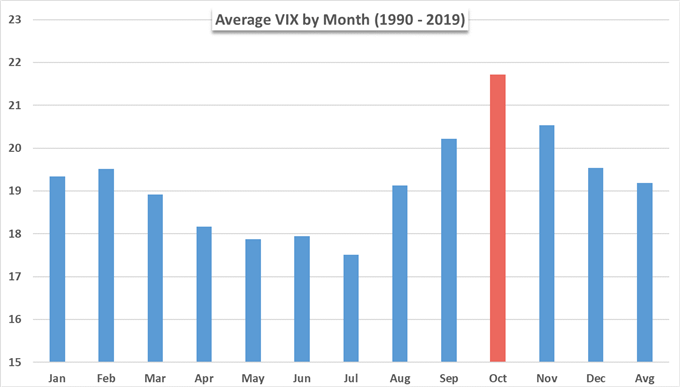 I would argue the market has underestimated the impact of the higher levies, and given October's penchant for volatility, the Dow Jones could be positioned for a period of contraction. In turn, the resultant price action could see the Industrial Average test the 200-day moving average which has helped to keep price afloat since early 2018.
DOW JONES PRICE CHART: DAILY TIME FRAME (JANUARY 2018 – OCTOBER 2019) (CHART 1)