Don't Fall For Corporate America's Dirty Trick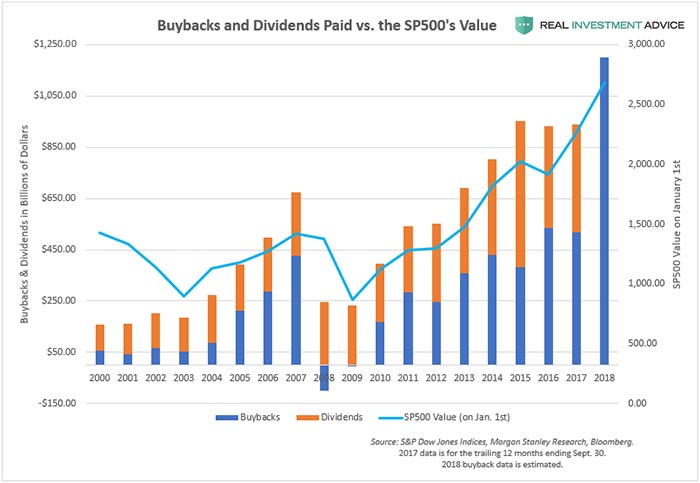 The second way share buybacks distort market performance is by reducing volatility.
Corporations are large, price-insensitive buyers. They're always ready to purchase their own shares whenever they weaken a bit. That in turn insulates the market against drops. That creates lower volatility and lower liquidity, which in turn incentivizes more share buybacks.
Lower volatility leads retail investors and algorithmic trading systems to think stocks are safer than they are. Everyone piles into stocks, which lowers volatility further, until there's a big blow-off … as in February.
That Big Sucking Sound You Hear
Over the past decade, U.S. companies have increased buybacks to the point where they are now collectively the largest single buyer of stocks.
The sellers of those stocks have been individual households and institutions like pension funds, insurance companies and charitable trusts:
The result is a massive transfer of wealth from households to corporations. Returns that used to go to individual and institutional investors are now being swallowed up by corporations.
As a result, corporations now hold more than one-third of cash in the U.S. economy — $1.5 trillion. And their pile is growing fast:
Thanks, Fed!
The driver of this massive increase in share buybacks lives in plain view: historically low-interest rates. Increases in corporate debt closely track changes in share buybacks: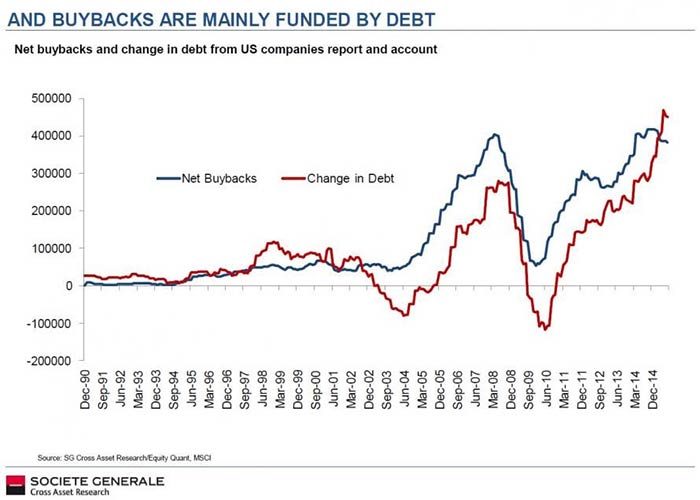 In other words, despite having piles of cash, U.S. corporations are actually borrowing money to buy back their own shares.
And why not, when the margin between the cost of borrowing and share price manipulation is so huge?
There's no mystery in this: Share buybacks are ridiculously profitable. Just look at the returns to share price and dividend manipulation compared to investment in job-creating capital, or even merger-and-acquisition activity:
Who benefits from those returns? Mainly corporate executives. After all, the value of their stock options goes up with their company's share price. It makes their decision to buy back shares a no-brainer.
With over 15 million lawsuits filed in the U.S. every year, you have a 1 in 10 chance of being sued in any given year — even if you haven't done anything wrong. That's why you need ...
more