Don't Bet On Rising Auto Sales With This Stock
Late last year, it was announced that Warren Buffett and Berkshire Hathaway agreed to acquire the privately-held Van Tuyl Group, one of the largest auto dealer networks in the United States. Investors may be tempted to follow in Buffett's footsteps by making a similar bet on the United States' rebounding auto sales and low gas prices — but we don't think the famous "rising tide lifts all boats" analogy applies here. Some dealers are better positioned to benefit from the rebound than others and some dealer stocks are just plain dangerous. The latter is what investors are getting in Sonic Automotive (SAH).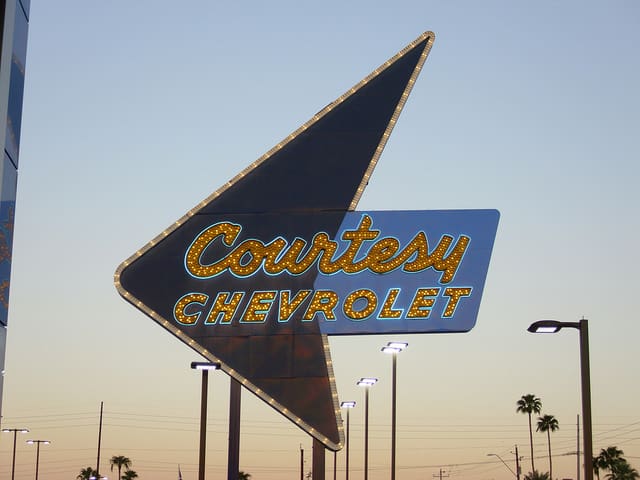 Photo credit: Classic Film (Flickr)
Sonic operates 118 franchisees in 13 states covering major markets in Texas, California, the Southeast, the West, and others. The company's sales mix is 56% luxury brands, 31% import brands, and 13% domestic. BMW alone makes up 22% of the company's sales, with other leading brands Honda and Toyota making up 15% and 10% of sales, respectively.
Where's the Growth?
Investors in SAH have had a good run since 2011, as the company's stock price has increased over 100% while the S&P has risen just 86%. However, this appreciation was based on misleading earnings growth.
Since 2010, Sonic's return on invested capital (ROIC) has declined from over 6% to just 4%, while GAAP net income has increased by 2% compounded annually. The rise in GAAP net income, however, is mostly due to a reduction in the interest expense the company is paying. When we remove the effect of interest expense, we can see that the company's core business operations have become consistently less profitable over this time-frame.
Figure 1 shows this discrepancy between GAAP net income and ROIC:
Figure 1: Rising GAAP Net Income Masks Declining Profitability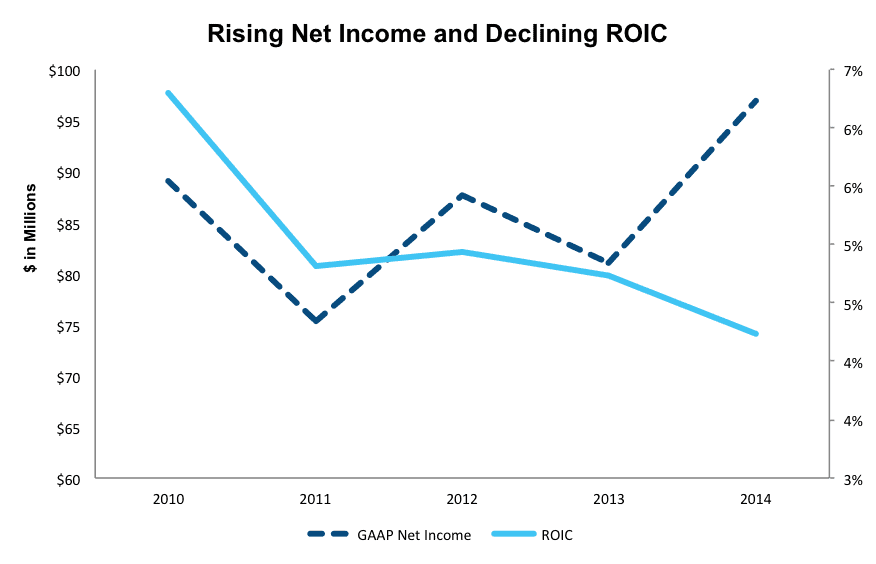 Sources: New Constructs, LLC and company filings.
Last quarter, Sonic grew revenue by 5%, less than competitors Asbury Automotive (13%) and CarMax (14%), both of which have more favorable brand exposure. In 2014, half of Sonic's dealership acquisitions were of luxury brands.
Disclosure: New Constructs staff receive no compensation to write about any specific stock, sector, or theme.