Disruptive Stock Watcher Chris Berry Cautions Investors About The Real Potential Of Deflation
Where can investors turn when global quantitative easing and the Energizer Bunny of dollars is crushing commodity prices to within an inch of the junior miners' lives? In this interview with The Mining Report, Disruptive Discoveries Journal writer Chris Berry suggests dedicating yourself to understanding the technologies and paradigm shifts that can lower costs, and participating in the growing electric car and energy storage battery markets. He names some of the innovative companies that are finding new ways to separate the most valuable resources and enter the supply chain before it is too late.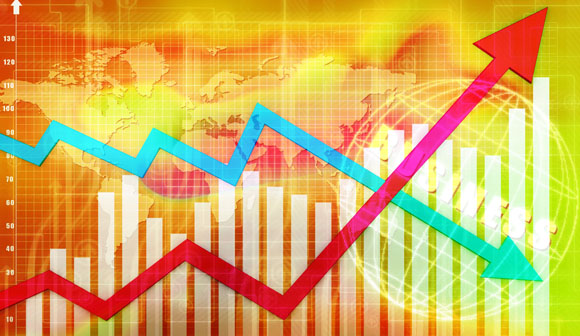 The Mining Report: You have talked in the past about the epic macroeconomic battle being waged between inflation and deflation. What are the indicators you are watching and where are we headed?
Chris Berry: Right now, the scales still appear to be tipped toward deflation, but that's not uniform across the globe. It still appears that disinflation is the predominant force: There is evidence of economic growth, but productivity is stagnating and living standards are moderating as we haven't seen the "escape velocity" growth necessary to start a new economic cycle. The excess supply in many commodities like iron ore is referred to as "good" deflation. However, savings rates are up and consumer demand is lagging. This is "bad" deflation. According to economist Gary Shilling, both of these are happening today. It appears that economic liftoff has been postponed. The secular stagnation thesis put forth by Larry Summers looks increasingly valid.
"Commerce Resources Corp.'stantalum is a secret weapon and could pay off in the long run."
Disinflation is one of the reasons commodities, metals in particular, have been under pressure for the last couple of years. Globally, central banks have embarked on unprecedented measures, including quantitative easing (QE), to kick start their economies. The QE program in the U.S. has ended, but the results are mixed. Unemployment has fallen precipitously, but concerns over wage gains and the "types" of jobs created linger. The Federal Reserve, in particular Chairwoman Janet Yellen, seems intent on a Fed Funds rate increase, but precisely when is a moving target. Given the recent softness in economic data in the U.S., a rate hike could be pushed to the end of the year as opposed to June, which is when many were thinking it would happen.
The Eurozone has embarked on its own version of QE to the tune of about €60 billion a month, and Japan has been involved in its own QE program of unprecedented size. In short, no intervention of this type has generated the 2% inflation target that central banks are targeting. It appears that they are running out of tools to ignite escape velocity growth. If you think of debt as future consumption denied, then deleveraging obviously still has a long way to go before a new credit cycle can begin.
Around the world, inflation appears dormant for the moment. Rates in many parts of the world are actually negative, specifically in Europe. What this means is that you, as an investor, pay the government to lend it money, a phenomenon known as financial repression. This policy is intended to discourage saving and encourage consumption and spending. When we observe the beginning of the formation of a normal yield curve, we will have the first sign that the commodity cycle is indeed turning. It just doesn't appear to be imminent right now. The problem is secular and not cyclical.
"Focus Graphite Inc. is aiming to create its own high-tech supply chain through a private subsidiary."
Additionally, U.S. dollar strength has put a lid on commodity prices. As you can see below, the U.S. dollar (shown in white) has gone parabolic since last year against other currencies. There really is no need for the Fed to tighten as the stronger dollar is in itself a tightening measure for the U.S. economy.
The U.S. dollar has taken a little bit of a breather, and that's why we've seen a floor in some of the commodity prices, in particular gold (shown in orange). Copper seems to have bottomed nicely, which is a positive. But because many commodities are priced in U.S. dollars, they become more expensive in other currencies as the U.S. dollar strengthens.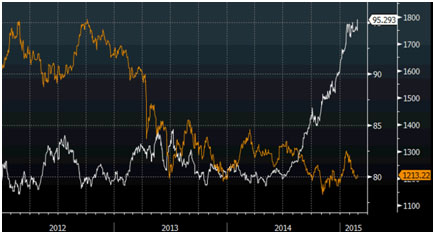 U.S. Dollar and Gold
Source: Bloomberg
TMR: Will some commodities prices turn faster than others?
CB: The global economy is dealing with the excess capacity built up during the commodity supercycle in the last decade. This excess capacity will eventually be consumed, but it's going to take time, and it's going to vary from metal to metal.
Some of the energy metals—any metal or mineral used in the generation or storage of electricity—are growing well above global gross domestic product (GDP) and aren't flooding their respective markets in the way that iron ore is. Examples include lithium, cobalt, vanadium, scandium, rare earth elements, uranium, and copper. I think this value chain is going to be an enormously profitable sector in the coming years. There is overcapacity in some energy metals today, but pricing, while soft, has seemed to stabilize.
In these smaller markets where many prices are negotiated from sale to sale, there is less elasticity than with other more liquid markets. Both lithium and cobalt are well supplied, just as base metals are. But lithium demand is growing at 8% and cobalt is growing at 6–7%. This has been fueled by a number of different catalysts including advances in technology and lifestyle changes that are pushing energy metals to the forefront. That said, it will likely be two or three more years before these markets equilibrate and we see stronger upward pricing pressure in these markets.
"Optionality in the metals sector is a key strategy; Galaxy Resources Ltd. can go in a number of different directions."
For any junior looking to be acquired, its financial metrics MUST match that of a major producer. For example, if a lithium junior is hoping to be taken out, it would need to show economics as strong as or stronger than anyone in the existing oligopoly. So if FMC Lithium Corp.'s (FMC:NYSE) EBIT margin on its lithium business is 10%, any lithium junior must show a margin of AT LEAST 10% to even be considered. With many of the juniors producing preliminary economic studies, it's too early to tell which will be acquired and which will be forced to go it alone, as the economics in these studies can vary widely.
TMR: A lot of the energy metals growth is connected to electric vehicle (EV) batteries. You have been skeptical of Tesla Motors Inc. (TSLA:NASDAQ), but the cars are so sleek and cool looking. What makes you think the demand for electric cars may not be as phenomenal as the headlines make them out to be?
Disclosure: 1) JT Long conducted this interview for Streetwise Reports LLC, publisher of The Gold Report, The Energy Report, The Life Sciences Report and The ...
more