Disappointing Weekly Increase In New Jobless Claims, But Monthly Trend Improves; Expect A 200,000+ Number Of New Jobs In Next Employment Report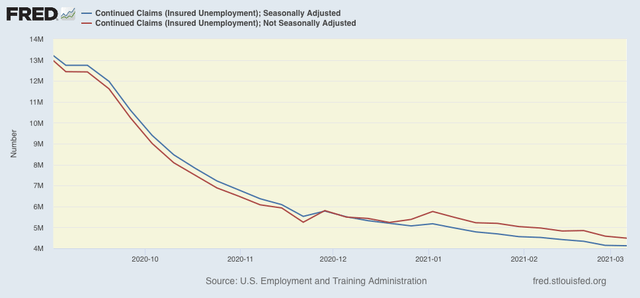 Nevertheless seasonally adjusted continued claims remain at levels last seen at the end of 2010.
Bottom line: although this week's number of new jobless claims was disappointing, I remain bullish that the ever-increasing pool of fully vaccinated adults - 40,000,000 as of yesterday, or 15.5% of the adult population - together with a seasonal shift from indoor to outdoor activities, is going to result in new pandemic lows well below the existing low of 711,000.
Further, the monthly change in the 4 week average of initial claims ending last week is the best we have seen since November, when 264,000 jobs were added to the economy. As a result, I am looking for a similar number in the March jobs report which will be released at the beginning of April.
Disclaimer: This blog contains opinions and observations. It is not professional advice in any way, shape or form and should not be construed that way. In other words, buyer beware.