Did Strong December Payrolls Push Gold Prices Up?
Gold should struggle, then. Instead, it rallied in January. As the chart below shows, it even jumped shortly above $1,290 yesterday.
Chart 3: Gold prices from January 6, 2019 to January 8, 2019.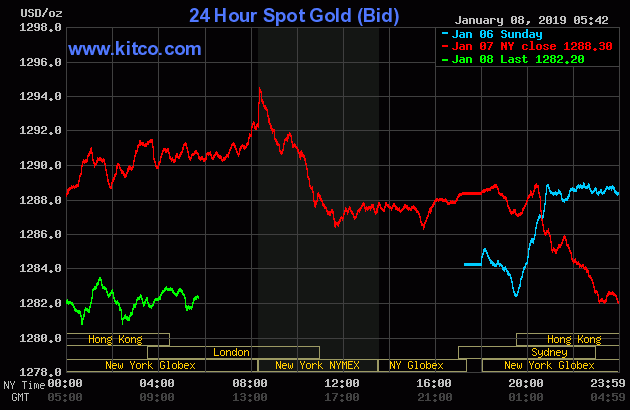 What happened? Well, on Friday, Powell suggested that the Fed may become more dovish this year. He said that "with the muted inflation readings that we've seen, we will be patient as we watch to see how the economy evolves," and that "we will be prepared to adjust policy quickly and flexibly and to use all of our tools to support the economy should that be appropriate to keep the expansion on track." In plain English, it means that Powell capitulated to the financial markets and introduced the put. He gave them the message they wanted, raising the possibility of a pause in the Fed's gradual tightening in response to downside risks and turmoil in the stock market. It should support the gold prices for some time, especially in January, which has been typically positive for the yellow metal.
If you enjoyed the above analysis and would you like to know more about the most important macroeconomic factors influencing the U.S. dollar value and the price of gold, we invite you to read the ...
more