Depomed To Acquire U.S. Rights To NUCYNTA®, NUCYNTA® ER; Amgen Presents First-Line Use Of Vectibix®
Note from Talkmarkets editors: This article discusses one or more penny stocks. Penny stocks are easily manipulated; please do your own due diligence.
Below is a look at some of the headlines for companies that made news in the healthcare sector on January 15, 2015.
Depomed Inc. (NASDAQ: DEPO) announced it has entered into a definitive agreement to acquire the U.S. rights to the NUCYNTA franchise from Janssen Pharmaceuticals, Inc. for $1.05 billion. The NUCYNTA franchise includes NUCYNTA® ER (tapentadol) extended release tablets indicated for the management of pain, including neuropathic pain associated with diabetic peripheral neuropathy (DPN), severe enough to require daily, around-the-clock, long-term opioid treatment, and NUCYNTA® (tapentadol), an immediate release version of tapentadol, for management of moderate to severe acute pain in adults.

NUCYNTA (tapentadol) oral solution is an approved oral form of tapentadol that has not been launched. The deal will make NUCYNTA the flagship asset in Depomed's growing portfolio of pain and neurology specialty pharmaceuticals. Please refer to the summary descriptions below for more information on NUCYNTA and NUCYNTA ER. Full product labelling including Boxed Warnings for NUCYNTA ER and NUCYNTA is available at www.Nucynta.com.

"We believe that NUCYNTA is an ideal strategic fit for Depomed – a rare opportunity to add a proprietary, differentiated drug with a lengthy period of exclusivity that fits precisely into our therapeutic focus," said Jim Schoeneck, President and Chief Executive Officer of Depomed. "NUCYNTA meets all of our criteria for product acquisition that we have laid out over the past two years. The NUCYNTA franchise generated U.S. net sales of approximately $166 million for the 12 months ended September 2014. NUCYNTA has composition of matter patent protection to August 2022, a potential pediatric extension into 2023, and additional patents that could extend beyond that timeframe. Finally, the synergies between NUCYNTA and our existing pain and neurology call points create a number of opportunities to grow not only the NUCYNTA franchise, but to enhance the growth of our current business as well."

Transaction Details -- Depomed will make a cash payment to Janssen of $1.05 billion. In return, Depomed will assume the U.S. license and related royalty obligations for NUCYNTA to Grunenthal, the originator of tapentadol.

At signing, Depomed placed $500 million into an escrow account which will be released to Janssen upon closing of the transaction.

Depomed expects to raise the remaining capital to complete the transaction through a combination of debt, equity and equity-linked financing prior to closing, with the goal of limiting the dilution impact for existing shareholders.

The transaction has been unanimously approved by Depomed's board of directors. The deal is expected to close in the second quarter of 2015, following termination or expiration of the waiting period under the Hart-Scott-Rodino (HSR) Antitrust Improvements Act of 1976 and completion of financing and other customary closing conditions.

The transaction is expected to be immediately accretive and to significantly increase Depomed's product revenue, cash flow, earnings before interest, taxes, depreciation and amortization (EBITDA) and adjusted earnings per share for 2015, 2016 and beyond. Depomed intends to provide investors with guidance for the combined company promptly after the completion of the transaction.

Operational Plan - Depomed's Pain and Neurology Expertise has Potential to Accelerate NUCYNTA'sGrowth -- Depomed intends to re-launch NUCYNTA and NUCYNTA ER with a focus on its dual mechanism of action (MOA). NUCYNTA ER is the only opioid FDA-approved for both chronic pain and DPN.

Depomed expects to support NUCYNTA and NUCYNTA ER with an expanded sales force of over 250 representatives.

The sales force targets for Depomed's current products overlap approximately 70% of the NUCYNTA prescriber base, allowing Depomed to capitalize on well-established relationships with key prescribers; the expanded sales force will cover an even higher percentage of the prescribers.

NUCYNTA was approved in the US in November 2008, and NUCYNTA ER was approved in the US in August 2011.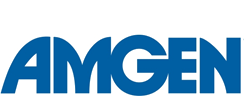 Amgen (NASDAQ: AMGN) announced new data from the Phase 2 PEAK and Phase 3 PRIME studies that support the first-line use of Vectibix® (panitumumab) in combination with FOLFOX, an oxaliplatin-based chemotherapy regimen, in patients with wild-type RAS (absence of exons 2, 3, or 4 KRAS or NRAS mutations) metastatic colorectal cancer (mCRC). The data will be presented during a poster session at the 2015 American Society of Clinical Oncology (ASCO) Gastrointestinal Cancers Symposium taking place in San Francisco from January 15 to 17.

In an exploratory analysis from the PEAK study (abstract #660), treatment with Vectibix compared to bevacizumab (Avastin®) resulted in a significantly higher proportion of patients with earlier tumor shrinkage at week eight (64 percent vs. 45 percent, respectively; 95 percent CI, p=0.0232), and among responding patients, a significantly longer duration of response (11.4 vs. 8.5 months, respectively; 95 percent CI, p=0.0142) and greater depth of response (65 percent vs. 46 percent, respectively; p=0.0007). Overall response rates (ORR) appeared to be similar between Vectibix and bevacizumab. This is consistent with observed overall survival (OS) and progression-free survival (PFS) rates, and with data previously reported. The safety profile of Vectibix was consistent with previously reported studies.

"These analyses help deepen our understanding of how Vectibix works when added to a standard first-line chemotherapy for the treatment of wild-type RAS metastatic colorectal cancer," said Sean E. Harper, M.D., executive vice president of Research and Development at Amgen. "Our Vectibix clinical trial program continues to yield new insights regarding biomarkers and drug sequencing."

While the primary analysis from PEAK showed similar ORR between the Vectibix- and bevacizumab-based regimens, this exploratory analysis demonstrates that Vectibix produces early, sustained anti-tumor activity, which may in part explain the OS and PFS benefits seen with Vectibix versus bevacizumab in this trial.

A separate analysis from the Phase 3 PRIME study (abstract #537), demonstrated that there were no significant differences in quality of life among patients treated with Vectibix plus FOLFOX versus FOLFOX alone despite the incidence of adverse events associated with each treatment regimen. The quality of life analysis included a scale that assessed mobility, self-care, usual activities, pain/discomfort and anxiety/depression.

Colorectal cancer is the third most common cancer found in both men and women in the U.S. and is the second leading cause of cancer deaths.1,2 Approximately 1.2 million cases of colorectal cancer are expected to occur globally each year.

Also Thursday:

3D Systems (NYSE:DDD) announced its role as a key partner in the 2015 Science in 3D Festival organized by the National Institute of Allergy and Infectious Diseases (NIAID), part of the National Institutes of Health (NIH). The event will be held on January 20-21, 2015, at the NIAID Fishers Lane Conference Center in Rockville, Maryland.

Advaxis, Inc. (Nasdaq:ADXS), a clinical-stage biotechnology company developing cancer immunotherapies, announced today that it will present at the Noble Financial Capital Markets 11th Annual Investor Conference being held January 18-21, 2015 at the Club Med Sandpiper Bay in Florida.

Aldeyra Therapeutics, Inc. (Nasdaq:ALDX) (Aldeyra), a biotechnology company focused on the development of products to treat diseases related to free aldehydes, today announced the closing of its previously announced $7.79 million private placement of common stock and warrants.

Amarantus BioScience Holdings, Inc. (OTCQB: AMBS), a biotechnology company focused on the development of diagnostics for neurology and therapeutic products in the areas of neurology, psychiatry, ophthalmology and regenerative medicine, reported positive top-line results of its LP-002 study of the Lymphocyte Proliferation Test (LymPro Test®) blood diagnostic for Alzheimer's disease (AD).

Amedisys, Inc. (Nasdaq:AMED), one of America's leading home health and hospice care companies, today announced that it expects the impact of the 2015 Medicare Home Health Prospective Payment System Final Rule to be more moderate than previously anticipated.

BSD Medical Corporation (Nasdaq:BSDM) (Company or BSD), a leading provider of medical systems that utilize heat therapy to treat cancer, today reported financial results for the fiscal first quarter of 2015 ended November 30, 2014.

BioMarin Pharmaceutical Inc. (Nasdaq:BMRN) announced today that it completed the initial offering period for the previously announced tender offer for all of the outstanding ordinary shares of Prosensa Holding N.V. (Nasdaq:RNA).

Cellular Biomedicine Group Inc. (Nasdaq:CBMG) ("CBMG" or the "Company"), a biomedicine firm engaged in the development of effective treatments for degenerative and cancerous diseases, today announced that the interview with Dr. William (Wei) Cao, Chief Executive Officer of Cellular Biomedicine Group, will be broadcast on Wide World of Stocks today, Thursday, January 15, at 5:00 p.m. and 6:00 p.m. EST into more than 50 million homes nationwide over BizTV, BizTV Radio, and Youtoo America Networks.

Diversicare Healthcare Services, Inc. (Nasdaq:DVCR), a premier provider of long-term care services, today announced that its CEO, Kelly Gill, will present at the Noble Financial Capital Markets' Eleventh Annual Equity Conference at Club Med in Sandpiper Bay, Florida, on Tuesday, January 20, 2015, at 8:30 am Eastern Standard Time.

Galena Biopharma, Inc. (Nasdaq:GALE), a biopharmaceutical company developing and commercializing innovative, targeted oncology treatments that address major medical needs across the full spectrum of cancer care, today announced that Mark W. Schwartz, Ph.D., President and Chief Executive Officer will present a corporate update at the Noble Financial Capital Markets 11th Annual Investor Conference.

Greatbatch, Inc. (NYSE:GB), today provided preliminary 2014 adjusted diluted earnings per share of approximately $2.38 and guidance for 2015. Greatbatch President and Chief Executive Officer, Thomas J. Hook, will provide further details and discuss the company's strategy for long-term growth and profitability during his presentation at the 33nd Annual J.P. Morgan Healthcare Conference in San Francisco on January 15, 2015.

Heat Biologics, Inc. ("Heat") (Nasdaq:HTBX), a clinical stage biopharmaceutical company focused on the development of cancer immunotherapies, today announced that Jeff Wolf, CEO, will present a corporate update at the Noble Financial Capital Markets Equity Conference, being held at Club Med in Sandpiper Bay, Florida on Monday, January 19, 2015 at 9:30am Eastern Time.

Hemispherx Biopharma, Inc. (NYSE Amex:HEB) (the "Company" or "Hemispherx") announced that after prevailing in a federal lawsuit brought against the Company by Cato Capital, the United States District Court for the District of Delaware has ordered Cato to pay Hemispherx attorney's fees and costs in the amount of $770,852.76.

Intuitive Surgical, Inc. (Nasdaq:ISRG) today reported that equity awards approved by the Compensation Committee of the Board of Directors, which consists entirely of Independent Directors, were made to 44 new employees.

OncoMed Pharmaceuticals, Inc. (Nasdaq:OMED), a clinical-stage company developing novel therapeutics that target cancer stem cells (CSCs), or tumor-initiating cells, today announced the enrollment of the first biomarker-selected patient in its anti-Notch1 antibody (OMP-52M51) Phase 1a solid tumor clinical trial.

PharmaCyte Biotech, Inc. (OTCQB: PMCB), a clinical stage biotechnology company focused on developing targeted treatments for cancer and diabetes using its signature live cell encapsulation technology, Cell-in-a-Box®, today announced that well-known scientific journalist, Vicki Brower, who writes for the leading top-tier cancer journals, has published an article naming PharmaCyte Biotech's pancreatic cancer treatment as a near-term approach to tackling the rising pancreatic cancer rates.

Protea Biosciences Group, Inc. (OTCQB:PRGB) ("Protea") announced today that Purdue University has acquired Protea's LAESI® DP-1000 Instrument System for direct molecular analysis.

Response Genetics, Inc. (Nasdaq:RGDX), a company focused on the development and sale of molecular diagnostic tests that help determine a patient's response to cancer therapy, today announced that the company will present two abstracts at the upcoming American Society of Clinical Oncology Gastrointestinal (ASCO GI) Cancers Symposium in San Francisco, CA, January 15 to 17, 2015.

TG Therapeutics, Inc. (Nasdaq:TGTX) announced that Michael S. Weiss, the Company's Executive Chairman and Interim CEO, will present an update on the Company's development programs for TG-1101, the Company's novel anti-CD20 monoclonal antibody, and TGR-1202, the Company's novel PI3K delta inhibitor, as well as an overview of TG Therapeutics' corporate goals for 2015.

Wellness Center USA, Inc. (OTCQB:WCUI), today announced that it has entered into a Joint Venture (J V) with The Medical Alliance Inc. (TMA) to produce and commercialize the Psoria-Light, a leading edge medical device developed by WCUI's wholly owned subsidiary Psoria-Shield, Inc. (PSI).
Disclosure: This article contains information and opinions based on data obtained from reliable sources, which is current as of the publication date, and does not constitute a recommendation ...
more