December Labor Report – Positive Or Negative Signal?
In this article we will detail the December BLS labor report, explain why it caused stocks to go up 3.43% on January 4th, and why a recession may not be coming soon. There was a panic at the end of 2018 as investors feared a recession because of the flattening yield curve, hawkish Fed, trade war with China, global economic slowdown, and negative surprises from domestic economic data. It's possible for stocks to fall into a bear market without a recession, and very unlikely for them to not fall into a bear market when there is a recession.
The yield curve flattening and its partial inversion started the panic. The Fed's December meeting where it stated it planned to hike rates twice in 2019 caused traders to fear that the Fed would further invert the curve. The yield curve usually forecasts a recession, but traders jumped the gun by selling before it fully inverted. As you can see from the chart below, 38% of the U.S. treasury curve has inverted and 62% of the overnight indexed swap curve has inverted.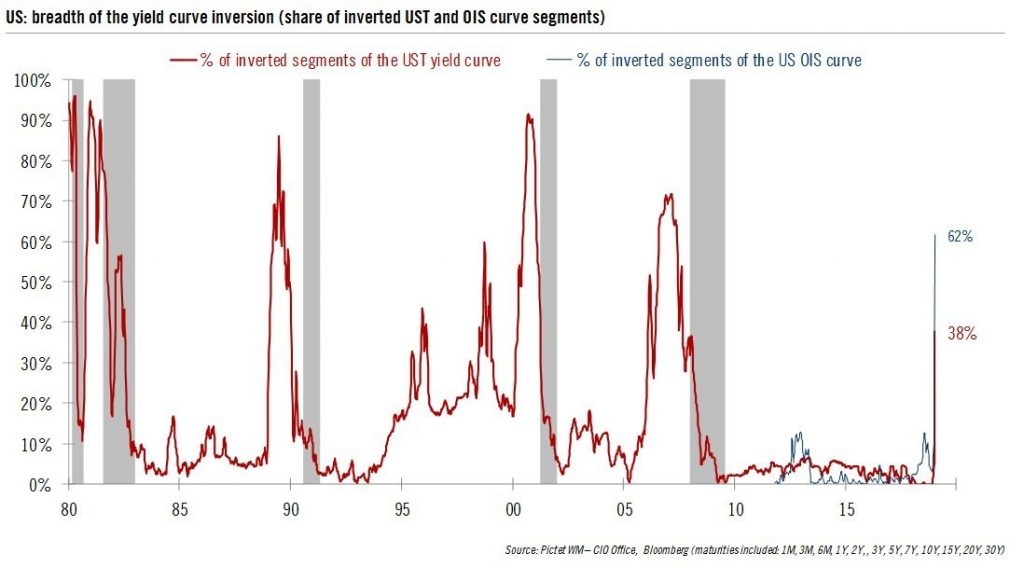 Source: Pictet WM
Historically, more of U.S. treasury curve has inverted before recessions. The bad news is the percentage of the curve that is inverted usually spikes quickly. It's also important to point out that some studies suggest that a yield curve inversion may not even happen this time (just something to consider).
One pivotal point about analyzing price action is you can't use your technical analysis to create a fake economic narrative. Assets were pricing in a recession, but you can't say a recession is coming unless you do research. If short term price action colors your intermediate term economic projections, you will be using circular logic which won't help you.
No Recession Coming Yet
The December labor report was strong in every way as headline job creation beat estimates, the revisions to previous months were positive, wage growth was strong, and new people joined the labor market which pushed up the participation rate. 312,000 jobs were added which beat estimates for 184,000. This was the biggest beat since the May 2009 report which is when the economy was first exiting the recession. This was the 6th biggest beat since 1999. The prior two reports were revised to show 58,000 more jobs were added than were reported last month.
Disclaimer: Please familiarize yourself with our full disclaimer here.